Good Old Mac'n Cheese!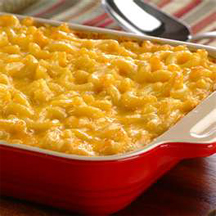 There was a comedienne who once talked about mac'n cheese still being around 5 cents a metric- ton. He was kidding of course, but the point was taken. This venerable food that is a favorite of children and hungry college students is still one of the cheapest foods one can make or purchase.
Discount food stores often run specials where the price for this little box can drop to 50 cents or less! And yes, the store brands are as good as the name brands. All you need is a pot, water, noodles, cheese, butter and milk, and dinner is 10 minutes away. What more could anyone ask for?
However, in case you would like to "dress-up" your meal for a little variety, I thought I would give you a few ideas.
• Try using skim milk for a little less fat when mixing in your cheese
• If making this meal from scratch, use whole wheat pasta to add more fiber
• Add cut turkey franks or left-over ham into the mix
• Add crumbled bacon
• Mix a little taco seasoning to cooked hamburger, and add that
• Use parmesan or romano cheese instead of yellow cheeses
• Add broccoli or peas or other left-over vegetables
• Chop up onion, and add that
• Mix with ranch dressing
• Sprinkle crushed chips to the top before baking for a crunchy texture
• Add chopped fresh tomatoes
• Mix in a can of chicken and some peas
• Mix in a can of chili