The Vegetarian Life - Chard is Our New BFF!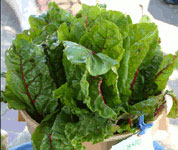 Let's talk chard. Because this popular leafy green is packed with so much nutrition, it ought to be our new BFF (best friend forever)! It's one of the finest vegetables a vegetarian could be including in the daily menu because it is an excellent source of vitamins C, E, and K, carotenes, chlorophyll, and fiber.
It is loaded with several minerals including potassium, magnesium, iron, and manganese. And Swiss chard is also a good source of many other nutrients including vitamin B6, protein, calcium, thiamine, selenium, zinc, niacin, and folic acid.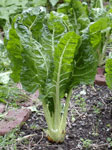 Swiss chard is also one of the most powerful anti-cancer foods due to its combination of traditional nutrients, phytochemicals, chlorophyll, other plant pigments, and soluble fiber. The generous amount of vitamin K that is contained in Swiss chard is especially beneficial in the maintenance of bone health.
You want to buy chard that has leaves that are crispy, crunchy, and a brilliant dark green color. It is an extremely perishable leafy vegetable, therefore, it should be used quickly once harvested or purchased.
To preserve freshness, store unused chard in a plastic bag with a paper towel or napkin inserted. It'll keep for three or four days this way, but of course, the sooner you use it, the more nutrition it offers.
Fresh young chard can even be used raw in salads. Mature chard leaves and stalks are typically cooked, braised or sauted though - the bitter flavor fades with cooking. However, antioxidant properties of chard are significantly decreased with steaming, frying and boiling.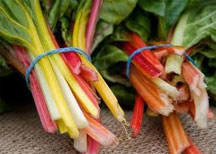 As with spinach, chard leaves should be washed thoroughly in clean running water and rinsed in saline water for about 30 minutes in order to remove soil, dirt and any insecticide/fungicide residues.
There are at least three available varieties in most grocery stores now: red stalk, white stalk, and rainbow. I like the red and rainbow stalk best - the more color in our veggies, the wider variety of nutrients we get.
Finally, chard is especially delicious in soups and quiche. Here is a wonderful soup recipe I found on the GorgeouslyGreen.com website that you'll want to keep handy - it's good enough to serve at any party or gathering:
---
Rainbow Chard & Coconut Soup
Serves 4-6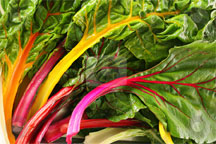 2 tbsp cold pressed, extra virgin olive oil
2 medium yellow onions, chopped
1 clove garlic, finely chopped
2 cups chopped rainbow chard (stalks removed)
1 cup chopped kale, stalks removed (I substituted fresh baby spinach with great success)
1 quart vegetable stock
1 16-ounce can coconut milk
Salt and freshly ground black pepper
Heat the olive oil in a large saucepan over medium heat. Add the onions and garlic and saute until softened, about 5 minutes. Add the chard, kale, stock, and coconut milk, bring to a simmer, and simmer for 10 minutes. Using an immersion blender, blend until smooth. Season with salt and pepper to taste and serve.