Topping Your Table - Try Citrus!
As we say in Utah, "Oh my heck!" Here is an idea you're gonna put me in your will for! If you love citrus, consider dressing up your table with these easy accents - all made from citrus.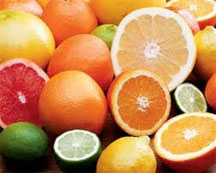 And why not? Don't you just love the fragrance of citrus? And don't you just love their bright colors? And how about their pleasing shapes? All this makes for decorating potential. And since citrus is a winter fruit - at its best flavor and price right now, it's a great choice for decorating our tables.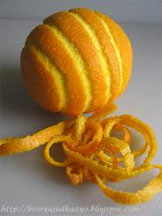 First, create a pretty-looking and aromatic centerpiece by zesting a few oranges and lemons in an attractive pattern - spirals for instance. To create a spiral design, start at one end of an orange. Use the zester to create a circular pattern around the fruit, removing peel until you get to the opposite end of the orange. Arrange this zested fruit amongst pears and non-zested citrus in an eye-catching bowl. For a finishing touch, tuck some greenery between the pieces of fruit and around the edge of the bowl. That's it. And you can use the zested peel to garnish poached pears or in a muffin batter.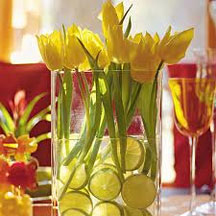 We've all seen lemon and lime slices dressing up pitchers and decanters of ice water, but what about using them to hold a floral arrangement in place. As the picture shows, lime slices tie in nicely with the green stems and add nice contrast to these yellow tulips.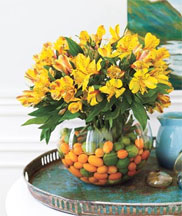 And along the same lines, consider using whole limes and kumquats to anchor your floral centerpiece. You can see how striking this is - the fruit echoes the orange touches in the flowers and the green leaves that fill in the bouquet.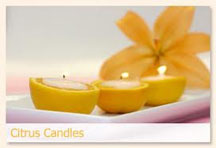 Isn't this darling? Whether using oranges or grapefruit, the idea's the same. Just hollow out space in a halved fruit that's large enough for a votive candle. Pretty light and a fragrant aroma too boot!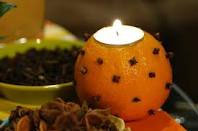 And another take on the candle idea: Cut a hole at the top of a whole orange and insert your votive. Stud the fruit with whole cloves for extra fragrance and pattern.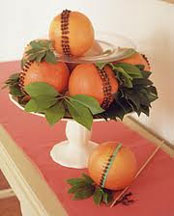 And speaking of studding with cloves - take several oranges, grapefruit, and limes and stud each with cloves in geometric or other patterns. Arrange on a cake stand with greenery. Notice in this picture how a smaller glass plate is set atop the first layer of fruit so the centerpiece can have a tiered look. Somebody was very clever here!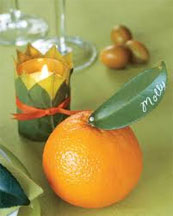 And how about using the whole fruit as a name card holder? You'll need laurel leaves (they resemble citrus leaves) - your florist has these. Then with a metallic marker, simply write the names of your guests on the leaves and attach to the top of the fruit with a straight pin.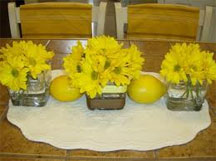 Finally, how about something as simple as just setting lemons between vases of yellow flowers (or oranges between vases of orange flowers)? This creates a floral "runner" that is very Martha-Stewartish!