Leftover Magic!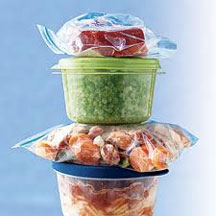 Everybody and their duck talks about what to do with holiday dinner leftovers, and I'm no exception. I love this idea of creating a meal within a meal. This cooking approach saves time, saves money, and inspires awe in my family. It's like pulling a rabbit out of a hat! Let's look at a ways to work leftover magic:
When it comes to stuffing - we know to add cooked ground beef and a little cream of mushroom soup and stuff either green peppers or zucchini with it (topped with shredded cheese, of course). But have you ever added it to scrambled eggs and topped THAT with shredded cheese? Delicious!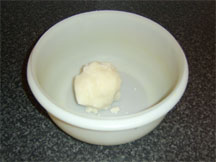 And doesn't everyone have smidges of leftover mashed potatoes, squash, and still mores stuffing hanging around? Just stir them together with an egg, salt and pepper and make patties. Fry them on both sides until brown and crispy. And if there's leftover gravy, well you know what to do.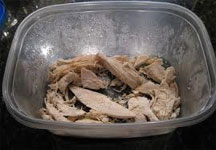 Aunt Annie used to make homemade biscuit dough, roll it out into a large rectangle, and spread it with ground up leftover turkey and vegetables. She'd add a little chopped onion and enough leftover gravy to make the mixture spreadable. Then she'd roll the whole thing up, jelly-roll style and cut it into 1-inch slices. She'd bake it at 400 degrees for about 12 minutes or so and serve hot with leftover gravy. She was a marvel at leftovers.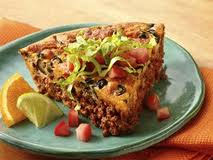 Now besides holiday leftovers, there are just the general run-of-the-mill leftovers that we can also work magic with. Take chili, for instance. To make leftover chili seem like a new meal, blend it with shredded cheese and any leftover veggies you might have (bell peppers, cauliflower, broccoli, green beans, even tomato). Chop the veggies fine and blend them into the chili/cheese mixture. Then bake it all in a pie crust. It cuts like a pie and is just scrumptious.
Still speaking of chili, we all know we can top leftover macaroni and cheese with leftover chili and top all that with shredded cheese, right? Just bake until heated through and serve. You have a new flavor-base that's very tasty.
And still more chili talk: I will puree any leftover chili and spread it on tortillas when making quesadillas. I top this layer with leftover veggies and then garnish with shredded lettuce, diced tomatoes, and of course, shredded cheese.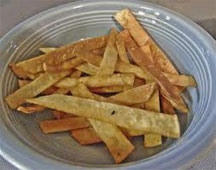 Following Cafe Rio's lead, I now slice leftover flour tortillas into thin strips, toast in the oven, and then float them in soups and stews in place of egg noodles. They get plump and really tasty this way. Folks feel like you've gone to a lot of effort. I'll let 'em think it.
And that's the magic of leftovers - we have a meal within a meal, we're saving time by not having to create an entirely new full meal deal, we're saving money as we stretch our groceries, AND we're dazzling the family at the same time!