What To Do With Your Neighbor's Tomatoes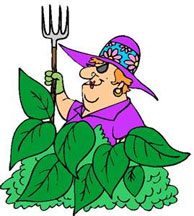 I love garden tomatoes. My husband and I always plant several varieties and hungrily wait for them to ripen on the vine. Once plump and ripe red, we will often go to the back yard and talk, popping the small cherry tomatoes off of the vine and eating them like candy.
Each year we tell ourselves that we need to plant a few more varieties for "next year". Fortunately for us, most of our neighbors grow tomatoes as well. Just today a friend called and asked if she could come over with some of her produce. When she arrived her generous box contained zucchini, peaches, plums and of course, some plump Roma tomatoes. Thank you Jill!
If you have your own garden or neighbors who bless you with the produce from theirs, the question often arises; what to do with all of the tomatoes. Yes there are salads, salsas, and soups, but sometimes we need a clever new recipe. I believe that the one below may be just what we are all looking for.
Add this to your Cook'n Software and next year don't be afraid to plant more tomatoes. You can always share your surplus with friends, and add this recipe to your own neighborly box.
---
Tomato Pie
All Recipes
Photo by: dkritinar
6 servings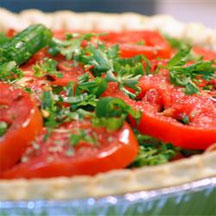 1 (9 inch) deep dish pie crust
4 large tomatoes, peeled and sliced
1/2 cup chopped fresh basil
3 green onions, thinly sliced
1/2 pound bacon - cooked, drained, and chopped
1/2 teaspoon garlic powder
1 teaspoon dried oregano
1/2 teaspoon crushed red pepper
2 cups shredded Cheddar cheese
1/4 cup mayonnaise
1. Preheat oven to 375 degrees F (190 degrees C).
2. In alternating layers, fill pastry shell with tomatoes, basil, scallions, bacon, garlic powder, oregano, and red pepper. In a small bowl, mix cheese with mayonnaise. Spread mixture over top of pie. Cover loosely with aluminum foil.
3. Bake in preheated oven for 30 minutes. Remove foil from top of pie and bake an additional 30 minutes. Serve warm or cold.