How Did We Ever Grill Without Them?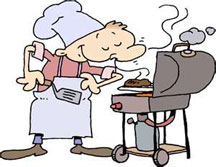 I love looking around various web-sites to see what they are teaching, cooking, selling, and investigating. I learn so much just by reading about what other people are doing. I recently came across these handy little grilling accessories that I thought you may enjoy knowing about. Both can be purchased by going to www.FoodNetwork.com.
One of my favorite appetizers is stuffed jalapeno peppers. I have embarked on the adventure of making some of my own, then trying to grill them on our grill. However, they can be difficult little buggers; always sliding around and spilling out the stuffing I have worked on. No more! Some clever person came up with this jalapeno roaster that is good for using on your grill, or in your oven.
Nonstick Jalapeno Roaster
Price: $12.95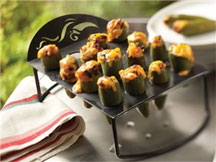 According to the ad, the roaster has a "nonstick coating is PTFE and PFOA-free, for safe grilling and easy clean up". In other words, there is nothing harmful that can leech onto the peppers.
---
Stuffed Jalapeno Peppers Recipe
16 medium-sized jalapeno peppers*
3-4 oz. cream cheese, softened
3/4-1 cup shredded cheddar cheese
1 clove garlic, diced
2-3 green onions, sliced
2-3 sun dried tomatoes (oil-packed), chopped
8 slices bacon, halved (optional)
Salt and pepper to taste
Water-soaked toothpicks (5 minutes of soaking)
Preheat grill to medium. Cut off top of each pepper and carefully core the pepper, removing all seeds. If you do not have a jalapeno corer, a vegetable peeler is a good kitchen tool for hollowing out peppers. Remember the oils in jalapeno peppers are very hot, so take care not to touch your face or eyes. Place the peppers upright in roasting holes.
In bowl, mix cream cheese, cheddar cheese, garlic, onion, tomatoes, salt and pepper. Put mixture in pastry bag and pipe cheese evenly into peppers. A knife or spoon may also be used to stuff the peppers. If desired, wrap upper half of each piece with a 1/2 slice of bacon and skewer with water-soaked toothpicks. The water helps keep the toothpicks from catching fire.
Grill peppers until bacon is done, about 20-30 minutes. Serve hot.
*The size of jalapeno peppers may vary by grocer, region and season. If peppers are too small, skewer them with water-soaked toothpicks to keep peppers from falling through roasting holes.
---
Nonstick Meatball Basket
Price: $19.95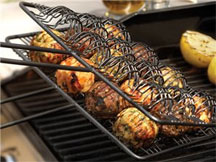 After using this product, one of the reviewers stated, "You haven't lived until you have tasted grilled meatballs!" Okay. I'm sold. I love meatballs, but never considered grilling them for obvious reasons. Now with this basket I am so very eager to give it a try.
The ad states, "with a weaved construction designed to drain excess fat, the basket grills up to 12 tasty meatballs without sacrificing any flavor." One reviewer also stated that they use this to large stuffed mushrooms. Great idea!
Features:
• 20.5-in.
• Long rosewood handle
• Holds 12 meatballs
• Weaved construction to drain fat
• PTFE- and PFOA-free nonstick coating
---
---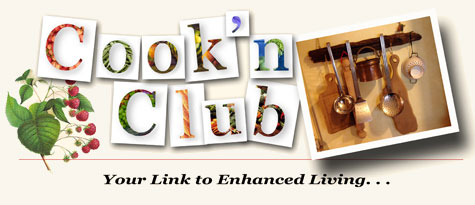 Contribute to the Cook'n Club!
DVO would love to publish your article, prose, photography and art as well as your cooking, kitchen and nutrition tips, tricks and secrets. Visit the Newsletter Submission / Win Win for All section in our Forum for more information and details.