Cook'n 101: The PERFECT Peaches & Cream Pie!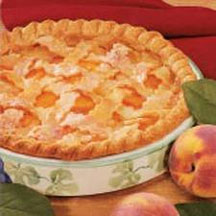 Have you ever eagerly cut into a piece of peach pie, expecting to die and go to heaven, only to end up going somewhere else (taste-wise, that is)? I have. I've had (eaten and actually made) a raw or soggy bottom crust, runny filling, or a pastey-flavored filling. Well this season, as we near the end of our local peach harvest, I'd really like to make a truly delicious, "May-I-have-seconds?" peach pie using these fresh peaches.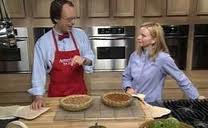 I've been researching how to do this, and I have to say that my favorite source of information on things like this is very often America's Test Kitchen. We get it on cable TV Saturday mornings, and I could watch it all day.
A couple of weeks ago the Test Kitchen cooks used words like "bright flavor," "flakey and buttery crust," and "luscious juxtaposition" when they demonstrated how to make a "May-I-have-seconds?" kind of fruit pie. I took notes.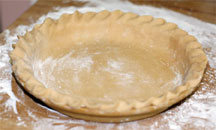 They made it quite clear that any good pie crust will work - just don't overwork it. Pie dough gets tough the more it's handled. They also suggested a quick pre-bake of the crust before adding any fruit filling to prevent the "soggy bottom blues."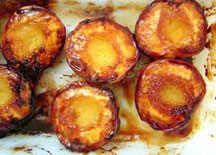 And besides making a custard-like base for the fruit filling using sugar, cream, egg yolks, a little flour and salt to taste, they the Test Kitchen cooks recommended twice-baking the fruit. "Eat a peach out of hand and its juiciness is no small part of what makes it so good. But cook the fruit and that same high water content can ruin peach pie, especially when if you add cream, which is what you want to do if you want that peaches-and-cream result. So to evaporate the peach juices and concentrate the peach flavor, we roasted the fruit before filling the pie. A sprinkle of sugar helps the peach halves caramelize," they tell us.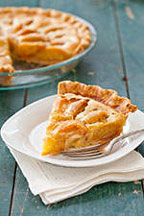 Finally, along with solving the runny fruit issue, roasting the fruit before actually baking the pie has another plus - it saves time. While we're roasting the fruit on one shelf of the oven, we can prebake the crust on another. With whatever peaches and cream pie recipe I pull off the Internet, I'm going for a deep caramelized peach flavor, and a creamy custardy base - "bright flavor," "flakey and buttery crust," and "luscious juxtaposition" - now that'll be the perfect slice. Using these tips might just get me to that "die and go to heaven" place this time!