Have You Heard

about Slow Food?

What is Slow Food? It is an idea, a way of living and a way of eating. It is a global, grassroots movement with thousands of members around the world that links the pleasure of food with a commitment to community and the environment.
The mission of Slow Food USA (www.SlowFoodUSA.org) is to create dramatic and lasting change in the food system. They reconnect Americans with the people, traditions, plants, animals, fertile soils and waters that produce our food. This organization works to inspire a transformation in food policy, production practices and market forces so that they ensure equity, sustainability and pleasure in the food we all eat.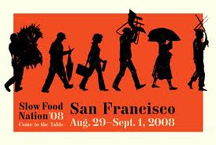 According to an article in USA Today, "Slow Food aims to be everything fast food is not." They have chapters all over the United States. Just go to their website and click on the LOCAL CHAPTERS button. From there you click on your state and all sorts of information pops up.
Slow Food is an international organization with state-side headquarters in Brooklyn, NY. It boasts over 100,000 members in 153 countries. The founder, Carlo Petrini (Italy), says Slow Food was created to unite the pleasure of food with responsibility, sustainability and harmony with nature. Its members believe it is important for farmers, producers, cooks, and consumers to work together in order to defend our agricultural heritage.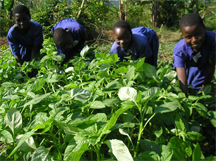 The organization has several major projects (1000 Gardens in Africa, University of Gastronomic Sciences in northwest Italy, for instance), but two of my favorite are their Food and Taste Education (Slow Food Education) and the Terra Madre network.
Slow Food Education supports an innovative approach based on the reawakening and training of the senses and the study of all aspects of food: from field to fork. Children today have a difficult time telling you where their food comes from. Slow Food wants to change this trend.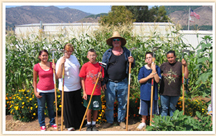 By understanding where our food comes from, how it was produced and by whom, adults and children can learn how to combine pleasure and responsibility in daily choices and appreciate the cultural and social importance of food. Our education projects differ from most food education as they are based on the idea that food means pleasure, culture and conviviality.
Slow Food's education activities take a wide range of approaches and are organized for varied audiences: children and adults, teachers, members and the public. They are an enjoyable and integral part of events and campaigns - from the international to the local level - and take countless forms: tours of local farms or producers, school gardens, guided tastings, knowledge exchange between older generations and young people, practical workshops and dinners with producers.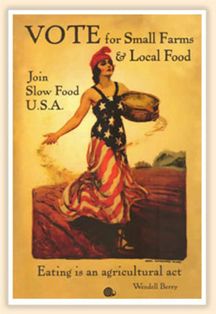 By working with schools and local producers, organizing conferences with authors and experts, and introducing 'good, clean and fair' food education at community events, these projects increase awareness and bring food issues to people from all walks of life.
The Terra Madre network was launched by Slow Food to give a voice and visibility to the small-scale farmers, breeders, fishers and food artisans around the world whose approach to food production protects the environment and communities. The network brings them together with academics, cooks, consumers and youth groups so that they can join forces in working to improve the food system.
The term food community refers to a group of these producers, defined by a place of origin and reflecting a new idea of 'local economy' based on food, agriculture, tradition and culture. More than 2,000 Terra Madre food communities have been formed around the world.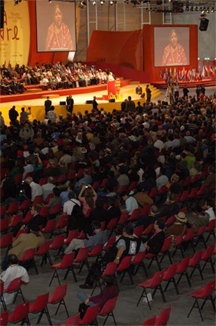 The first world meeting of Terra Madre food communities was held in 2004 in Italy, and brought together 5,000 producers from 130 countries. The second edition in 2006 grew to include participation from 1,000 cooks, aware of their important role in supporting local, quality production, as well as 400 researchers and academics, seeking to bridge the theory of their work with hands-on knowledge. In 2008, 1,000 young producers, cooks, students and activists from around the world joined the network to show their commitment to ensuring traditions and agricultural wisdom is handed from one generation to the next.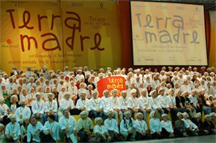 National and Regional Terra Madre networks have grown from the grassroots level and are working with Slow Food convivia to increase the capacity of local communities to provide good, clean and fair food. National Terra Madre meetings have been organized in many countries including Brazil, Sweden, Ireland, The Netherlands and Tanzania.
A wide variety of activities at the local level focus on sharing information and promoting better approaches to food production: from a group of South American academics working to promote eco-agriculture to an exchange between Ugandan and Kenyan farming communities or a bicycle tour of local small-scale farms in Canada.
Doesn't this organization sound fascinating? What a wonderful idea to be able to take our passion for good food and do more with it than just eat!


---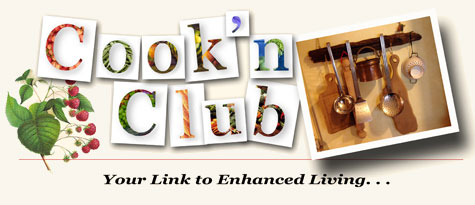 Contribute to the Cook'n Club!
DVO would love to publish your article, prose, photography and art as well as your cooking, kitchen and nutrition tips, tricks and secrets. Visit the Newsletter Submission / Win Win for All section in our Forum for more information and details.