Perfect Tips & Recipes
My mother was a wonderful cook. However, she did not start out that way. Boiling water may have been as far as her culinary talents ran, when she married my father. After several mishaps that are family legend, she became determined to "learn how to cook". Living all over the world as an Air Force wife, she picked up hints, tricks, recipes, and how-to's from everyone she met.
While living in Turkey, a market vendor taught her how to pluck a chicken, while Zanep, our maid, introduced her to unusual spices and cooking techniques. She collected southern recipes in Mississippi, one of which included her to-die-for, famous pecan pie, learned hearty soup making for cold days in Ohio, bar-b-que sauce secrets while living in Texas, and the best enchilada and taco recipe when we were stationed in Germany; along with cooking great German food, of course.
I don't pretend to be a cook like my mother, but I did learn some tricks along the way just by watching her. I was happy to see that the following 5 Cooking Tips were some that she taught me and now I may share them with you!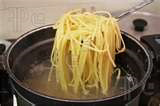 Pasta Perfect! Pasta continues to cook when it is added to a sauce. Therefore, boil the pasta a bit less than the package directs, and gummy noodles will no longer be a problem.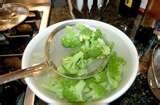 Blanching Don't be intimidated by this term, as only two steps are required to ensure bright greens that are still crunchy after blanching. Just boil the food briefly, dip in a bowl of ice water and remove quickly with a slotted spoon.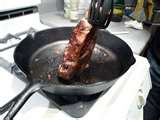 Perfect Seared Meat First, sear meat in a hot skillet-about 1 minute on each side. Put seared meat in a 450 degree oven to give it a crusty outside with a perfectly cooked center.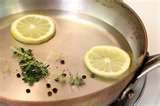 Poaching Gently place your poultry or seafood in a seasoned liquid that is barely simmering on your stove for several minutes, depending on thickness. The food will be full of the liquid flavoring, minus the added fat that comes with otherwise cooking in oils or butters.
---
Mushroom Glazed Pork Chops
Serves 4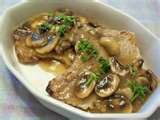 10 ounce(s) mushrooms, trimmed and quartered
8 ounce(s) fresh shiitake mushrooms, stems discarded, cut into 1-inch pieces if large
2 clove(s) garlic, very thinly sliced
1 teaspoon(s) sugar
1 tablespoon(s) sherry vinegar
1 teaspoon(s) sherry vinegar
Salt and pepper
1 tablespoon(s) vegetable oil
4  (each 6 ounces, 1-inch thick) boneless, center-cut pork loin chops
1 medium (6- to 8-ounce) onion, finely chopped
1/4 cup(s) cognac
1/4 cup(s) light cream
2  fresh sage leaves, thinly sliced
1. Arrange oven racks in upper and lower thirds of oven. Preheat oven to 450 degrees F.
2. In 15 1/2-inch by 10 1/2-inch jelly-roll pan, spread mushrooms in even layer. Sprinkle garlic on top. Roast on upper rack 15 minutes or until mushrooms are tender, juices are released, and garlic is golden brown.
3. Meanwhile, in 9-inch pie plate or other shallow dish, mix sugar, 1 tablespoon vinegar, and 1/4 teaspoon freshly ground black pepper. Add pork and turn to evenly coat. There should be no excess liquid remaining.
4. Heat 12-inch ovenproof skillet on medium-high. Add oil to pan and swirl to coat bottom evenly. When oil shimmers and is almost smoking, add pork. Cook 1 to 2 minutes or until browned, then turn pork over and cook 2 minutes longer. Transfer to lower oven rack.
5. Roast 7 to 10 minutes or until barely pink in center. Transfer to plate; let rest.
6. To same skillet, add onion. Cook on medium 5 minutes or until browned, stirring occasionally. Add cognac and remaining 1 teaspoon vinegar and cook 30 seconds. Add mushroom mixture with any juices and reduce heat to low.
7. While stirring, add cream in slow, steady stream. Stir in 1/2 teaspoon salt and 1/4 teaspoon freshly ground black pepper. When mixture bubbles, remove from heat.
8. Divide pork chops and their juices among serving plates. Spoon mushroom mixture over pork, and garnish with sage.
---
Asparagus Gremolata
Serves 4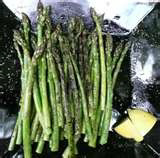 Salt and pepper
2 pound(s) jumbo asparagus, trimmed and peeled
1 clove(s) garlic, finely chopped
1 tablespoon(s) extra virgin olive oil
1 teaspoon(s) extra virgin olive oil
1 teaspoon(s) freshly grated lemon peel
1/4 cup(s) panko (Japanese-style bread crumbs)
1/4 cup(s) finely chopped fresh flat-leaf parsley leaves
1. Heat large covered saucepot of water to boiling on high. Fill large bowl with ice and water.
2. Add 1 teaspoon salt, then asparagus, to boiling water. Cook uncovered 5 to 6 minutes or until bright green and a knife pierces easily through stalks. With tongs, transfer directly to bowl of ice water. When asparagus is cool, drain well. Roll between paper towels to dry completely. Asparagus can be refrigerated in an airtight container or resealable plastic bag up to overnight.
3. In 12-inch skillet, combine garlic, 1 tablespoon oil, and 1/2 teaspoon lemon peel. Cook on medium 2 minutes or until golden, stirring occasionally. Add panko and cook 1 to 2 minutes or until golden and toasted, stirring frequently. Transfer to small bowl; wipe out skillet.
4. In same skillet, combine asparagus, 1 tablespoon water, and remaining 1 teaspoon oil. Cook on medium 2 to 5 minutes or until heated through, turning frequently. Transfer to serving platter.
5. Stir chopped parsley, remaining 1/2 teaspoon lemon peel, 1/4 teaspoon salt, and 1/4 teaspoon freshly ground black pepper into panko mixture. Spoon seasoned panko over asparagus.
---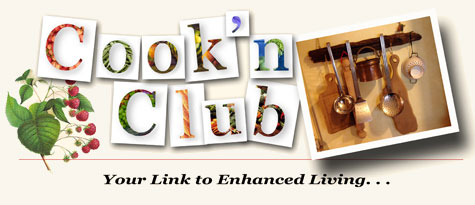 Contribute to the Cook'n Club!
DVO would love to publish your article, prose, photography and art as well as your cooking, kitchen and nutrition tips, tricks and secrets. Visit the Newsletter Submission / Win Win for All section in our Forum for more information and details.