What are the

Best Fruits to Eat?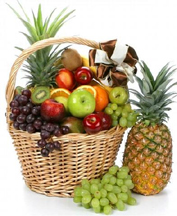 What are the BEST fruits to eat? This isn't the right question we should be asking. Diabetics do not need to worry about the
type
of fruit they eat, but should focus on portion sizes. According to the Mayo Clinic, the amount of carbohydrates is more important than if the source is a starch or natural sugar.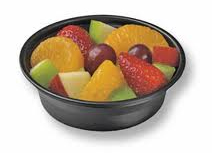 Most of the food we eat turns into sugar, anyway, while serving as a source of energy for the body. People with diabetes have problems utilizing this sugar because of problems with the production and supply of insulin. While diet plays an important role in helping manage blood sugars, we do not need to avoid whole food groups or eat any special foods. The diet for diabetes should include a variety of healthy foods from all of the food groups, according to the American Diabetes Association.
Fruit—carbohydrate-containing food—does cause blood sugars to rise. And if blood sugar or diabetes is an issue, then we can take heart in the fact that we do not need to avoid fruits to help us manage our blood sugar, but we DO need to control the amount we eat each day—again, portion sizes is the concern. And with this rule in mind, we can have our fruit and eat it too—so says the American Diabetes Association. They suggest we even eat three to four servings of fruit a day! Great news.
A list of fruit choices and serving sizes include:

1 small apple




1 medium nectarine




1 small orange




17 grapes




½ cup of unsweetened canned fruit




2 tbsp. of raisins




1/2 cup of orange or apple juice


While juice is allowed in small quantities on the diabetic diet, it is always better to choose the whole fruit over the juice. Fiber in whole fruits slows digestion allowing for a slower release of the sugar into the bloodstream.
And don't worry that perhaps your favorite fruit wasn't just listed. Eat it. All we need to remember is to keep our portions small and staggered throughout the day. We do this, and we'll be fine.
To conclude, here is one of my favorite fruit salad recipes that Aunt Annie always brought to our family gatherings. Aunt Annie would use any nice fruits that were in season and often changed the flavor of the canned pie filling. The combinations were endless.
---
Easy Fresh Fruit Salad
Serves 12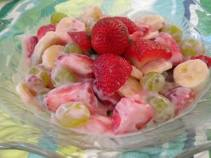 3 cups sliced strawberries
2 cups green or red grapes
3 kiwi fruit, peeled and sliced
3 bananas, peeled and sliced
1 mango, peeled and diced
2 Tbsp. lemon juice
21 oz. can peach or apple pie filling
In large bowl, combine strawberries, grapes, kiwi fruit, and bananas. Sprinkle with lemon juice, then gently mix in pie filling. Chill for 1 hour before serving. It's pretty garnished with unsweetened coconut.
---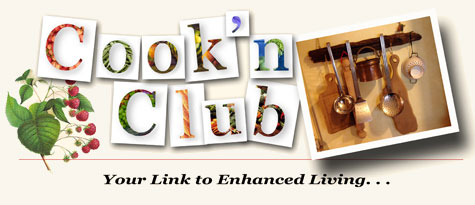 Contribute to the Cook'n Club!
DVO would love to publish your article, prose, photography and art as well as your cooking, kitchen and nutrition tips, tricks and secrets. Visit the Newsletter Submission / Win Win for All section in our Forum for more information and details.