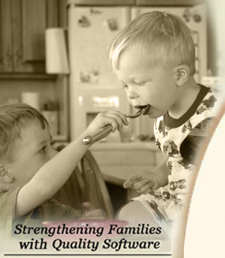 Volume I - October 20, 2006
Five Day Meal Plan
Including time saving "Dovetail Tips"

We're excited about the addition of this new feature! It's called "Dovetailing" and is a "prepare-ahead-of-time" process that is done prior to the coming week's meals. This technique saves preparation and clean-up time, and is the method professional chefs and cooks use to function efficiently in their kitchens. All that's needed are plenty of covered refrigerator storage bowls (Glad, Tupperware, Pyrex, etc.), and plastic zippered storage bags of various sizes. Plan ahead as to when items should be removed from freezer for thawing—generally 1-2 hours prior to meal preparations. Once you get into this habit, you'll wonder how you ever managed any other way! So after you've looked over this weeks recipes make sure you go all the way to the bottom of this page and read about this weeks dovetailing tips.
Click on the download button to the right of each recipe title to download it into your Cook'n software. Then, you can save time and money by using your Cook'n software to generate a grocery list!


---
Day 1

Creamy Chicken and Cucumber Salad



Raspberry Lemonade
Ingredients:
2 cans frozen lemonade concentrate, thawed
2 packages frozen sweetened raspberries, partially thawed
2-4 Tablespoon sugar
2 liters club soda, chilled
Ice cubes
In a blender, combine lemonade concentrate, raspberries and sugar
Cover and process until blended
Strain to remove seeds
In a 4 ½ quart container, combine raspberry mixture, club soda & ice cubes
Mix well and serve immediately
Ginger Spice Cake
Ingredients: (Serves 9, 1 serving==1/9 of cake)
l/2 cup granulated sugar
l/4 cup butter, softened
l/2 cup maple syrup
l/3 cup orange juice
1 large egg
2 tsp. grated orange zest
1 ½ cups all purpose flour
2 tsp. ground ginger
½ tsp baking powder
½ tsp baking soda
½ tsp ground cinnamon
½ tsp salt
Preheat over to 375 degrees
With an electric mixer, beat sugar and butter on medium until well blended.
Add syrup, juice, egg, and zest; beat well, and set aside
Combine flour, ginger, baking powder, baking soda, cinnamon & salt in bowl.
Add the dry mixture to the syrup mixture, stirring until well blended.
Pour batter into an 8-inch square baking pan coated with cooking spray.
Bake at 375 degrees for 30 minutes until a wooden toothpick comes out clean from center.
Cool cake in pan on a wire rack.
---
Day 2

Fish with Pear Jardinière
Carrots With Dill Butter
Ingredients:
1 lb. package mini peeled carrots
2 Tbs. butter
1 Tbs snipped fresh dill or ½ tsp. dried dill weed
1 Tbs. lemon juice
1/4 tsp. salt
1/8 tsp. pepper

Boil carrots in water until cooked. Drain off water and add butter, dill, lemon juice, salt and pepper. Serve and enjoy!

---
Day 3

Apricot-Glazed Pork with Potatoes and Cabbage



---
Day 4

Mesquite Grilled Shrimp with Orange-Honey Sauce
Swedish Pound Cake
Ingredients:
3 eggs
1 1/3 cup sugar
1 cup milk
1 ½ cup flour
½ cup melted butter
Beat the eggs and sugar until they are pale yellow in color
Add the milk and flour, alternating a ½ at a time
Mix sparingly and add the butter
Bake in a bunt type pan until golden brown
Bake at 375 degrees for 35-40 minutes
---
Day 5

Grilled Turkey in Herb Butter
Fruit Water
Pour water into a 2 quart container
Add slices of orange, strawberries, apples or other fruits
Refrigerate for several hours so all of the juice in the fruits can blend into the water
---
THIS WEEK'S "DOVETAILING TIPS"
Cook and dice chicken breasts, put in storage bag and refrigerate
Peel and seed cucumbers, bell pepper, put in storage bag and refrigerate
Wash and separate endive leaves, wrap in wet paper towel to retain freshness, and refrigerate.
Grate 2 tsp. orange zest, place in small storage bag and refrigerate
Peel and thinly slice 2 cups onion and one cup carrot. Place in plastic bags and refrigerate.
Slice 2 tomatoes, seal in plastic and refrigerate
Slice one lemon, seal in plastic and refrigerate
Shred 3 cups cabbage, seal in plastic bag and refrigerate
Boil carrots, drain and seal in storage bag. Freeze or refrigerate.
Slice pork loin roast into thin slices. Wrap in plastic freezer bag and freeze until ready to thaw and use.
Combine apricot jam, brown mustard and paprika for pork recipe in plastic storage bag and refrigerate until ready to use.
Leaving shell on shrimp, cut lengthwise to the tail, through the Shell and devein. Place deveined shrimp in freezer bag and freeze until ready to thaw and grill.
Combine 2 Tbs. honey, 2 Tbs. orange juice and 1 Tbs. Worcestershire sauce in freezer bag and freeze until ready to thaw and baste shrimp.
Slice turkey cutlets into ½ inch slices
Combine thyme, rosemary, paprika, salt and garlic powder for grilled turkey recipe. Place in small plastic zip lock and refrigerate. Add butter to make the baste when ready to grill.
Keep the 2 cans of frozen lemonade in refrigerator so they will be thawed and ready to use.
---
Contribute to the Cook'n Club!
DVO would love to publish your article, prose, photography and art as well as your cooking, kitchen and nutrition tips, tricks and secrets. Visit the Newsletter Submission / Win Win for All section in our Forum for more information and details.
---
---

Terms & Conditions | Webmaster | Privacy Policy | Unsubscribe





© 2007 DVO Enterprises, Inc. All rights reserved.
Sales: 1-888-462-6656