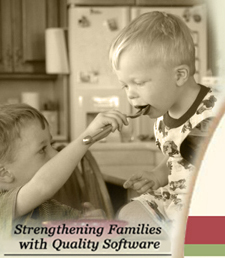 Subscribe Now!

Cook'n Forum
HomeCook'n Archive
Give Aways

I have spent the last 2 hours reading your newsletter and wonderful recipes. I have already printed a whole bunch I want to try. I love them because they are using ingredients one has on hand. I love that and just wanted you to know how much we appreciate all your hard work in putting together this newsletter. Thank you very much.

Anna

Volume I


Terms &amp Conditions
Your use of this Web Site is subject to these terms and conditions. Your use of this Web Site indicates your agreement to such terms &amp conditions.
If you do not accept our terms &amp conditions, please do not use this Web Site.
---
This Web Site belongs to DVO Enterprises, 620 E. Windsor Ct. Alpine, UT 84004, E-mail: dan@dvo.com tel: 801-492-1290, fax: 801-492-1291.

We reserve the right to change these terms and conditions at any time by posting changes on the Web Site. It is your responsibility to review the Web Site terms and conditions regularly to ensure you are aware of the latest terms and conditions. Your use of this Web Site after a change has been posted will be deemed to signify your acceptance of the modified terms and conditions.

SUBSCRIPTIONS:
There are two (2) subscription options. Yearly and Monthly. Refunds for yearly subscriptions are pro-rated and based on the monthly subscription rate of $9.95. I.e., if you opt for the yearly subscription and decide to unsubscribe after four months, $39.80 (4 x $9.95) will be subtracted from your initial sign-up fee. Yearly subscribers who decided to unsubscribe must do so prior to the 5th day of any month to avoid being charged for that month. Monthly subscribers can unsubscribe at anytime prior to the end of the current months billing period. All subscription fees, Yearly or Monthly are automatically debited from the subscribers specified and authorized credit account. For more information concerning subscriptions please visit the subscription page.

PRODUCTS AND SERVICES:
Prices, and details, of products and services (and any offers) posted online are subject to change without notice. All products and services are subject to availability and we give no guarantee in this regard. The provision of details of products and services on this Web Site are not, and should not be construed as, an offer to sell or buy such products or services by the relevant company. The company advertising the products or services concerned may accept or reject your offer at its sole discretion.

PRODUCT TERMS AND CONDITIONS:
If you apply for any product or service detailed on this Web Site, these Terms and Conditions should be read in conjunction with any other terms and conditions which relate to any such product or service and, in the event of any contradiction between these Terms and Conditions and the specific terms and conditions relating to such product or service, the latter shall prevail. For the purposes of these Terms and Conditions, product(s) and service(s) shall include, without limitation, any insurance or financial service.

DISCLAIMERS:
Whilst DVO Enterprises has taken care in the preparation of the contents of this Web Site, this Web Site and the information, names, images, pictures, logos, icons regarding or relating to DVO or to third party products and services, are provided on an "as is" basis without any representation or endorsement being made and without any warranty of any kind. To the extent permitted by law, all such terms and warranties are hereby excluded. In no event will DVO Enterprises be liable for any losses sustained and arising out of or in connection with use of this Web Site including, without limitation, loss of profits, loss of data or loss of goodwill nor any indirect, economic, consequential or special loss.
DVO Enterprises does not represent that the information contained in this Web Site is accurate, comprehensive, verified or complete, and shall accept no liability for the accuracy or completeness of the information contained in this Web Site or for any reliance placed by any person on the information.

DVO Enterprises does not warrant that the functions or materials accessible from or contained in this Web Site will be uninterrupted or error free materials.

TRADEMARKS:
The images, logos and names on this Web Site which identify DVO Enterprises or third parties and their products and services are proprietary marks of DVO Enterprises and/or the relevant third parties. Nothing contained in this Web Site shall be deemed to confer on any person any license or right on the part of DVO Enterprises or any third party with respect to any such image, logo or name.

MEMBER SUBMISSIONS AND CONTRIBUTIONS:
Any and all submissions (whether for pay or gratis contribution) to be considered for publication in the Cook'n Club Newsletter will not be returned. Any material selected for publication in the Cook'n Club Newsletter becomes the property of DVO Enterprises immediately upon publication. From that point on DVO Enterprises reserves the right to use said material in any manner it wishes.

DVO Enterprises reserves the right, at any time, subsequent to a one (1) week notice posted on this website, to remove or cease to supply any product or service contained on this Web Site. In the event that such removal takes place we shall not be liable to you in any way whatsoever for such removal.
CLICK HERE to visit or RETURN to the subscription page.

This Cook'n Club newsletter is published tri-monthly by DVO Enterprises and is protected by both USA and International Copyright Laws. Unless otherwise noted all creative and intellectual context herein, including but not limited to, layout, graphics, photography and fonts cannot be reproduced, copied, forwarded or otherwise replicated without the express consent of DVO Enterprise's Webmaster. Should you wish to unsubscribe click here. On the other hand, if you can't get enough and want more, Click here. / Webmaster - Privacy Policy -
---
Terms & Conditions
|
Webmaster
|
Privacy Policy

© 2006 DVO Enterprises, Inc. All rights reserved.
Sales: 1-888-462-6656