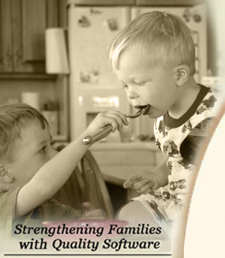 Cook'n Club Home
Subscribe Now!

Cook'n Forum
HomeCook'n Archive
Give-Aways

I have spent the last 2 hours reading your newsletter and wonderful recipes. I have already printed a whole bunch I want to try. I love them because they are using ingredients one has on hand. I love that and just wanted you to know how much we appreciate all your hard work in putting together this newsletter. Thank you very much.

Anna

Volume I - October 20, 2006
The Family Dinner Difference
A Focus On The Family
by Patty Liston

---
Recent research has revealed something our moms and grandmothers already knew: eating together as a family is very important and is one of the simplest and most effective ways for parents to be engaged in their teens' lives.

For ten years, Columbia University has conducted a survey of teens, parents and others to explore substance abuse risk and identify factors influencing whether teens will smoke, drink or use illegal drugs. The annual research has consistently shown a correlation between frequent family dinners and lower usage of these dangerous substances. In addition, the research shows a strong connection between family dinner and academic performance, stress and self-esteem.

The research also showed that there is a decline today in families eating together and it is cause for serious concern. Columbia surveys are showing neglecting to have a regular and consistent family-gathering time not only puts teens at higher risk for substance abuse and academic failure, but threatens overall family stability. That's the bad news. But here's the good and very poignant news regarding this research: overall, 24% of teens desire more frequent family dinners. This figure rises to 52% among teens who have fewer than three dinners with their families in a typical week. What's more, 53% of parents desire more frequent family dinners. Almost all (94%) parents who say they have fewer than three dinners with their families in a typical week desire more frequent family dinners.

Isn't it great to know that something as simple and satisfying as regular family dinners can cure such a myriad of social ills? Now that we understand the importance of this family ritual, and that we still value and yearn for it, why not commit to improvement in this area? Here at DVO, we also share this value and are committed to providing the recipes, and time-saving ideas to make meal preparation easier so your family dinner can become a routine reality!
---
Contribute to the Cook'n Club!
DVO would love to publish your article, prose, photography and art as well as your cooking, kitchen and nutrition tips, tricks and secrets. Visit the Newsletter Submission / Win Win for All section in our Forum for more information and details.
---
---