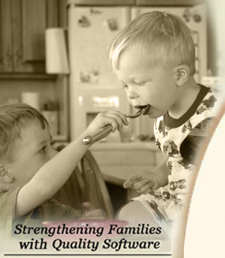 Cook'n Club Home
Subscribe Now!

Cook'n Forum
HomeCook'n Archive
Give-Aways

I have spent the last 2 hours reading your newsletter and wonderful recipes. I have already printed a whole bunch I want to try. I love them because they are using ingredients one has on hand. I love that and just wanted you to know how much we appreciate all your hard work in putting together this newsletter. Thank you very much.

Anna

Volume I - October 20, 2006
Gluten Free Cooking
Notes from Folks...



Do you have a substitute flour for bread, biscuits, pancakes and the like? My adult son cannot have glutten eggs or milk in any form. Where can I purchase other flours such as rice flour? The only milk substitute is Almond Milk. Would this "milk" do O.K. in some of the recipes especially Turkey dressing for Thanksgiving.

Thank you,

Margaret Guerra

---

Hi Margaret,

You'll find many types of flours at a health food store. You'll also find different milks (such as soy or rice) that you may be able to use. The recipes for thanksgiving should be fine with almond milk. However, I say that with tongue in cheek, as I've never even seen the milk. However, I figure any liquid will work in most recipes, so you should be fine.

If you like to shop online, you'll find many vendors for the flours you need. You'll also find many recipes and online resources to support you as you learn a new-way of cooking. Just type in "gluten-free cooking" in your favorite search engine, or "rice flour," etc. to pull up resources for purchasing.

Also, a reader sent in this tip for those baking gluten-free with spelt flour:

My daughter is allergic to wheat and I use spelt with everything. Here is a tip that I discovered when baking muffins and quick breads with spelt. Use 1/8 teaspoon of xantham gum for every 1 cup of spelt flour and the problem of crumbly quick breads and muffins will be gone. Our banana muffins were awesome. By-the-way I just substitute spelt flour on a 1:1 ratio for any wheat flour in my favorite baking recipes. I haven't tried the xantham gum in the bread yet, but I don't see why it wouldn't work.

Hope this tip helps the spelt bakers.

Cindy


Hope this helps,
Desi @ DVO


---
Contribute to the Cook'n Club!
DVO would love to publish your article, prose, photography and art as well as your cooking, kitchen and nutrition tips, tricks and secrets. Visit the Newsletter Submission / Win Win for All section in our Forum for more information and details.
---
---