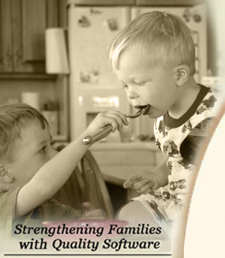 Cook'n Club Home
Subscribe Now!

Cook'n Forum
HomeCook'n Archive
Give-Aways

I have spent the last 2 hours reading your newsletter and wonderful recipes. I have already printed a whole bunch I want to try. I love them because they are using ingredients one has on hand. I love that and just wanted you to know how much we appreciate all your hard work in putting together this newsletter. Thank you very much.

Anna

Volume I - October 20, 2006
Once-a-Month Cooking
by Alice Osborne

A great way to minimize the overall kitchen muss and fuss on a long term basis is to get into the habit of preparing 30-days-worth of family meals on a designated day, once-a-month.
Before she discovered this system, cook extraordinaire and author of Quick Cuisine, Carole Ellis was tense and hurried every night between 4:00 and 6:30 pm. Her book discusses how this make-ahead practice has not only ended the mealtime "wander and ponder" routine she habitually experienced, but has paved the way for quicker meal preparation, fosters a calmer mealtime atmosphere, saves her time and a LOT of money as well.
If this is something that might interest you, here's what she recommends you do before the day of food preparation:
Decide which dishes your family likes and will eat, and prepare a menu (built around any family favorites that are on sale).
Make a grocery list (include quart- and gallon-size freezer bags).
Go shopping
The day before your preparation day, boil chicken (if this is an ingredient in any of your recipes)
The night before, cook a roast or brisket in your crock pot (again, if this is an ingredient in any of your recipes).
On P-Day (preparation):
Do all your chopping, grating, shredding, slicing, cubing, browning and draining of recipe ingredients.
If you are including meatloaf in your month's meals, remember to reserve enough hamburger for this, before browning the other.
Remove the roast from the crock pot, shred and put it in bags; label and freeze.
Carole also offers some overall helpful hints:
Gallon-size bags can hold a 9x13 casserole, enough soup for a family of four, a meatloaf, and so on. These bags stack easily if they are mashed flat.
Cool food in the refrigerator first and then introduce it to the freezer a few items at a time.
Slightly undercook rice and all pastas.
Use ˝ cup less liquid than recipe calls for (foods tend to create their own liquid when frozen), to prevent soggy cooked food.
Frozen foods taste best if used within thirty days.
Certain foods don't freeze well: mayonnaise, eggs, gelatine salads, cream pies, and white or red potatoes that aren't fresh. Basically, if you can find an item in the frozen food cases at the grocery store, you can rest assured they'll freeze well for you at home.
So if mealtime has you in a dither and you'd like less muss and less fuss in your kitchen, give Carole's approach a try. And if you're already a proponent of this practice, why not share YOUR tips and recipes with us? In the meantime, bon apetite!
---
Contribute to the Cook'n Club!
DVO would love to publish your article, prose, photography and art as well as your cooking, kitchen and nutrition tips, tricks and secrets. Visit the Newsletter Submission / Win Win for All section in our Forum for more information and details.
---
---