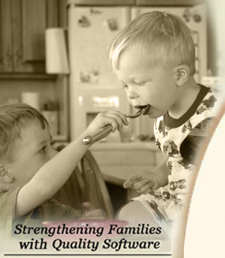 Cook'n Club Home
Subscribe Now!

Cook'n Forum
HomeCook'n Archive
Give-Aways

Another post from the Cook'n Club Forum:

What a treat to have this board here. I can't wait to watch it grow, and have absolutely no doubts that it will be a wonderful place where we can come back over and over again.
The Newsletter - the Forum - Thanks so very much!

MudMouse


Volume I - October 20, 2006
Cookie Know-How
by Alice Osborne


Of the 5 basic types, which is your favorite cookie: bar, drop, refrigerated, rolled, or shaped? It's the consistency of the dough and how it is formed that determines which type of cookie it is. A little cookie know-how can mean successful cookies every time, whichever type you prefer. Here's some cookie know-how for the best cookies ever:

Refrigerated cookie dough lasts up to two weeks in the fridg or up to six weeks in the freezer. Do yourself a favor and be sure to label the dough with baking information and the date you mixed it.
If your recipe calls for butter, margarine or cream cheese, plan ahead to remove it well before mixing so it can soften to room temperature.
For even baking and browning, place cookies at the center of the oven. If the heat distribution in your oven is uneven, turn the baking sheet halfway through the baking time.
When baking more than one sheet of cookies at a time, rotate them from the top rack to the bottom rack halfway through the baking time
When reusing the same baking sheets for several batches, cool the sheets completely before placing dough on them. Dough will soften and begin to spread on a hot sheet.
Because of their lack of density, it's easy to overbake cookies, so check them at the minimum baking time, and watch closely.
Finally, save frozen juice cans, rinse them and fill with your favorite cookie doughs. Cover the tops with plastic (rubber-banded to protect from freezer burn), and keep in the freezer. Putting this little tip to work means you'll always have your favorite cookies on hand when you need or want them.
---
Contribute to the Cook'n Club!
DVO would love to publish your article, prose, photography and art as well as your cooking, kitchen and nutrition tips, tricks and secrets. Visit the Newsletter Submission / Win Win for All section in our Forum for more information and details.
---