Beer Can Chicken with Cola Barbecue Sauce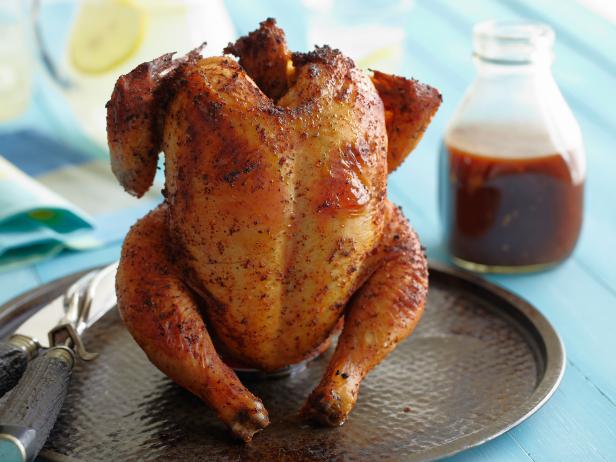 Serves:
2
A beer can holds this chicken up while cooking and brings it to a juicy and tender state. Slather the chicken with a cola barbecue sauce that is sweet and savory.

Dovetailing Tip: Cook a large enough chicken, or an extra chicken, to have 1 1/2 cup shredded chicken to use in Chicken Salad Sandwiches on day 3.
Prep Time:
Cook Time:
Total Time:
Ingredients:
1 12

ounce

can

beer

1

3 1/2 to 4 pound

chicken

2

tablespoons

basic barbecue rub, recipe follows

2

cups

cola barbecue

sauces

, recipe follows

1/4

cup

firmly packed

brown sugar

1/4

cup

sweet

paprika

3

tablespoons

ground

black pepper

3

tablespoons

kosher or sea

salt

1

tablespoon

hickory

salt

2

teaspoons

garlic powder

2

teaspoons

onion powder

2

teaspoons

celery seeds

1

teaspoon

cayenne powder

1

cup

cola

1

cup

ketchup

1/4

cup

Worcestershire sauce

1

teaspoon

liquid smoke

3

tablespoons

steak

sauces

, (recommended: a-1 steak sauce)

1

teaspoon

onion

flakes

1

teaspoon

garlic

flakes

1/2

teaspoon

freshly ground

black pepper
Directions:
Special equipment: 4 to 6 cups hickory or apple wood chips, soaked for 1 hour in water to cover, drained

Pop the tab off the beer can. Using a church key style can opener, make a few more holes in the top of the can. Pour out half the beer into the soaking water of the wood chips. Set the can of beer aside.

Set up the grill for indirect grilling and preheat to medium. If using a charcoal grill, place a large drip pan in the center. If using a gas grill, place all the wood chips in the smoker box or in a smoker pouch and preheat the grill to high until you see smoke, then reduce the heat to medium.

Remove the packet of giblets from the body cavity of the chicken and set aside for another use. Remove and discard the fat just inside the body and neck cavities. Rinse the chicken, inside and out, under cold running water, drain, and blot dry inside and out with paper towels. Sprinkle 2 teaspoons of the rub inside the body and neck cavities of the chicken. Rub the bird all over on the outside with 2 teaspoons of the rub. If you have the patience, you can put some of the rub under the skin being careful not to tear it.

Spoon the remaining 2 teaspoons of rub through the holes into the beer in the can. Don't worry if it foams up, this is normal. Insert the beer can into the body cavity of the chicken and spread out the legs to form a sort of tripod. Tuck the wing tips behind the chicken's back.

When ready to cook, if using a charcoal grill, toss all the wood chips on the coals. Stand the chicken up in the center of the hot grate, over the drip pan and away from the heat. Cover the grill and cook the chicken until the skin is a dark golden brown and very crisp and the meat is cooked to an internal temperature of 180 degrees F, about 1 1/4 to 1 1/2 hours. If using a charcoal grill, you'll need to add 12 fresh coals per side after 1 hour.

Using tongs, carefully transfer the chicken in its upright position on the beer can to a platter and present it to your guests. Let rest 5 minutes, and then carefully remove the chicken from the beer can. Take care not to spill the hot beer and burn yourself. Quarter or carve the chicken and serve with Cola Barbecue Sauce.

Basic Barbecue Rub:

Combine all the ingredients in a mixing bowl and stir to blend together. Store the rub in an airtight jar away from heat or light and it will keep for at least 6 months.

Cola Barbecue Sauce:

Combine all the ingredients in a heavy non-reactive saucepan and gradually bring to a boil over medium heat. Reduce the heat slightly to obtain a gentle simmer. Simmer the sauce until reduced by 1/4, about 6 to 8 minutes. Use right away or transfer to a large jar, cool to room temperature, cover, and refrigerate. The sauce will keep for several months.

Source: foodnetwork.com