St. Patrick's Day Dinner Idea
I got off the phone with my mother-in-law feeling totally dejected. I told her I had just returned from the grocery store with ingredients for corned beef and cabbage for our Sunday meal. And she said, "Just don't make it like you did last time!" I was so appalled and honestly don't remember having ever made it for her. But this comment made me want to cook such a delicious corned beef meal that nobody could deny its deliciousness!!! Sunday morning I set to work washing off the meat, and filling the crock pot with chicken broth, quartered red potatoes, sliced carrots and the meat. I added the seasoning pack from the corned beef, and a little seasoning blend on the vegetables as well. And then I let it cook on low for about 7 hours.
We had some unplanned visitors join us for dinner that night, and everybody raved about the meal. They are good friends too, so they would have told me if it weren't a 10/10. I have made corned beef in the instant pot, a dutch oven, and in the crock pot like I did this time, and this crock pot recipe was the best! All 5 kids and all 4 adults ate it up, chatting about how corned beef is so much better than a roast any day! The kids even asked for second and third servings of "steak!"
Here's how to make it:
Add Recipe to Cook'n
1. Wash off the bloody meat and place it in crock pot. Top with seasoning packet that comes with meat.
2. Add in washed and quartered potatoes, as many as desired (or as will fit in your pot!)
3. Peel and chop carrots into 1" bites. Place on top of potatoes, and season the vegetables with your favorite all purpose seasoning.
4. Pour chicken broth to reach about halfway up the potatoes.
5. Place crock pot on low and let cook for 7+ hours.
6. Once it is done cooking, plate vegetables and then cut up the meat across the grain into slices.
7. Cut green cabbage into wedges, and soak in crock pot liquid
8. Transfer with tongs to pan to fry in a bit of oil, with salt and pepper.
9. Flip halfway, and plate when cooked to desired tenderness.
10. Enjoy!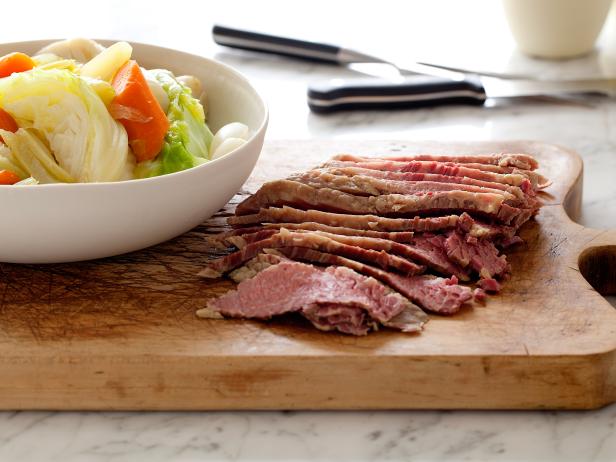 I am so looking forward to all the families who will have this meal on St. Patrick's Day! It really is so delicious, easy to make and easy to clean up. And makes great leftovers. I can't recommend it highly enough!
Sources:
https://www.foodnetwork.com/recipes/tyler-florence/corned-beef-and-cabbage-recipe-1953631

Stefanie Hathaway
Monthly Newsletter Contributor since 2016
Email the author! stefanie@dvo.com