Stevia: Good for you or Not?
I recently embarked on a journey to create a healthier me. There are many aspects to my health journey, but a huge part of it has been limiting refined sugar. It has been tough; like, really tough! I definitely still have a sweet tooth! To help with the sweet cravings I invested in a small jar of stevia. I didn't know a lot about stevia, except that it was a natural sweetener that is supposedly better for you than sugar. I quickly learned that stevia is not a perfect substitute for sugar and decided to do more research. What exactly is stevia and is it really healthy for you? Furthermore, I wanted to understand more about how and when to use it.
Stevia comes from the leaves of the stevia rebaudiana plant that is native to the South American countries of Paraguay and Brazil. It was first discovered by the native Guarani people more than 1,500 years ago. They used the plant for it's medicinal benefits, to freshen breath, and to sweeten their herbal tea. An Italian botanist named, Dr. Moises Santiago Bertoni, is credited with the "discovery" of the plant while exploring the forests of Paraguay in 1887. Bertoni studied, analyzed, and extracted the sweetness of the plant. The first crop of stevia was harvested in 1908.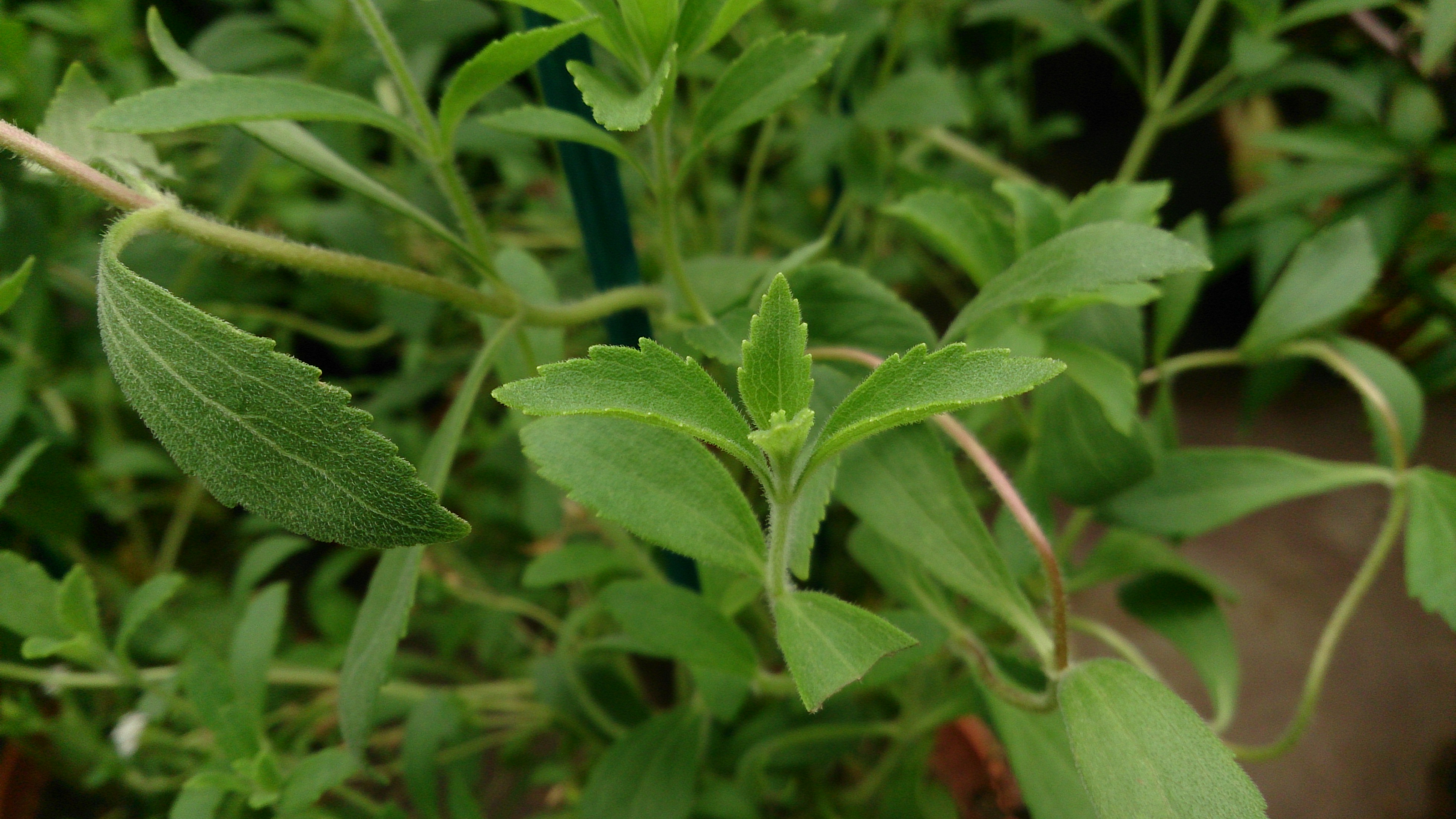 Stevia is an herb that is considered safe for most people to consume. Like all herbs, however, some people may have reactions to stevia. Some research has shown that people with ragweed allergies are more likely to be sensitive to stevia. If you are new to stevia, start out using very small amounts to see how your body handles it. Also, be extra careful if you take regular medication or have other existing health conditions. Check with your doctor to see if stevia is safe for you to use.
For most people, stevia is a healthier sweetener than sugar for the following reasons. Sugar has about 16 calories per teaspoon. Stevia has no calories. This can be very helpful for people concerned about managing their weight. Stevia produces no glycemic response. Glycemic response has to do with the amount of glucose in your blood after eating or drinking something. Foods with a high glycemic response can cause a rapid rise in blood sugar and insulin. Stevia will not affect your blood sugar levels at all. This is especially helpful for people with diabetes. Furthermore, some studies have shown that stevia can help lower blood pressure, improve cholesterol levels, and protect against cancer. Sugar, on the other hand, is linked to obesity, heart disease, cancer, and a myriad of other health problems.
Stevia is much sweeter than sugar. Stevia leaves in their natural state can be 30-40 times sweeter than sugar. When stevia is processed and the sweetness is extracted into liquid or power form, it can be 200-300 times sweeter than sugar! So, the first thing you need to understand about stevia is that a little bit goes a long way. If you are substituting stevia for sugar in a recipe…
1 teaspoon of sugar = 1/8 teaspoon of stevia powder or 5 liquid stevia drops
1 Tablespoon of sugar = 1/3 teaspoon of stevia powder or 15 liquid stevia drops
1 cup of sugar = 2 Tablespoons of powdered stevia or 24 liquid stevia drops
The final thing to remember about stevia is that all stevia is NOT created equal. The purest form of stevia would be to consume the leaves of the actual, organic plant. You can buy dried stevia leaves online or from health food stores and grind them up yourself. Keep in mind, however, that stevia leaves are not regulated by the FDA. Some people also complain about the leaves having a bitter aftertaste. The next best option for stevia would be to buy an organic stevia extract. Stevia extract comes from the less bitter part of the leaf (rebaudioside). Always read the ingredients on the jar or bottle of stevia extract. It is very common for companies to put "fillers" in with the stevia so you might be getting more than just stevia. The final form of stevia isn't really stevia at all, and that is stevia found in artificial sweeteners like Truvia. Truvia contains only one percent stevia! The stevia is over-processed and mixed with other chemicals and genetically-modified ingredients. Most health experts agree to avoid these types of artificial sweeteners as they can cause unwanted side effects like gastrointestinal problems.
Well, there you have it! All that you've ever wanted to know about stevia and more! Moving forward, I still plan to use stevia. But to be safe, I will stick with the purer forms of stevia and will only use it in moderation. Right now, one of my favorite uses for stevia is to sprinkle a small amount of the extract into my herbal tea every night. Do any of our readers have experience using stevia? What do you use stevia for? I would love to hear from you!
Sources:
http://healthyeating.sfgate.com/sugar-vs-stevia-7658.html
https://www.globalhealingcenter.com/natural-health/stevia/
https://www.livestrong.com/article/468892-stevia-vs-sugar/
https://sweetleaf.com/about/
https://draxe.com/stevia-side-effects/
https://www.healthline.com/health/food-nutrition/stevia-side-effects
http://www.stevia.net/history.htm
https://en.wikipedia.org/wiki/Glycemic

Cristina Duke
Monthly Newsletter Contributor since 2014
Email the author! cristina@dvo.com