Put The Lid On Kitchen Fires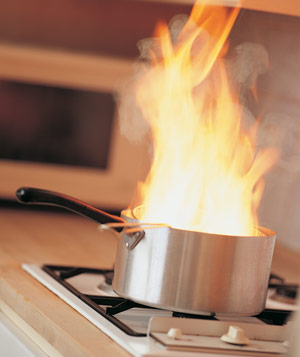 Did you know?
Based on 2006-2010 annual averages:
Unattended cooking was by far the leading contributing factor in home cooking fires.
Two-thirds (67%) of home cooking fires started with the ignition of food or other cooking materials.
Clothing was the item first ignited in less than 1% of these fires, but these incidents accounted for 16% of the cooking fire deaths.
Ranges accounted for the largest share (58%) of home cooking fire incidents. Ovens accounted for 16%.
Three of every five (57%) reported non-fatal home cooking fire injuries occurred when the victims tried to fight the fire themselves.
Frying poses the greatest risk of fire.
Thanksgiving is the peak day for home cooking fires.
These statistics were brought to you from the National Fire Protection Association, not in an attempt to freak you out, but because those of us who love cooking, and even those who don't, really need to know how to be safe, to protect ourselves, our families, and our homes.
I knew that I needed a refresher when I couldn't recall which fires to throw salt on. So I started doing some research and have provided it right to you, straight from the sources. Something this serious, like your family's safety, is not something to be messed with.
Red Cross provides us ten tips on avoiding a fire, preventing fires is way better than having to put one out!
1. Never leave cooking food unattended - stay in the kitchen when frying, grilling, or broiling food. If you have to leave the kitchen, even for a second, turn off the stove.
2. Check your food regularly while cooking and remain in the home while cooking.
3. Use a timer so you'll remember that the stove or oven is on.
4. Don't wear loose clothing or dangling sleeves while cooking.
5. Keep the kids away from the cooking area. Enforce a "kid-free zone" and make them stay at least three feet away from the stove.
6. Keep anything that can catch fire—pot holders, oven mitts, wooden utensils, paper or plastic bags, food packaging, and towels or curtains—away from your stove, oven or any other appliance in the kitchen that generates heat.
7. Clean cooking surfaces on a regular basis to prevent grease buildup.
8. Consider purchasing a fire extinguisher to keep in your kitchen. Contact your local fire department to take training on the proper use of extinguishers.]
9. Always check the kitchen before going to bed or leaving the home to make sure all stoves, ovens, and small appliances are turned off.
10. Install a smoke alarm near your kitchen, on each level of your home, near sleeping areas, and inside and outside bedrooms if you sleep with doors closed. Use the test button to check it each month. Replace all batteries at least once a year.
Even if we do all of these things we should still be prepared for a fire.
How to Put Out Kitchen Fires
When a fire starts in the kitchen, you need to act fast to keep the fire from getting out of control. But how you act depends on what kind of fire you have and where it is. Follow these instructions for putting out kitchen fires:
If you have a fire in the oven or the microwave, close the door or keep it closed, and turn off the oven. Don't open the door! The lack of oxygen will suffocate the flames.
If your oven continues to smoke like a fire is still going on in there, call the fire department.
If you have a fire in a cooking pan, use an oven mitt to clap on the lid, then move the pan off the burner, and turn off the stove. The lack of oxygen will stop the flames in a pot.
If you can't safely put the lid on a flaming pan or you don't have a lid for the pan, use your fire extinguisher. Aim at the base of the fire—not the flames.
Never use water to put out grease fires! Water repels grease and can spread the fire by splattering the grease. Instead, try one of these methods:

If the fire is small, cover the pan with a lid and turn off the burner.
Throw lots of baking soda or salt on it. Never use flour, which can explode or make the fire worse.
Smother the fire with a wet towel or other large wet cloth.
Use a fire extinguisher.

Don't swat at a fire with a towel, apron, or other clothing. You're likely to fan the flames and spread the fire.
If the fire is spreading and you can't control it, get everyone out of the house and call 911! Make sure everybody in your family knows how to get out of the house safely in case of a fire. Practice your fire escape route.
Sources:
http://www.usfa.fema.gov/citizens/home_fire_prev/cooking.shtm
http://www.redcross.org/news/article/Avoid-Kitchen-Fires-Use-Red-Cross-Tips
http://www.dummies.com/how-to/content/how-to-put-out-kitchen-fires.html
http://www.vfis.com/prevent-kitchen-fires-2013.htm

Sharon Ng
Monthly Newsletter Contributor since 2012
Email the author! sharon@dvo.com