Rice Is Nice, Rice Paper Wrapper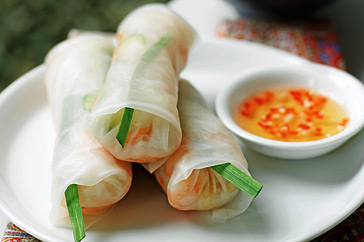 Rice paper rolls or bánh tráng or Gỏi cuốn, depending on which part of Vietnam, are best known in Asian cooking, often filled with pork or shrimp and healthy vegetables. They are a thin, steamed rice crepe. If you have ever had a summer roll from a Vietnamese restaurant, it was probably wrapped in rice paper. Vietnamese spring rolls and salad rolls are also terms for rolls typically wrapped with the rice paper.
Rice rolls are slightly chewy, but also light and healthy, especially since they are not always fried. The term for the fried rolls is cha gio. You really can stuff them with all kinds of things, but I love them stuffed with vegetables like cabbage, carrot, and zucchini—try seared ahi tuna, or turkey.
You can find rice wrappers in the International aisle, unless you have an Asian market. I go for the 8 1/2 inch size, as I find them the easiest to use.
Since the wrappers are sold dehydrated, it takes a little work, but really, it is very little work. Here are some steps to help you get a rice roll ready.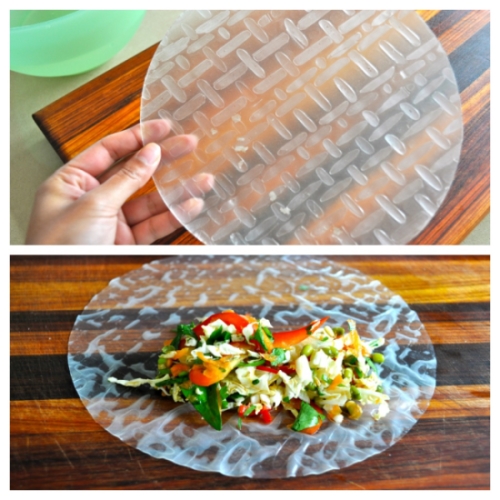 In a shallow dish filled with water, like a plate with a lipped edge, dip a wrapper into the water. Leave for five to ten seconds, this should be long enough for the wraps to be pliable. Slide the wrap out, blot away excess water, and fill with your chosen ingredients. Wrap, in the same way you would a burrito, by tucking in the edge and then rolling. Due to the thin nature of these wraps, they may tear. If your wrap tears, just overlap with more wrap and it will stick its self together, don't worry, they are very forgiving. Serve and enjoy!
If you can't find rice wrappers at your grocer, you can order them online. Since they are dehydrated, they do not need to be refrigerated and can be shipped very easily.
You can fill rice rolls with many things and most salad or sandwich fillings work great. (Try a BLT rice wrap, mmmmmm!)
A side note or two:
Rice rolls should be gluten free, the translation makes it look like there is wheat flour, but they are made with tapioca flour and rice as well as water and salt. Double check before consuming, but there should be no gluten in rice roll wrappers.
Two Trusted brands of rice paper are Rose and Three Ladies.
Sources:
http://kirstycooks.blogspot.com/2010/12/vietnamese-rice-paper-rolls.html
http://tenthousandtastebuds.com/rice-paper-rolls/

Sharon Ng
Monthly Newsletter Contributor since 2012
Email the author! sharon@dvo.com