Keep the Dinnertime Conversation 'Roll'ing
What could be better than a hot homemade crescent roll slathered in butter accompanied by lively and engaging dinnertime conversation? The clinking and clanking of cups, forks, and plates along with the musical hum of excited voices fill the kitchen as everyone sits around the dinner table. It seems these scenarios are happening less and less in today's busy world. The sacred hour of dinnertime has been replaced by scattered kitchen snacking, frantic frozen meals, and late arrivals home from work. This time in which family members bond, tummies are fed, and souls are nourished is often set aside for only special occasions.
I'm not saying dinnertime at our house always looks like a picturesque painting of happy family life because it certainly does not. I do know, however, that the effort to sit down and have dinner together each night has rewarded our family tenfold. What is the key? Conversation.
There is no need to make conversation at the dinner table exceptionally stimulating unless this is your preference. Often the simplest of questions can lead to the most heart-warming moments. By simply asking "How was your day?", "What did you do today?" "How are you feeling?" you can make someone feel validated and loved and give them the opportunity to reciprocate that love.
Here is a list of fun ideas for dinnertime conversation to get you rolling?
If you could go anywhere in the world, where would you go and why?
What is your greatest dream?
What is your favorite season of the year and why?
What is your fondest family memory?
What are some of your greatest strengths?
Who do you admire the most?
What's your favorite animal?
What makes you feel happy/sad/mad?
Who is your best friend?
What are some things you wished you had more time to do?
If you had a million dollars, what would you spend it on?
What is your most valuable possession?
What would the "perfect day" look like for you?
Add some of your own questions to this list and have fun with it. I've even heard of people making a "Family Dinnertime Questions" box filled with slips of papers containing ideas or questions for topics of conversation at the dinner table. Whatever works for you and your family, do it. You will not regret the sweet moments that follow.
Lastly, I want to share with you our family's favorite dinnertime roll recipe. It is soft, flaky, and delicious and the best part is it often encourages people to sit around the dinner table longer because it is hard to have just one. So enjoy and get the family dinnertime conversation "rolling".
---
Collette Family Crescent Rolls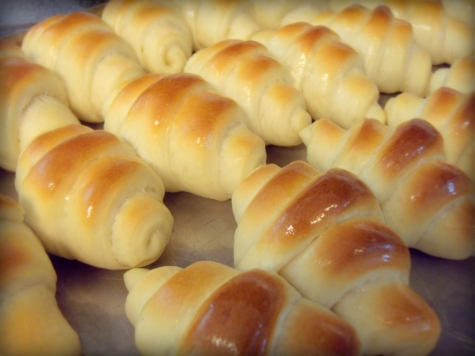 Serving size:

7


Calories per serving:

550




Ingredients:
2 1/2 cups

warm

water
1/2 cup
sugar
2 tablespoons
yeast
1

egg

, slightly beaten
1/3 cup

vegetable oil

(or melted butter)
4 cups
bread flour
3 cups

all-purpose, unbleached

flour
2 teaspoons
salt
Directions:
Add sugar and yeast to water in large mixing bowl. Let sit for 2-3 minutes or until your yeast proofs. Stir in beaten egg and vegetable oil. Combine flours and salt and whisk together in a separate bowl. Gradually knead in salt and flour mixture until the dough is tacky to the touch, but not sticky. Add additional flour if needed.
Place dough in bowl sprayed with non-stick cooking spray. Cover with a towel and let it rise for about 35 minutes or until doubled in size.
Punch down the risen dough and turn onto counter. Form three balls of dough and roll out one at a time on a lightly floured surface into 12 inch circles. Use a pizza cutter (or knife) to cut the circle into 16 triangles of equal size. Roll up the triangles into crescent shapes pinching the edges together. Place rolls seam side down onto a baking sheet coated with non-stick cooking spray. Cover the rolls with a towel and let rise for an additional 35 minutes or until doubled in size.
Bake rolls at 375 degrees for 15 minutes or until they turn a golden brown color. Immediately brush tops of rolls with butter after taking them out of the oven. Serve warm and enjoy!

Recipe formatted with the Cook'n Recipe Software from DVO Enterprises.
---


Carrie Collette
Monthly Newsletter Contributor since 2013