Grilled Peach-and-Mozzarella Salad
Serving size:

4


Calories per serving:

266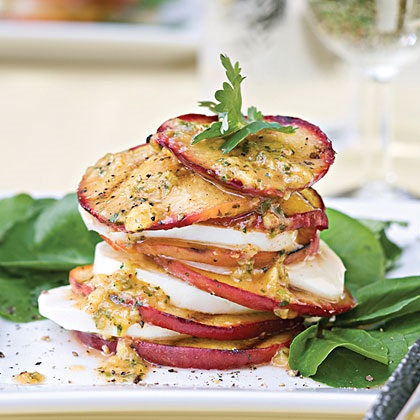 ---
A cumin-lime vinaigrette spiked with a tiny amount of tequila adds a little something extra to this gorgeous grilled salad of peaches and fresh mozzarella cheese. As the seasons change, consider substituting heirloom tomatoes, plums, and other soft fruits for the peaches. We found traditional peaches work better in this dish than white peaches, which have more sugar and water and don't hold up as well on the grill. Author: Southern Living Recipe Type: Salads
Prep time:
Yield:
Makes 4 servings
Ingredients:
5

peaches

(not white)
3

green

onions

, sliced
1/4 cup

chopped fresh

cilantro
3 tablespoons
honey
1 teaspoon
salt
1 teaspoon

lime

zest
1/2 cup

fresh

lime juice
3/4 teaspoon

ground

cumin
3/4 teaspoon
chili powder
1 1/2 tablespoons

tequila

(optional)
1/3 cup
olive oil
vegetable

cooking spray
1 6 package

1 (6-oz.)

watercress

or baby arugula, thoroughly washed
3/4 pound

fresh mozzarella, cut into 16 (1/4-inch) slices
garnish: fresh

cilantro

sprigs
Directions:
1. Peel and chop 1 peach. Cut remaining 4 peaches into 28 (1/4-inch-thick) rounds, cutting through stem and bottom ends. (Cut peaches inward from sides, cutting each side just until you reach the pit. Discard pits.)
2. Process chopped peach, green onions, next 7 ingredients, and, if desired, tequila in a food processor 10 to 15 seconds or until smooth. Add oil, and pulse 3 to 4 times or until thoroughly combined.
3. Coat cold cooking grate of grill with cooking spray, and place on grill. Preheat grill to 350° to 400° (medium-high). Brush both sides of peach rounds with 1/3 cup peach dressing.
4. Grill peach rounds, covered with grill lid, over 350° to 400° (medium-high) heat 3 to 5 minutes on each side or until grill marks appear.
5. Arrange watercress evenly on 4 plates. Alternately layer 4 grilled peach rounds and 4 cheese slices over watercress on each plate. Top each with 3 more peach rounds. Drizzle with remaining peach dressing. Garnish, if desired.
Grilled Peach-and-Feta Salad: Preheat oven to 350°. Arrange 1/4 cup pecans, chopped, in a single layer in a shallow pan. Bake 8 to 10 minutes or until toasted and fragrant, stirring after 5 minutes. Reduce peaches from 5 to 4, and reduce salt to 1/2 tsp. Substitute 8 cups loosely packed Bibb lettuce leaves (about 6 oz.; 1 to 2 heads of lettuce) for watercress and 1/4 cup crumbled feta cheese for mozzarella cheese. Peel and chop 1 peach. Cut each of remaining 3 peaches into 8 wedges. Proceed with recipe as directed in Steps 2 through 4, decreasing grilling time for peach wedges to 2 to 3 minutes on each side or until grill marks appear. Divide Bibb lettuce and 4 cooked bacon slices, halved crosswise, among 4 plates or shallow bowls. Top with grilled peach wedges. Sprinkle with feta cheese and pecans. Serve with dressing. Makes 4 servings; Prep: 25 min., Bake: 10 min., Grill: 6 min.
Note: You can also use a grill pan to get those beautiful grill marks on the peaches.

Recipe formatted with the Cook'n Recipe Software from DVO Enterprises.
---
Source:
http://www.myrecipes.com/recipe/grilled-peach-and-mozzarella-salad-10000001806860/