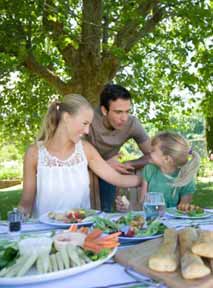 I have grandchildren and I have to tell you that there is nothing that has a more versatile definition than the word Picnic. Basically it means eating your meal outdoors in the fresh air, hopefully with some sunshine. I have even had a picnic on the back porch on a rainy day to the delight of the little ones. This doesn't make me a super grandma, it means I grew up in the beautiful Pacific Northwest near the Pacific Ocean where we didn't always have sunshine – even in the summer – but it never stopped us from having a picnic.
I remember several times that we kept our coats on and still enjoyed being out in nature sharing a picnic and gathering sea shells. On those days our meals usually consisted of hot chili, scones, raw vegetables, cookies, a few finger foods and, of course, some hot chocolate. On warmer days, we had the fried chicken and potato salad with all the trimmings; a good, old fashioned traditional picnic. It's a carefree time during which family and or friends can just relax and take pleasure in nature.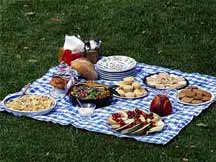 The charm of a picnic is that it can be a simple snack, a family gathering, a reunion or a romantic meal for two. You don't even have to have a special reason for picnicking. I think the big appeal is being outside in nature with family and or friends and sharing a meal.
I know that some of you are thinking if it's not a beautiful day then I am not going on a picnic. That's the beauty of the picnic concept. You can spread a blanket under the kitchen table and you still have delighted children. Why not do something crazy like have a spaghetti dinner on a blanket and or big sheet of plastic under the table?
Once on a rainy day, with disappointed grandchildren, I spread a blanket out on the covered porch and we had a delivered pizza and pop. They were overjoyed! Hey you don't have to worry about staying out too long, the kids are easily coaxed into coming in for a game or a movie, but I guarantee you that all the neighbor kids will hear about the cool party.
A picnic menu is also so adaptable. Little kids are happy with an oversized handkerchief tied on a stick slung over their shoulder with their PBJ (peanut butter and jelly sandwich), apples and drink inside as they march off to the nearest park singing "Hi-Ho, Hi-Ho, its to the park we'll go."
Tips:
If it's a hot day and you might not eat for a little while, freeze the drinks and let them thaw as you play.
An all day family picnic requires some major planning – what food to bring, how much to bring and how to pack it.
A reunion is often done best if you provide the main dish and condiments and maybe the drinks and assign everything else out.
Cheese Twists
¾ cup all-purpose flour
½ cup shredded cheddar cheese
1/8 Teaspoon cayenne pepper
4 Tablespoons butter
1 egg yolk
2 Tablespoons water
In a medium bowl, stir together the flour, cheese and cayenne pepper. With a pastry blender cut in butter (I just use my hands) until the mixture looks like corn meal. Beat the egg and water together and add to dry ingredients. Gather the dough into a ball. Cover with plastic wrap and refrigerate for 1 hour.
Pre-heat the oven to 400 degrees. On a lightly floured surface, roll out the dough ¼ inch thick. Cut the dough into ¼ inch strips. Make them about 4 inches long and then twist them and lay them on an ungreased baking sheet. Place the twists so that they are not touching and have a little space to grow. Bake at 400 degrees for about 10 minutes, or until golden brown. Cool on Racks.
Apples and Wild Rice Salad
1 (8ounce) can pineapple tidbits
2 cups of cooked wild or mixed rice
3 medium green apples (diced)
1 cup finely chopped red cabbage
2 ribs of celery finely diced
½ cup of chopped walnuts
½ cup of mayonnaise
½ cup of sour cream
2 Tablespoons lemon juice
2 Tablespoons sugar
Drain the pineapple, reserve 1 or 2 tablespoons. In a large bowl, combine the cooked rice, apples, celery, red cabbage, pineapple tidbits.
In a small bowl, mix mayonnaise, sour cream, lemon juice, pineapple juice and sugar. Mix well with a whisk. Pour over salad. Cover and refrigerate for about 2 hours. Add the nuts just before serving. Keep cool in ice crest until ready to eat.
Deviled Eggs
12 hard boiled eggs
1/2 cup of mayonnaise
1/2 teaspoon salt
1 Tablespoon white or red wine vinegar
2 Tablespoons Dijon mustard
1 teaspoon dill weed
1/2 teaspoon of garlic powder
(Tip: Really fresh eggs do not make good deviled eggs as they don't peel well.)
Slice the eggs lengthwise. Remove the yolks and set the white halves aside. Mash the yolks very well with a fork until there are no chunks. Add the Mayonnaise, mustard, dill weed salt, garlic powder, vinegar and mix well. Spoon egg mixture into egg white halves.
Pre Cooked Shrimp on Ice
Pre cooked Shrimp and Cocktail sauce served on a bed of shredded lettuce and cocktail sauce for dipping.
Assorted Melon Balls
In a large bowl, slice watermelon, cantaloupe and honey dew into bit size pieces. Drizzle with 1-2 Tablespoons of honey if desired. Keep cool.
Picnic #1
Store Picnic
Pick up a rotisserie chicken from the grocery store. Also pick up coleslaw or other favorite salad. Buy some strawberries, raspberries and blueberries. Wash and slice the strawberries. Toss with a ½ Teaspoon of lemon zest and sugar to taste. Let sit until flavors are blended. Buy or make brusetta to serve with toasted crackers
Picnic #2
Pin Wheel Sandwiches
Spread a large flour or vegetable tortilla with whipped cream cheese, layer with spinach leaves and your favorite lunch meats. Roll up and cut into small sandwiches. Use tooth picks to secure each sandwich.
Bring a variety of chips and fruit kabobs (a variety of different kinds of cut up fruit on a kabob stick).
Lemon bars
1 cup butter
½ cup powdered sugar
2 ¼ cups powdered sugar
4 eggs
2 cups white sugar
6 Tablespoons lemon juice
1 Teaspoon lemon zest
1 Teaspoon baking powder
In a large bowl, cream together the butter and powdered sugar. Beat until light and fluffy. Add the 2 cups of flour a little at a time until well blended. Spread evenly into a well greased 9 x 13 inch pan. Bake at 350 degrees for about 20 minutes.
In a smaller bowl, beat the eggs until frothy and light and gradually add the granulated sugar. Add the lemon peel, lemon juice and remaining a cup flour and baking powder and beat until blended. Pour mixture over the baked crust and bake at 350 degrees for another 20 minutes. Remove from oven, sprinkle with powdered sugar and allow cooling before cutting into squares.
For easy handling, carry the bars in a baking pan.
PICNIC ESSENTIALS
Blankets
Napkins/Wipes
Plates
Cups
Silverware
Insect Repellant
Condiments
Drinks
Cutting Knife
Garbage Bags
---
* DVO welcomes your kitchen hints and cooking or nutrition questions! Email us and we'll post your hints and Q/A's in upcoming newsletters! *