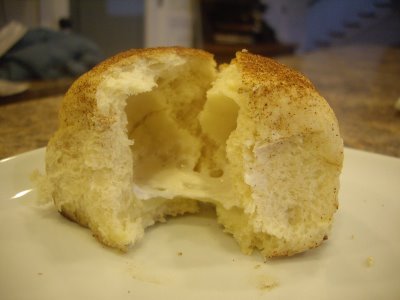 Gather the family in the kitchen for a treat that symbolizes the true meaning of Easter. Talk together about the life of Jesus Christ as every family member helps to prepare these rolls.
Each Marshmallow is covered in cinnamon and sugar, wrapped and buried inside the crescent roll dough just as Christ was wrapped and placed inside the tomb after his death on the cross.
During the 15 minutes that it takes to bake the rolls turn out the lights and talk about the 3 days of darkness and sadness that occurred after the death of Christ.
Then turn up the lights and break open one of the baked rolls. You will notice that it is as hollow as the tomb was on the 3rd day. Celebrate the joy of Easter and the life of our Savior by sharing this heart-warming treat with your family.
Hollow Tomb Rolls or Marshmallow Delight
1 (8 ounce) package refrigerated crescent rolls
¼ cup sugar
2 tablespoon ground cinnamon
8 large marshmallows
¼ cup butter, melted
Separate rolls into eight triangles. Combine sugar and cinnamon. Dip each marshmallow into butter, roll in cinnamon-sugar and place on a triangle. Pinch dough around marshmallow, sealing all edges. Be sure to seal well or the marshmallow will escape.
Dip tops of dough into remaining butter and cinnamon-sugar. Place with sugar side up in greased muffin cups. It helps to use jumbo muffin tins so that the juice doesn't overflow.
Bake at 375 degrees for 13 to 15 minutes. Serve warm.
Happy Easter!
---
Join the Cook'n Club!An unbeatable value with exclusive benefits for members only.
Enjoy articles like this and many other benefits when you join the Cook'n Club.
---