Who said that quick and easy dinners have to come from a box? Here are some delightfully light main-dish salads you can toss together in 15 minutes or less.
Grilled-Salad Salad
Now that the weather is warming up it is time to test out the good old grill with this tasty salad, in which everything is grilled!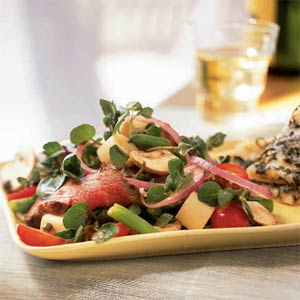 2 tablespoons prepared horseradish
3 tablespoons extra-virgin olive oil
1 teaspoon kosher salt
1 teaspoon freshly ground pepper
1 10-0unce package (or 2 bunches) fresh spinach, stems removed
1 ½ pounds grilled flank steak, thinly sliced
1 large onion, thickly sliced and grilled
3 carrots, thinly sliced and grilled
3 plum tomatoes, halved and grilled
To make the vinaigrette, whisk together the horseradish, vinegar, olive oil, salt, and pepper in a small bowl. Set aside.?Arrange the spinach on a serving platter. Slice the steak and arrange it atop the spinach, along with the grilled vegetables. Drizzle with the vinaigrette and serve. Serves 6.
Mediterranean Pasta Salad
A rainbow of colors and flavors make this pasta salad pleasing to the eye as well as the tastebuds.
1 pound tricolor bow tie pasta
¼ cup balsamic vinegar
2-3 teaspoons balsamic vinegar
freshly ground pepper
2/3 cup extra virgin olive oil
1/3 cup diced sun-dried tomatoes
¼ cup fresh basil, torn or shredded
¼ cup diced onion
2 large pickled pepperoncini peppers, diced
3 tablespoons halved black olives
2 teaspoons chopped fresh oregano
1 ½ ounces feta cheese, crumbled
1 ½ tablespoons greated romano cheese
Bring a large pot of salted water to a boil. Add the pasta and cook until al dente; drain, then rinse with cold water to cool.
Meanwhile, make the vinaigrette: Whisk the vinegar, mustard, 1 teaspoon salt, and pepper to taste in a small bowl. Gradually whisk in enough of the oil to make a smooth dressing; season with salt and pepper.
Combine the sun-dried tomatoes, basil, onion, pepperoncini, olives and oregano in a bowl. Add the cooked pasta, 1/2 teaspoon salt and 1 teaspoon pepper. Add the vinaigrette and both cheeses and toss. Chill until ready to serve.
Strawberry Almond Spinach Salad
This simple strawberry salad tastes as pretty as it looks and is delicious topped with crispy bacon, grilled chicken or cubed turkey.
3 cups fresh baby spinach
½ cup sliced fresh strawberries
¼ cup sliced honey-roasted almonds
1 tablespoon cider vinegar
1 tablespoon honey
1 ½ teaspoons sugar
In a large bowl, combine the spinach, strawberries and almonds. In a jar with a tight-fitting lid, combine the vinegar, honey and sugar; shake well. Drizzle over salad and toss to coat. Serve immediately.
Serves 4.
Enjoy a fast and fresh salad tonight!
---
If you have any additional tips that you'd like to add, please post them on the
Cook'n Club Forum
(if you're a
Cook'n Club Member
)...or e-mail them to
Dan@dvo.com
.
---
Join the Cook'n Club!An unbeatable value with exclusive benefits for members only.
Enjoy articles like this and many other benefits when you join the Cook'n Club.
---