Breakfast in a Blink
By Jeanne Wolfley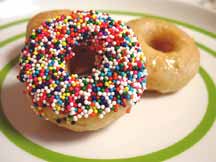 We all know how important it is to have breakfast, and as hard as we sometimes try our hectic schedules require that breakfast becomes a "Grab-and Go". For the record, a pop tart or a doughnut is not really a healthy breakfast item; they are treats and high calorie ones at that.

Start thinking about the numerous options that are healthy and tasty that will take up only a few minutes of your time. I will give you few ideas that necessitate a little planning ahead, but once they are done they as still a "grab and go" item.

I am sure that some of you just can't stand the thought of eating breakfast and some of you feel like you can't move until you have something in your stomach. The ideal situation is that you sit down at the table and eat a healthy, filling breakfast. Remember that the word breakfast implies that you are breaking a fast. After a night of sleep, fuel for your body is very important. Since a sit down breakfast doesn't always happen it's nice to know that you can still get some of the right kinds of foods into your body that will help sustain your body and brain throughout the morning and keep you from over indulging in the afternoon.

Some people have even suggested that skipping breakfast can help them lose weight. WRONG! If you don't eat breakfast you get so hungry in the late morning or early afternoon that you end up eating way more food and probably higher calorie foods that you wouldn't have indulged in if you would have taken that minute to eat something nutritious that morning. When I haven't eaten breakfast and I get really hungry and usually go for the fastest, yummiest unhealthy carbohydrate I can get my hands on and then I feel the effects about 2 hours later.

In the morning we really need three things to get us going; a healthy carbohydrate to give us fuel for our activities of the day, fiber to keep our bodies regular and a protein and fiber help to keep us from feeling starved.

Sugar cereals are a big hit with the kids but they come down from the sugar high really quick. The more sugar you eat the hungrier you get and the more you crave unhealthy foods.

There are plenty of ideas for quick on the fly healthy breakfasts. If you just can't get your self to eat before you have to leave in the morning, make it a habit to bring a little something healthy with you. If you are a real last minute person in the morning bring a few healthy items to work and keep them in your desk drawer that will help sustain your body until lunch time and help you make healthier lunch choices, such as wheat bread and peanut butter, or a healthier cracker and some cheese or a can of V8 juice or dried fruits. If you have a refrigerator at work your in even better shape. I guarantee that you will feel much better during the day and you won't pig out at lunch time if you take care of your body's nutritional needs in the morning.

Egg and Cheese Hash Brown Muffins

3 cups shredded hash browns
¼ cup butter
¼ Teaspoon salt
4 beaten eggs or egg substitute
½ pound of ground sausage
Or minced ham
¼ cup Shredded cheddar cheese
¼ Teaspoon black pepper
¼ cup shredded provolone cheese

Use up to a cup of any vegetables such as finely chopped sautéed mushrooms, red or green peppers. Diced tomatoes or mild green chilis.

Preheat the oven to 375 degrees. Grease a regular sized 12 cup muffin tin. Make sure you spray or butter it well.

In a bowl combine the hash browns, melted butter, and mix well Press ¼ cup hash brown mixture into each muffin tin. Lining the bottom and sides. Bake for 15 minutes until the edges are brown.

Meanwhile brown your sausage (drain off extra fat) or dice your ham. Add your vegetables and sauté' just until vegetables are tender. Fill each cup with meat and veggie mixture.

In a small bowl beat the eggs and add salt, pepper. Pour over meat mixture and sprinkle each cup liberally with cheese. Bake for 12-14 minutes or until a tooth pick inserted comes out clean.

These can be reheated in the microwave the next day as needed.



Banana Flax Seed Shake

1 cup skim milk
1 whole fresh or frozen banana
2 Tablespoons Flax seed meal

Mix well in blender and enjoy. You can also throw in some strawberries or peaches but this taste great just with the banana.

Breakfast Burrito

Scramble eggs with sausage or what ever you like can be wrapped in a flour tortilla then wrapped in plastic wrap then lay them in a gallon bag and freeze. Microwave for one minute and off you go! I have grandsons that love these and often grab them other times of the day as needed before a sports activity.

Really quick ideas include: A yogurt and a piece of fruit.
A left over waffle toasted in the oven. Cheese and tomato on an English muffin, a bran muffin and a banana or apple slices on a cinnamon toast.
Try and make sure you have some protein a carbohydrate and a fiber to stave off the hunger monster before lunch.

Tip: Don't forget your water. It keeps you hydrated and also helps with hunger. Remember… If you don't take care of your self no one else will, even though we would like to try.



---
Join the Cook'n Club!An unbeatable value with exclusive benefits for members only.
Enjoy articles like this and many other benefits when you join the Cook'n Club.