I love rotisserie chicken, but my husband and kids have never really been fans. Recently, while visiting with my parents at their home my mom pulled out half of a rotisserie chicken and all the fixings for salads and sandwiches. I don't know why the thought had never occurred to me, but there are a thousand different things to do with a rotisserie chicken.
Now, when I need quick and easy dinner this is one of my favorite ways to go! Grab a rotisserie chicken and throw together any number of favorite meals with the cooked chicken. Salads and sandwiches are just the tip of this iceberg. These recipes will give you lots of ideas for using that rotisserie chicken whether you are looking to use up leftovers or just looking for a way to make your recipe a little easier.
Chicken Fried Rice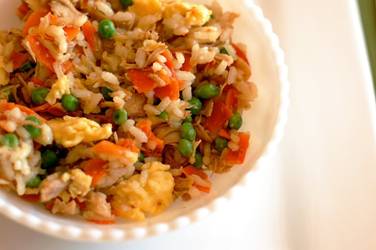 1 to 2 Chicken breasts or from a Rotisserie Chicken
3 Scrambled eggs
2 Carrots (finely grated)
1/2 White onion (finely chopped)
3/4 cup Frozen peas
1/2 cup Butter
1 to 2 Garlic cloves (Crushed) or 1 teaspoon of garlic Powder
2 cups White rice (not instant)
Marinate chicken in soy sauce, if you do not have much time, mix it with chicken before cooking
In a large frying pan Cook chicken in small amount of olive oil, add carrots and onions and sauté until clear
Add frozen peas and cook until soft.
In a separate pan cook rice then add to the mixture
In another pan, scramble three eggs, chop finely and add to mixture
Melt 1/2 cup butter, add crushed garlic cloves to butter, stir and add to mixture
Mix all together well, add soy sauce to taste and Enjoy.
Chicken Broccoli Casserole
Makes 8x8 pan size
1 Can Cream of Chicken Soup
1/2 Cup Mayo
1/2 Cup Milk (I add extra to make it more thinned out)
1 TBL. Lemon Juice
2 tsp. Curry Powder
2 Chicken Breasts - cooked & shredded (or chicken from a Rotisserie Chicken)
10oz. or more Broccoli (steamed)
Bake @ 350 for 20-30 minutes
Serve over rice - technically Arborio Rice is for risotto, but it's the best.
Serves 6-8
Chicken Salad Sandwich
Add to your taste:
Chicken
Celery
Red grapes
Mmayo
Salt & Pepper
Lemon juice
Served on a big buttery croissant. Yum!
Asian Chicken Pasta Salad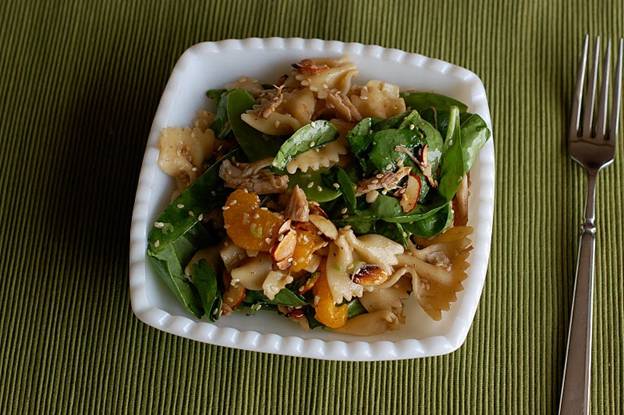 1 box bowtie (farfalle) pasta
4 chicken breasts cooked & shredded or all the breast meat of one rotisserie chicken
1/4 Cup green onions (sliced & diced into oblivion)
1/2 pack sliced almonds - toasted
1 bag spinach (stems removed)
1 sm. bag peapods
1 can Mandarin Oranges (drained)
The Dressing
(double this into two batches)
1/4 Cup Sesame seeds (toasted)
1/3 Cup Soy Sauce
1/3 Cup Red Wine Vinegar
1/3 Cup Veg. Oil *or Sesame Oil is great here too
2 TBS. Sugar
1/2 tsp. S & P
Marinate chicken & pasta in the dressing in the fridge overnight.
* It's helpful to under cook the pasta a bit. Al dente would be perfect.
Toss altogether right before serving with round two of the dressing.
Serves 6.
The choices go on and on. You can really use rotisserie chicken for any recipe that calls for cooked chicken. So, nest time you are in need of a quick, easy fix for your family grab a chicken and work your culinary magic!
---
* DVO welcomes your kitchen hints and cooking or nutrition questions! Email us and we'll post your hints and Q/A's in upcoming newsletters! *