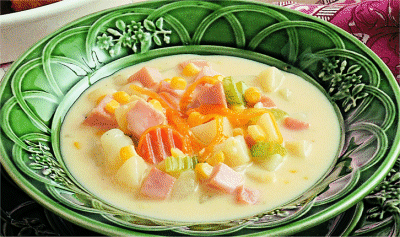 Tasty soups for chilly days
I Love Soups! I could eat them year round, but my husband only likes them when it's chilly outside. Thus, I have to cram my collection of soup recipes into the winter months. (Sometimes, though, I can slip a few into March and April without raising his eyebrows!) Since I'm in the midst of dishing up these warm, filling entrees, I thought I'd pass along a few of my favorites. In the Pantry Remedy section, you'll find tips for making your own bread bowls. This is a special way to serve up soup. The kid in me loves to eat "Willy Wonka" style (i.e., "you can even eat the dishes!") Happy Cook'n! --Desi

Cheddar Ham Chowder
Broccoli Chowder
Mexicali Bean Soup
Edith's Veggie Minestrone
Ham and Cheese Potato Soup

?? Do you have any fabulous recipes to share with other Cook'n readers? Email your recipes to us. Include any preparation or serving hints and/or tell us about you and your family.