Tomatoes DESERVE to Be So Popular!
Tomatoes. They're showing up ready-to-pick in our gardens and in our grocery stores as a long-awaited substitute for the proverbial hot-house tomato. Hallelujah, right?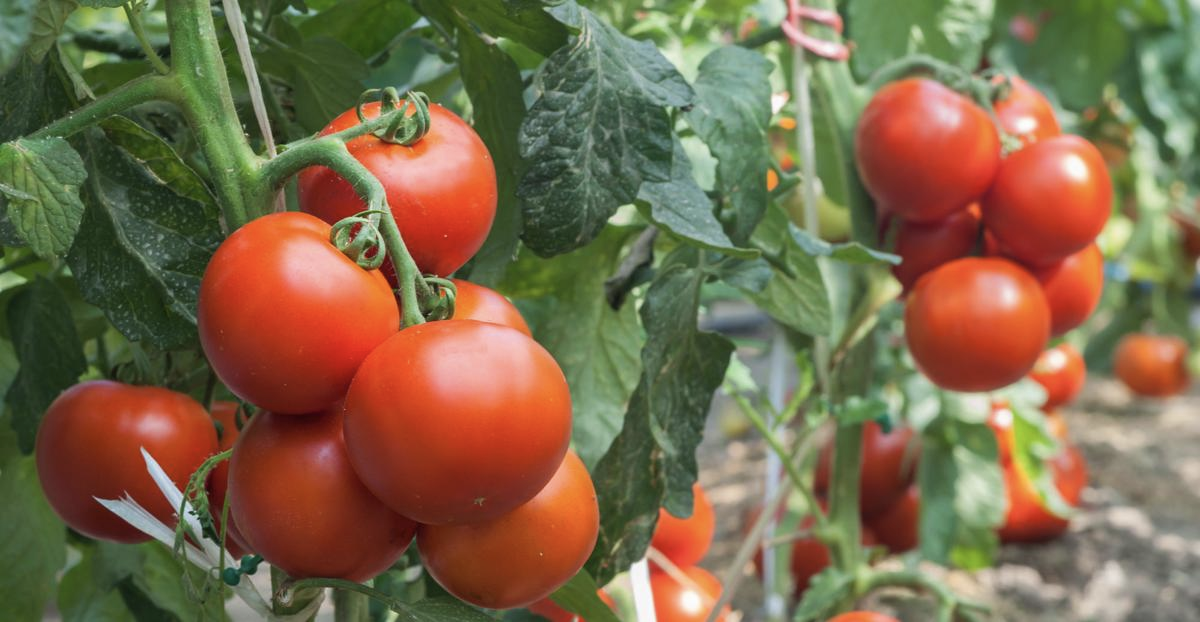 Is there anything better than a vine-ripened, juicy tomato? On a sandwich or burger, in a fresh greens salad, topping a pizza, or just eating out-of-hand like an apple. Life is good.
It used to be that when we talked of tomatoes, we'd automatically think RED…that was their color when ripe and ready for pickin'. But today the choices have greatly expanded. Now you can find mature tomatoes in a variety of colors, including yellow, orange, green, and purple. What's more, many subspecies of tomatoes exist with different shapes and flavors. Simply put, they're popular—a favorite to grow and a favorite to eat.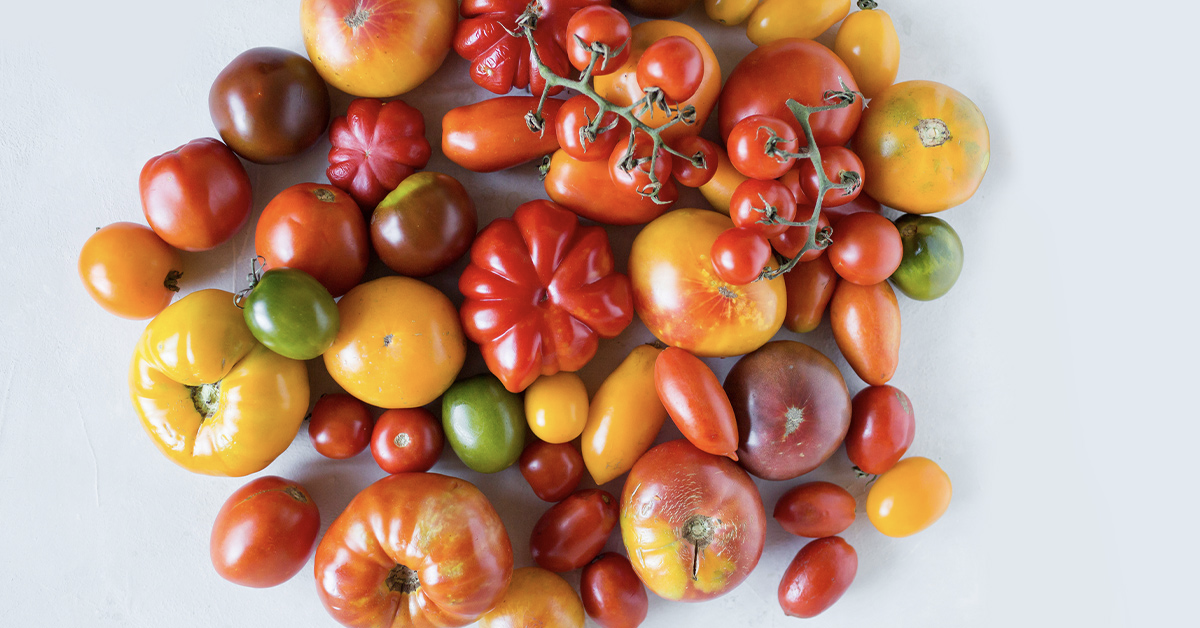 Tomatoes deserve to be so popular, too. Not just because of their taste, but because they're so healthy. Tomatoes are the major dietary source of the powerful antioxidant lycopene, which has been consistently linked to reduced risk of heart disease and cancer. And they're also a great source of vitamin C, potassium, folate, and vitamin K.
While about 95% water, most tomatoes are low in carbs and a super source of insoluble fiber. Their main plant compounds (besides the above-mentioned lycopene) are:
Beta carotene, which is converted into vitamin A in your body.
Naringenin, a flavonoid that helps decrease inflammation and protect against various diseases.
Chlorogenic acid, another powerful antioxidant, is superior in lowering blood pressure.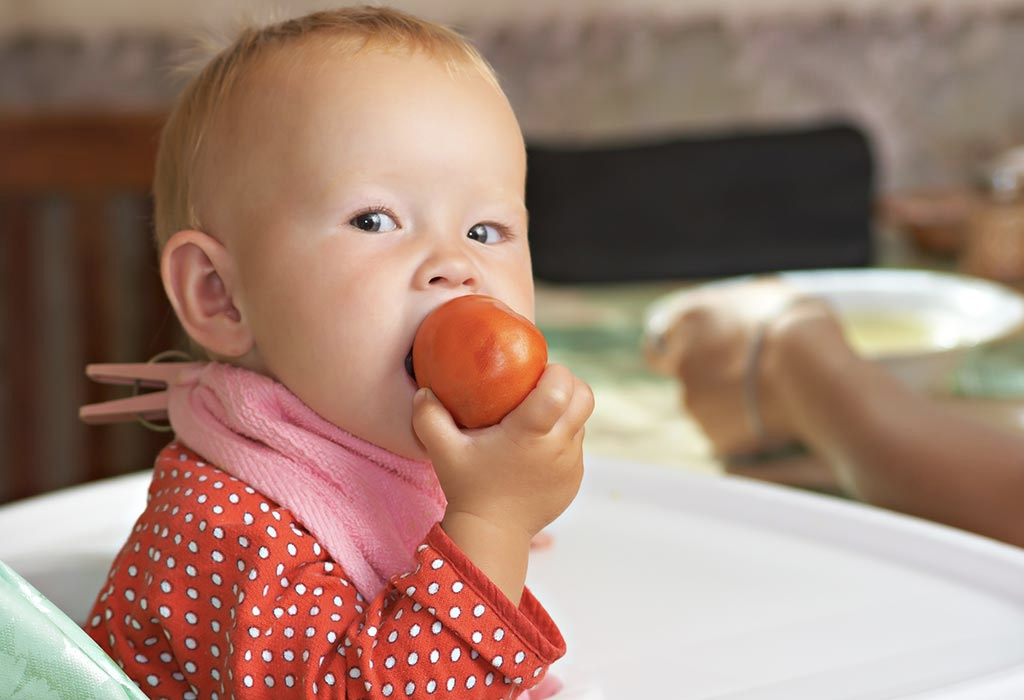 And like so many natural, whole foods, tomatoes not only taste good, they're good for you. Whether you fancy cherry tomatoes, heirloom tomatoes, beefsteak tomatoes or another variety, they add a pop of color, a delicious taste, and pleasing texture with whatever they're paired.
But wait, there's more! They're not just healthy, beautiful, and delicious. They are SO VERSATILE. For instance, consider these ideas on how to use them:
Stuff them with chicken, tuna salad, or potato salad.
Layer sliced tomatoes alternately with zucchini slices and cover with shredded cheese, topped with toasted and seasoned bread crumbs. You'll have an easy gratin that works well for brunch or dinner.
Dice tomatoes and add them to canned soups for a dash of color, wallop of nutrition, and extra layer of texture.
Make homemade pico de gallo and use this tomato-based condiment to stuff avocado halves. This is absolutely scrumptious.
Add a thick slice of fresh tomato to your toasted cheese sandwich. Tomatoes compliment cheese so well that including them in a toasted cheese sandwich is a no-brainer.
Add diced tomatoes to a can of pork and beans along with some sliced green onions for a quick, hearty, and healthy lunch. The fresh tomato flavor really enhances the slightly tomatoey flavor of the sauce the beans are packed in.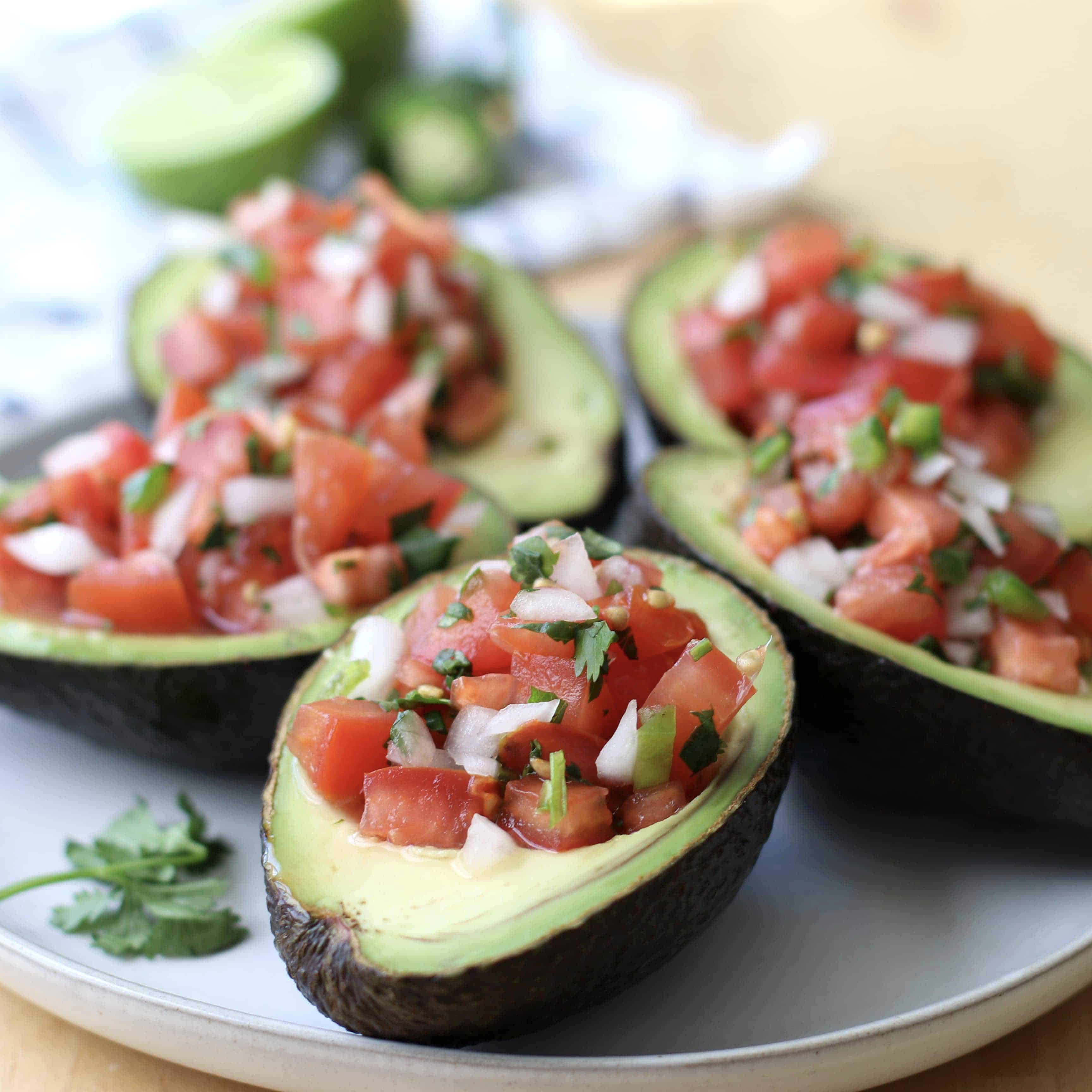 But without a doubt one of our very favorite ways to use tomatoes (specifically grape or cherry tomatoes) is to blister them. They become extra juicy, flavor-enhanced, and almost fancy in less than 10 minutes.
For your dining delight, I'll close with this recipe, first found on a great lifestyle and foodie website, www.downshiftology.com. I've topped steamed rice with these. Yum! They're terrific with pesto and grated Parmesan cheese over pasta. Wow! Or try them with zucchini "noodles" and pesto. They're divine with sauteed spinach and scrambled eggs. Let your imagination work on this 5-ingredient recipe (well, 7 ingredients if you include the salt and pepper). It's loaded with possibilities.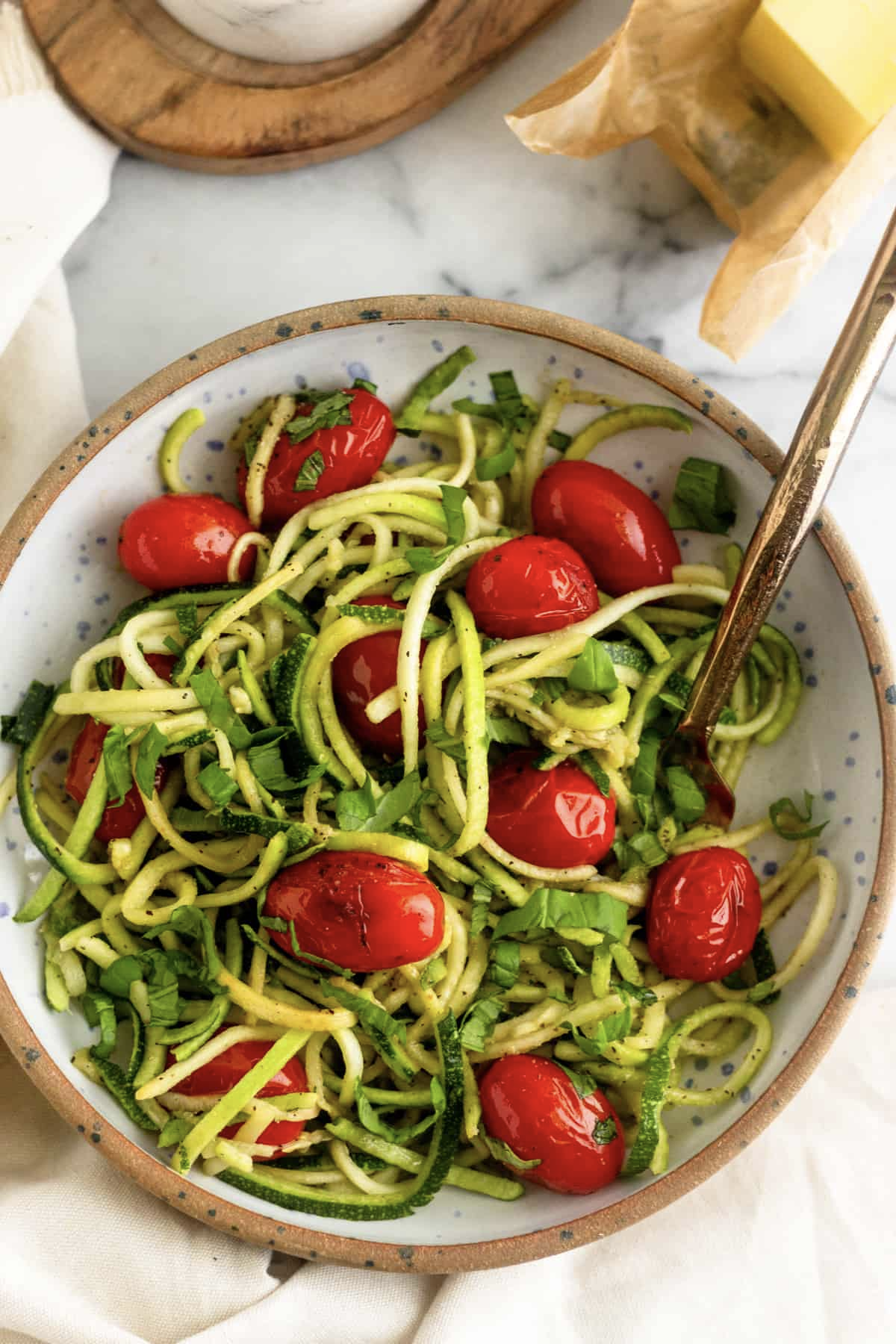 According to Lisa, Downshiftology's owner/creator, there are a few things you'll want to keep in mind when making this:
Make sure the oil is hot before adding the tomatoes. Hot oil is essential for the blistering process!
Don't stir the tomatoes the first 2 minutes they're cooking. This process helps to properly blister them.
Don't overcrowd your pan with too many tomatoes. Otherwise, they will steam together versus blistering individually. So, opt for a medium or large pan, depending on how many tomatoes you're blistering.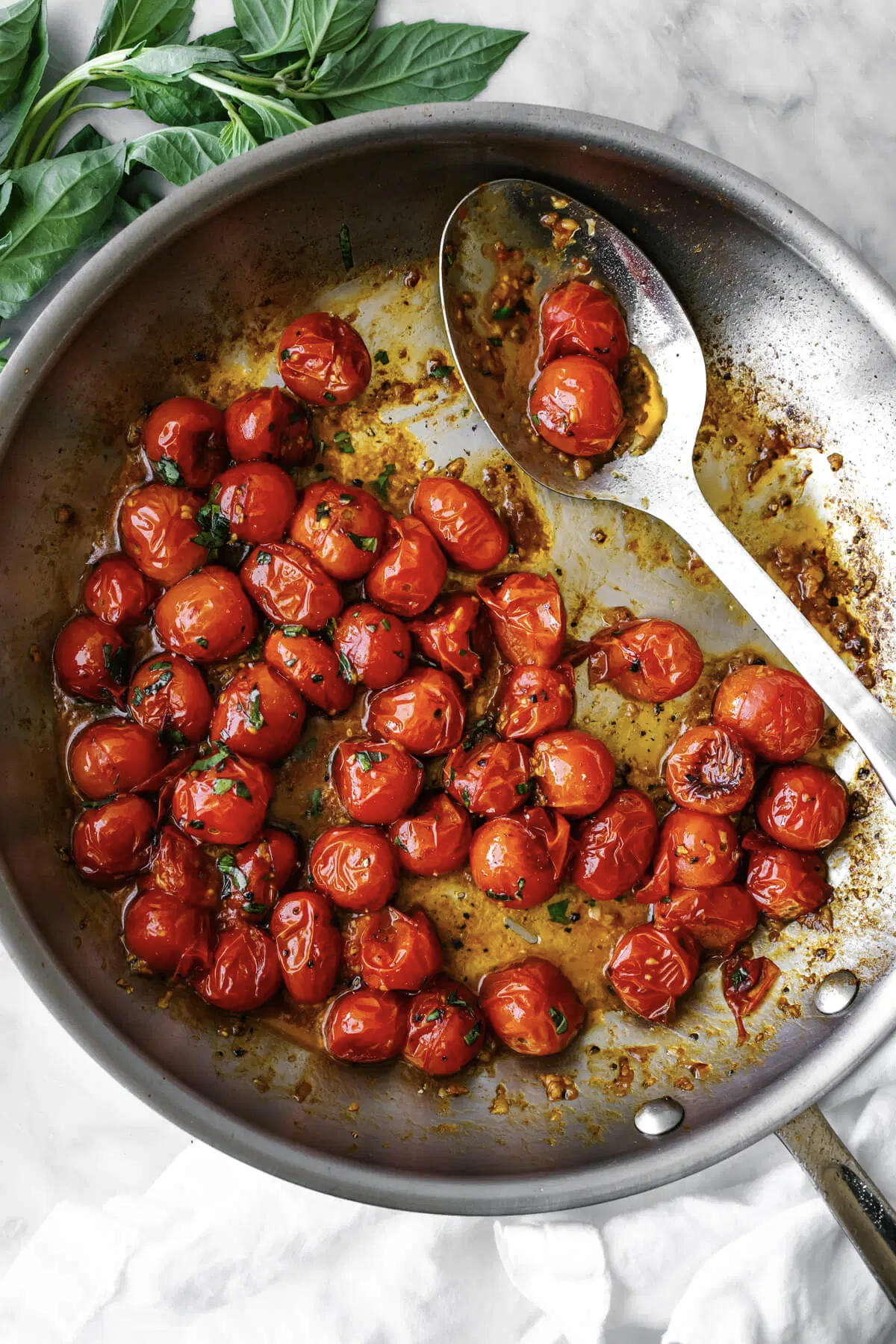 Blistered Tomatoes
Ingredients:
2
cups
grape or
cherry tomatoes
2
tablespoons
extra virgin
olive oil
2
cloves
garlic
minced
1
tablespoon
chopped, fresh
basil
or other herbs of choice
kosher salt and
black pepper
to taste
Directions:
1. Heat the oil in a medium pan over medium-high heat. Add the tomatoes and let them sit undisturbed in the pan for 2 minutes, to blister on the bottom.
2. Add the garlic, salt, and pepper, then stir together with the tomatoes. Let them cook and blister another 2-3 minutes, stirring a few more times.
3. Remove the blistered tomatoes from the heat, then top with chopped basil or other fresh herbs.

Recipe formatted with the Cook'n Recipe Software from DVO Enterprises.
Add Recipe to Cook'n
Sources:
www.heraldextra.com
www.healthline.com
www.parenting.firstcry.com
www.joyousapron.com
www.eatthegains.com
www.downshiftology.com

Alice Osborne
Weekly Newsletter Contributor since 2006
Email the author! alice@dvo.com