Start the 4th With a Bang of Delicious Color!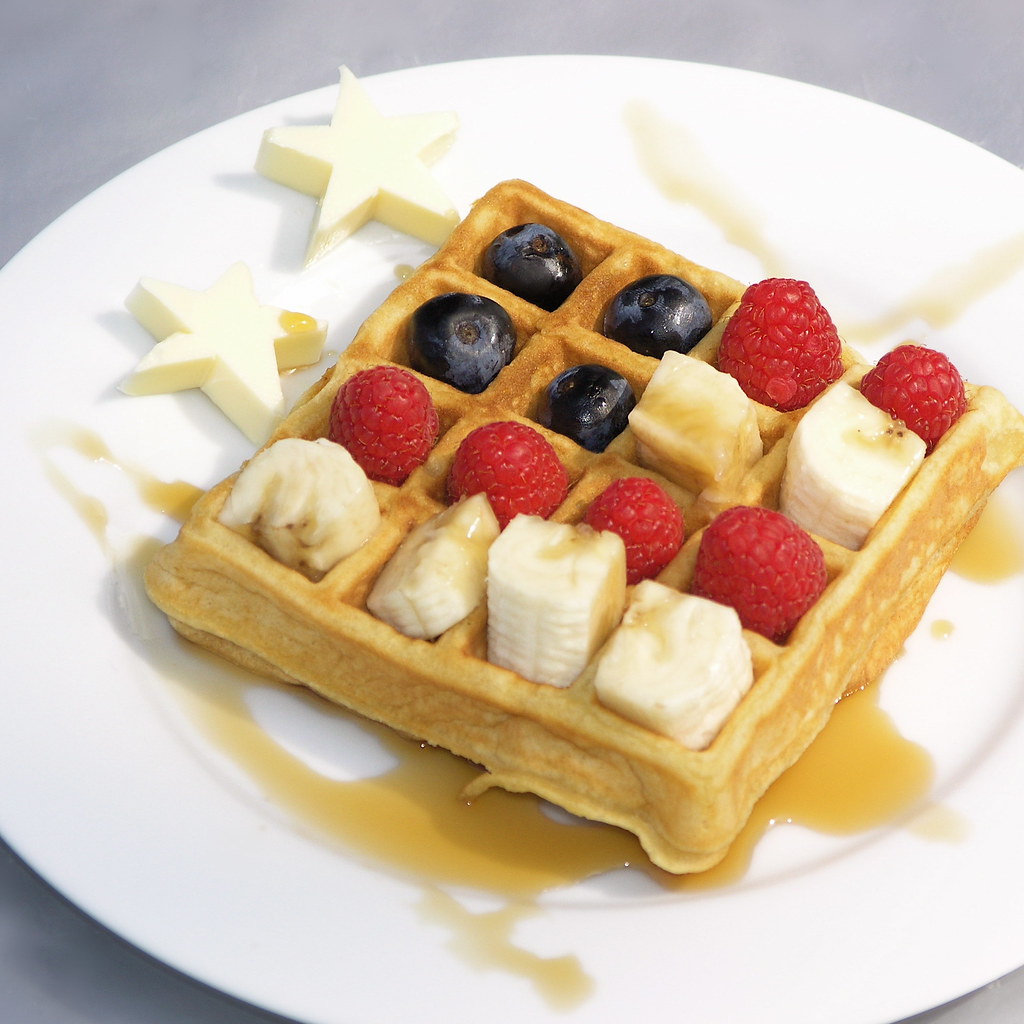 I love the Fourth of July, and its right around the corner! One of my favorite things about the 4th is the color scheme: I don't know what it is about the red, white and blue but I absolutely love it! Maybe it's the automatic feeling of patriotism, maybe it's because they blend so well together, but I am here for it!
Breakfast can be an overlooked part of the day, but it shouldn't be! It's an important start to the day, and it's so easy to find ways to make your breakfast patriotic! Sometimes you just need something that's just grab and go, as you make your way to a parade or balloon festival. And other times, (like possibly this year, with the 4th being on a Sunday), you want a special breakfast that you can sit down and enjoy! I've got you covered either way- here are some ideas to start your day with tasty and patriotic food!
Easy Breakfast Ideas-
If you're taking off early and need something quick or on the go, these ideas are perfect!
Donuts.
You want to know one of the easiest things you can do? Donuts!! Who doesn't love picking up a dozen donuts from Krispy Kreme or your local grocery store/bakery? And they always deck them out for the holidays, so you know it will be festive!
Yogurt Parfaits.
These are great on-the-go breakfasts if you have disposable bowls or cups. Vanilla greek yogurt is the perfect white base, and add an assortment of blueberries, strawberries, shredded coconut and raspberries to keep a patriotic (and delicious) theme!
Cold Cereal.
Basic, but super easy! You could serve a healthy bowl of Cheerios or Shredded Wheat, and top with berries for your patriotic color. If you have young kids, you could even dye the milk blue or red- that will really tickle them! You could also find a more colorful cereal, like Freedom Crunch (that has blue and red berries) or Blueberry Cheerios topped with sliced strawberries. Just take a walk down the cereal aisle and let your creative juices flow!
Oatmeal.
If you mix raspberries or strawberries with your oatmeal, you can get a red tinge. You can also simply add sprinkles for the patriotic effect!
Toast.
I saw the cutest idea that's simple and festive! Take a piece of toast and cover it with your favorite flavor of red jam/jelly. Place a few blueberries in the left corner, and use halved slices of bananas to create stripes and you can have your own little American flag!
Big Breakfast Ideas-
If you're not starting your festivities 'til later and have time to enjoy a warm breakfast together as a family, here are some additional ideas!
Red Velvet Pancakes.
These are not only super tasty- but perfect for the 4th of July! And you can whip them up so easily using Red Velvet cake mix and some water. A holiday calls for cake for breakfast, does it not? ;) Top with whipped cream and blueberries!
Regular Pancakes or Waffles.
If you're not a big fan of red velvet, you can still make regular pancakes or waffles festive! You can use a star-shape cookie cutter to cut them into stars and top with berries, or you can make stripes with canned whipped cream and add berries in between to create little pancake/waffle flags!
Overnight French Toast.
There are so many versions out there, it would be so easy to create a patriotic one! Throw berries into your favorite recipe, or top your favorite recipe with a blueberry or strawberry sauce and whipped cream!
Sweet Rolls.
One of the most festive things out there, in my opinion! You can always make cinnamon rolls and top them with patriotic sprinkles, but these berry sweet rolls would be a delicious alternative as well!
Patriotic Berry Sweet Rolls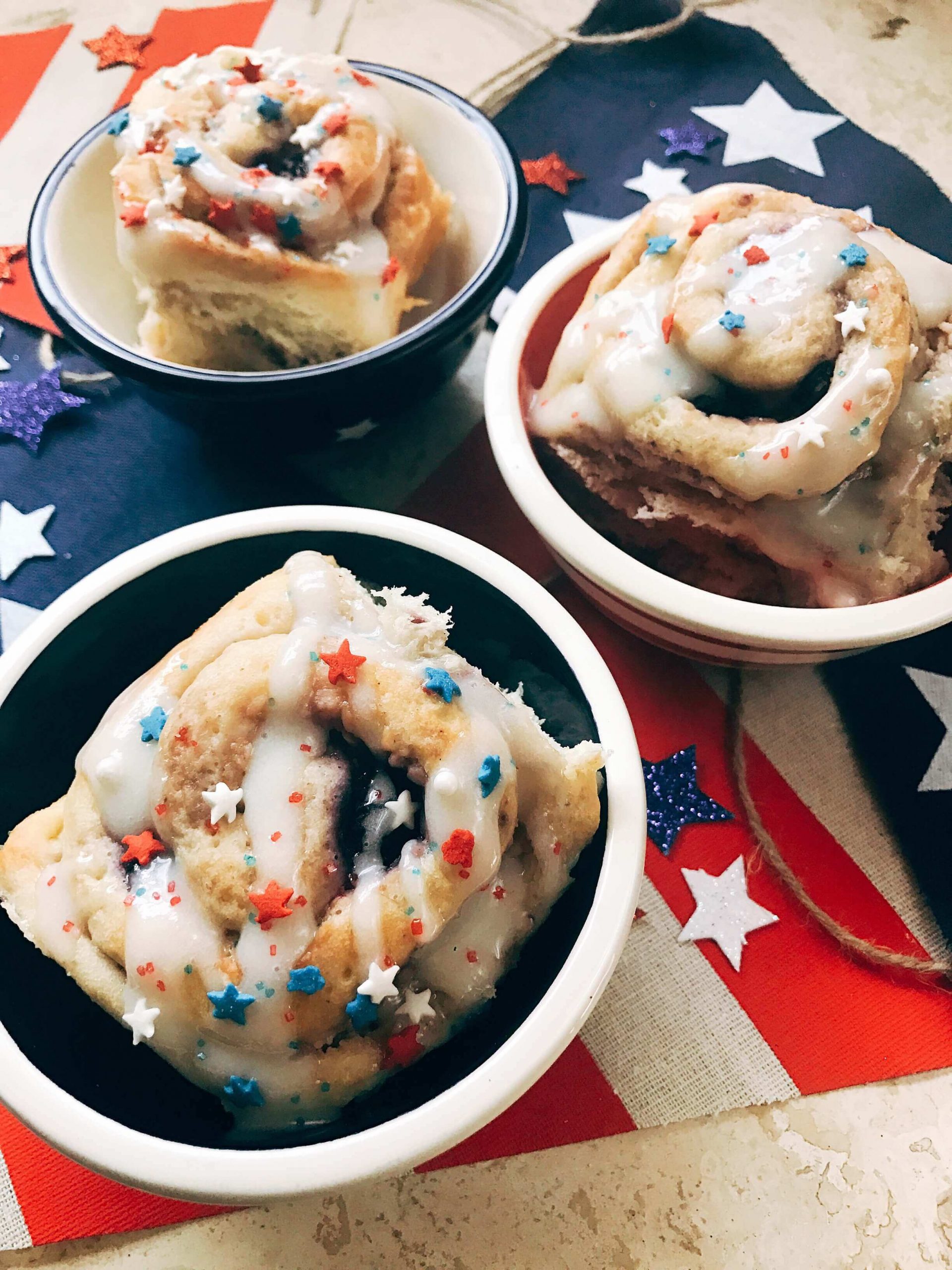 Patriotic Berry Sweet Rolls filled with mixed berries and cream cheese, perfect for summer and 4th of July! Make in advance for a quick breakfast.
Serving size:
12
Calories per serving:

241




Ingredients:
3/4
cup
milk
1
package
active dry
yeast
(1/4 oz, not instant yeast)
1/2
cup
warm
water
1/4
cup
sugar
(plus more for dish)
1/3
cup
butter
melted (plus more for dish)
1
teaspoon
salt
1
large
egg
8
ounces
cream cheese
softened
1
teaspoon
vanilla extract
1
tablespoon
sugar
1
cup
mixed
berries
2
tablespoons
cornstarch
1/3
cup
strawberry jam
(or berry flavored jam of choice)
2
tablespoons
cream cheese
softened
3
tablespoons
milk
1 1/2
cups
powdered sugar
red, white, and blue star
colored sprinkles
blue
sugar
sprinkles
red
sugar
sprinkles
Directions:
Scald your milk by heating 3/4 cup of milk over medium high heat in a skillet. Once the milk is simmering, turn the heat off. You should have approximately 1/2 cup left. Measure out the 1/2 cup milk and discard the rest. (This is important because milk has a protein that prohibits yeast from rising properly. Heating the milk will break this protein and allow the yeast to do its thing).
In a small bowl, dissolve yeast in 1/2 cup warm water as per package directions for the correct temperature to ensure that you keep your yeast alive (typically between 100-110F).
In another small bowl, combine the berries and cornstarch. If your berries are frozen, thaw and drain them first. Set aside.
In a large bowl, mix the 1/2 cup scalded milk, sugar, melted butter, salt, and egg. Let it sit if the temperature of this mixture is over 110F otherwise it will kill the yeast. Once at 110F or below, add the yeast mixture and mix to combine.
Add in 2 cups of flour and mix until smooth. Add additional flour, 1/2 cup at a time, until the dough is easy to handle (the amount of flour that you need will vary).
Roll the dough out onto a lightly floured surface and knead for 5 to 10 minutes. It is done when it bounces back when you push on it, and you can pull it very thin to see light through it without it tearing a hole. Place the dough into a greased bowl (you can use 1-2 tsp of vegetable oil to coat the bowl you mixed everything in). Cover bowl with saran wrap and then a kitchen towel. Let sit until the dough has doubled in size, approximately 60-90 minutes.
When dough has doubled in size, punch it down. Then put it back on a floured surface and using a rolling pin, roll the dough into a rectangle approximately 15x9 inches.
Combine the filling's cream cheese, sugar, and vanilla extract in a small bowl. Spread the mixture over the dough in a thin layer. Depending on the exact size of your dough, you may need a little more to coat it all.
Spread the jam over the cream cheese. You want just enough to make a very thin layer so that you do not have too much filling. Sprinkle the berries across the filling.
From the long edge, tightly roll the dough all the way to the other long edge and pinch dough together to seal. Try not to push the berries but rather slightly lift the dough over them as you roll to keep them in place.
Using a serrated knife, cut the log in half. Then cut each half into half again so that you have four equal pieces. Lining up two pieces at a time, cut each into three rolls so that you have a total of 12 rolls.
Coat the bottom of your 9x13" baking dish with some additional melted butter (approximately 1 Tbsp) and sugar to coat. Place the cinnamon roll slices close together (four rows of three) in the dish and let them rise until the dough has doubled again, approximately 45 minutes. (If you are making these the night before, once the rolls have doubled in size, cover them in plastic wrap and place them in the refrigerator. In the morning, pull them out to warm to room temperature before baking).
Preheat the oven to 350F. Once the rolls have doubled in size, place them in the oven and bake for about 30 minutes or until they are starting to brown.
While the rolls are baking, prepare the icing. Whisk the cream cheese in a stand mixer until creamy. Add the milk and whisk in until combined. Add in the powdered sugar and whisk until smooth. If you would like to add some peppermint extract in the glaze for a stronger flavor, do so now and combine. If the cream cheese is lumpy, you can heat this mixture at any point in a microwave safe bowl for 10 seconds at a time until smooth again.
When the rolls are done, let them cool slightly and then top with the icing. Finish with patriotic sprinkles. Serve warm.
Source:
sthreeolivesbranch.com

Recipe formatted with the Cook'n Recipe Software from DVO Enterprises.
Add Recipe to Cook'n
Cheese and Berry Stuffed Crescent Rolls.
I love things that look really fancy but are super easy to make. These totally fit the bill, and they sound absolutely delicious as well!
Stuffed Berry and Cream Cheese Crescent Rolls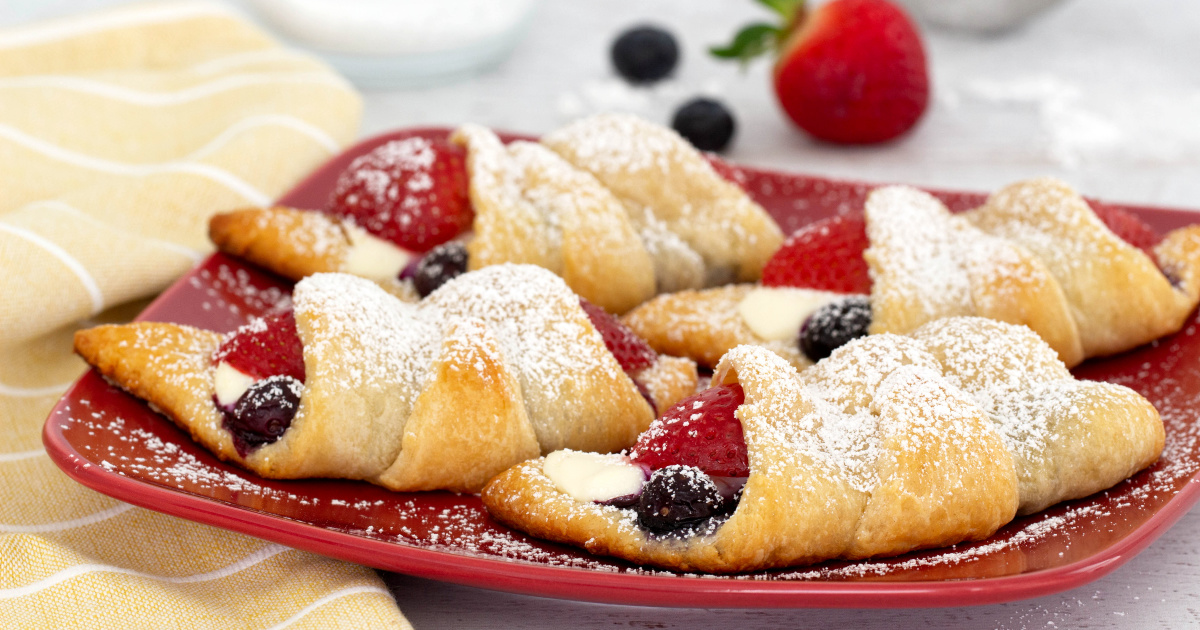 Prep time:
Cook time:
Serving size:
8
Calories per serving:

54




Ingredients:
1
packet
crescent roll dough
8
strawberries
(cut 1/2 lengthwise),
1/2
cup
blueberries
4
ounces
cream cheese
powdered
sugar
for garnish
extra
sugar
(optional)
Directions:
Unroll the crescent rolls and separate
Place 1/2 oz cream cheese on the large end of each crescent roll
Place two 1/2 strawberries side by side on top of the cream cheese
Add 4-5 blueberries
Roll the crescent dough around the fruit and cheese (the sides will be open)
Bake at 375 for 12-14 minutes
Remove from oven and sprinkle with powdered sugar
Serve hot and enjoy
Source:
sfunmoneymom.com

Recipe formatted with the Cook'n Recipe Software from DVO Enterprises.
Add Recipe to Cook'n
Fruit and Cream Cheese Breakfast Pastries.
A little different take on berries and cream cheese pastries. I love the shapes of these- they look so dainty and elegant!
Fruit and Cream Cheese Breakfast Pastries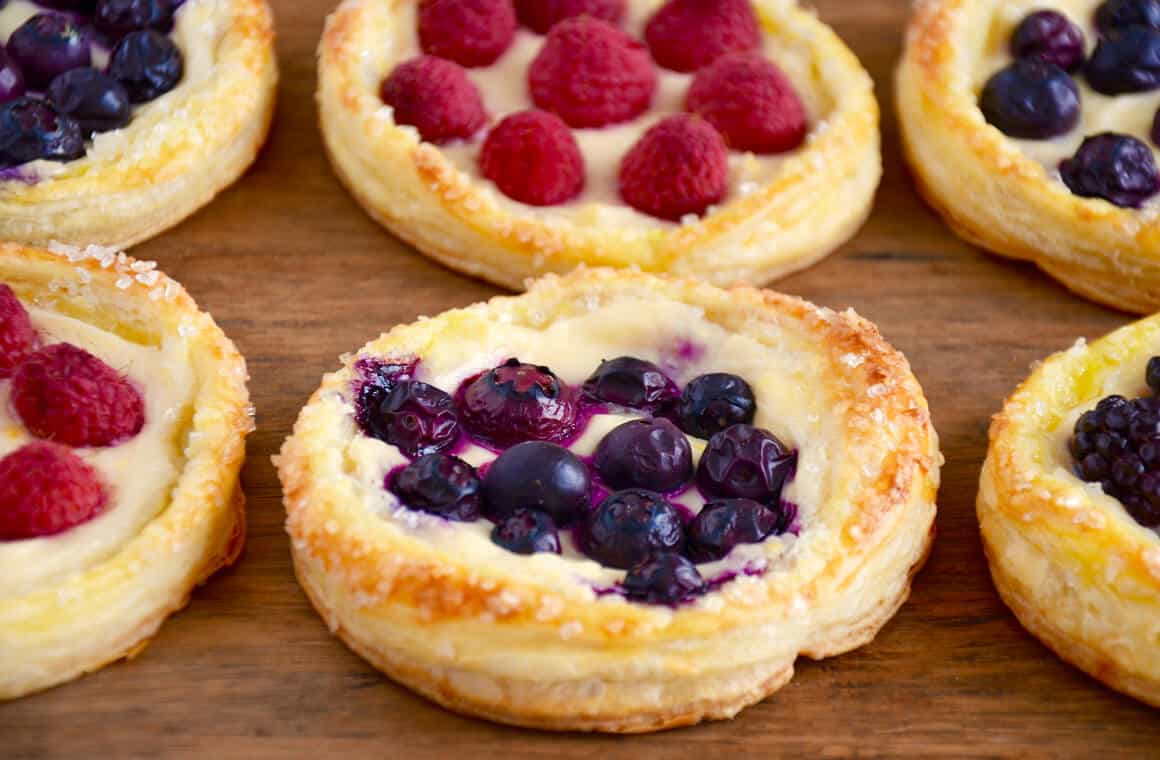 Prep time:
Cook time:
Serving size:
8
Calories per serving:

104




Ingredients:
6
ounces
cream cheese
, at room temp
2
tablespoons
sugar
2
teaspoons
lemon juice
1
teaspoon
lemon zest
1
teaspoon
vanilla extract
1
package
frozen
puff pastry shells
1 1/2
cups
berries
(see note)
1
large
egg
sanding
sugar
(optional)
Directions:
Preheat the oven to 400°F and line two baking sheets with parchment paper or Silpats.
In the bowl of a stand mixer fitted with the paddle attachment, beat the cream cheese with the sugar, lemon juice, lemon zest and vanilla extract until creamy.
Unfold the puff pastry sheets onto a lightly floured work surface. Lightly roll the pastry with a rolling pin to seal the perforations. Using a 4-inch round cookie cutter (or glass), cut out four circles from each sheet of puff pastry.
Transfer four pastry circles onto each baking sheet, spacing the circles about 2 inches apart. Lightly score a circular border 1/4-inch from the edges then prick the centers of each pastry with a fork. Spread a portion of the cream cheese mixture inside the border of each pastry then top the cream cheese with fruit.
In a small bowl, whisk together the egg with 1 tablespoon water. Brush the edges of the pastries with the egg wash then sprinkle them with the sanding sugar (optional). Bake the pastries for 15 to 18 minutes or until they're golden and puffed.
Remove the pastries from the oven and allow them to cool for 5 minutes on the baking sheets before transferring them to a cooling rack to cool completely.
Kelly's Note:
Any type of fruit will work for these breakfast pastries. Opt for your favorite flavors or whatever is in season, such as strawberries, raspberries, peaches, plums, apples or pears.
Source:
sjustataste.com

Recipe formatted with the Cook'n Recipe Software from DVO Enterprises.
Add Recipe to Cook'n
What are you planning on making for your 4th of July breakfast? Share with us in the comments below!
Source:
https://www.threeolivesbranch.com/patriotic-berry-sweet-rolls/
https://funmoneymom.com/cheese-and-berry-stuffed-crescent-rolls/
https://www.justataste.com/fruit-and-cream-cheese-breakfast-pastries-recipe/
https://www.flickr.com/photos/maisonbisson/181575091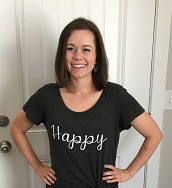 Camille Hoffmann
Weekly Newsletter Contributor since 2014
Email the author! camille@dvo.com