Every Pantry Should Have this MAGICAL MIXTURE!
Back in April, 2021, Jill Nystul, owner/author of
ONE GOOD THING
, shared something I think you'll want to know about. She talked about the ONE thing you absolutely want to keep in your cupboard or pantry.
She was referring to a powdery mixture of something her neighbor gave her. For some very good reasons, her neighbor called it "SOS Mix."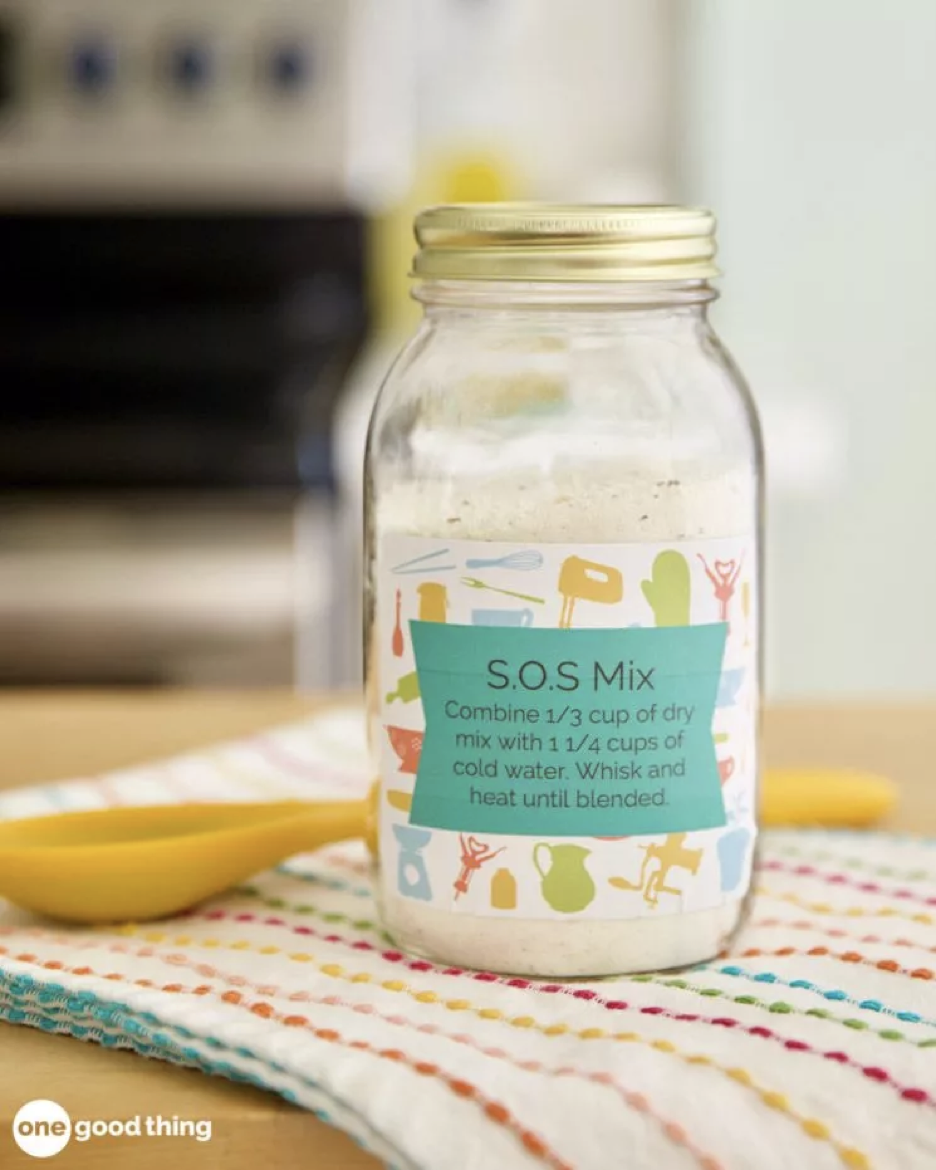 Jill's neighbor patiently explained what it was and how to use it, and from then on it became one of her most relied-upon pantry staples.
What is SOS Mix? Jillee explains, "The acronym 'SOS' stands for 'soup or sauce,' which is an aptly broad title for an extremely versatile mixture!" It's a dry mix that can be used as a base when making soups and sauces, or it works great as a healthy substitute for cream soup in almost any recipe. (Me: After using this mix, I think it could also stand for "Save Our Supper!")
To "prepare" a cream sauce or cream soup substitute from SOS Mix, you just whisk a little water into it. Jillee says a single batch of SOS Mix will make up to nine cans of cream soup substitute. And in addition to being healthier than canned creamed soups, you have the added benefit of SOS Mix taking up less space in your cupboard or pantry.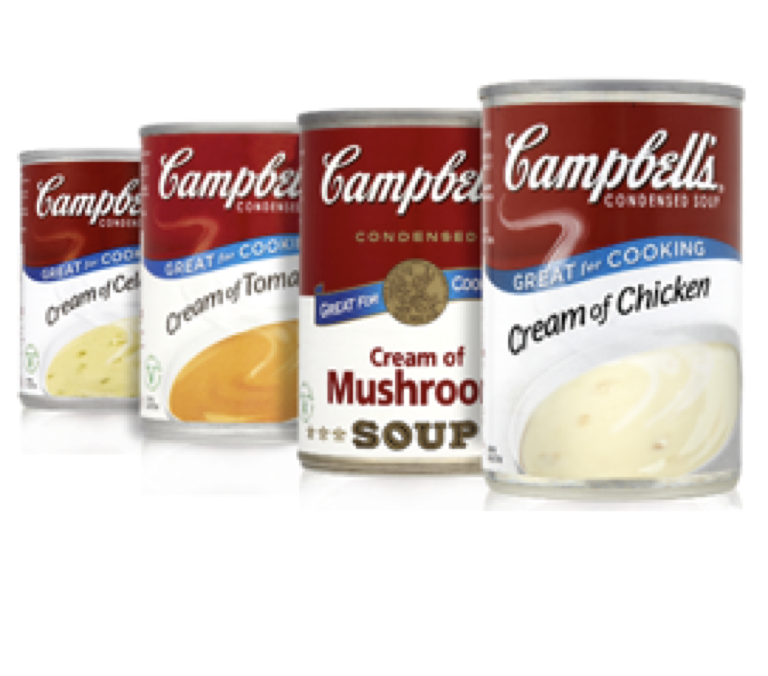 Besides being healthy and taking up less shelf space, this mix has other benefits you'll appreciate:
It's gluten free
(great news since so many canned creamed soups contain gluten).
Also, it's a simple recipe
, containing only 5 ingredients—ingredients you likely already have on hand.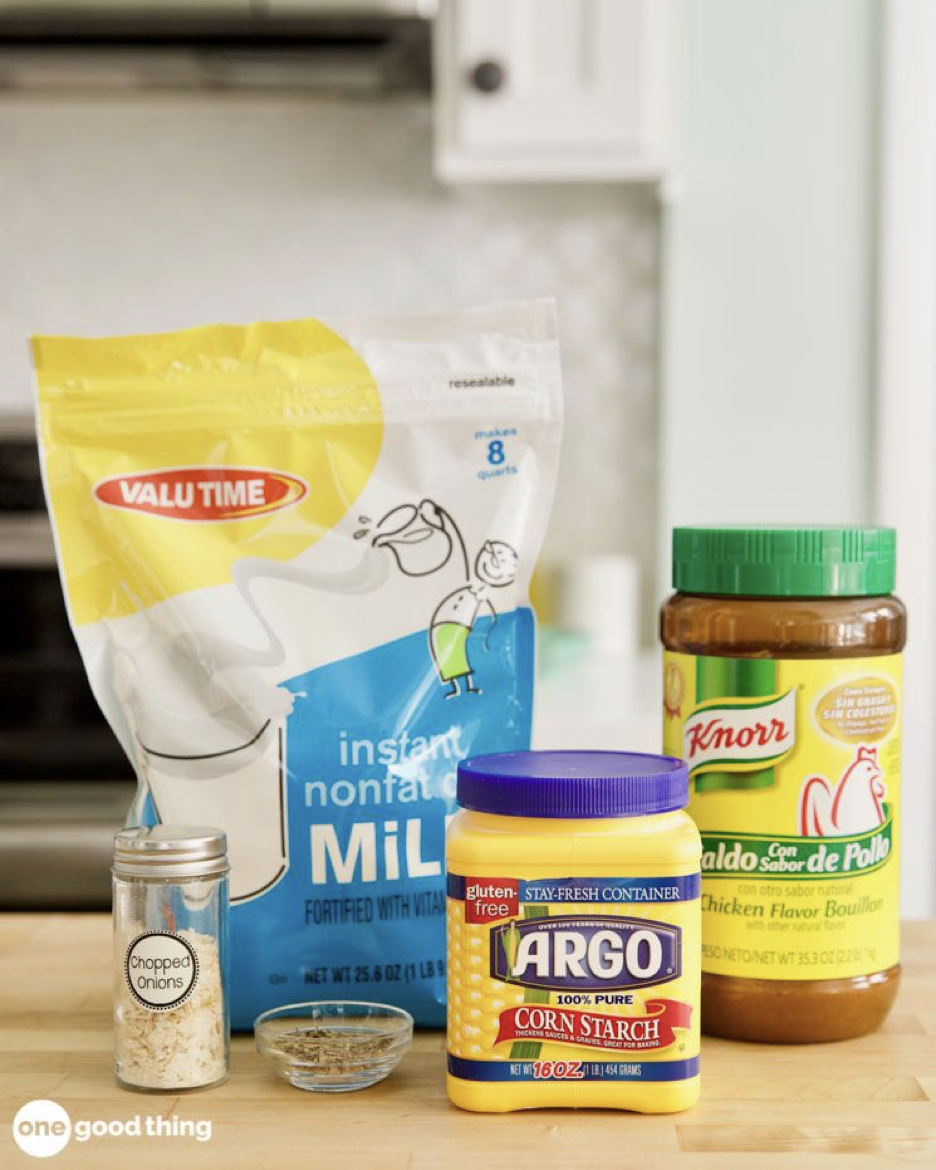 And it's easy to make
, taking about three minutes to measure out the ingredients and whisk them together!
It's inexpensive
. Mentioned above, each batch of SOS Mix contains the equivalent of nine cans of cream soup. Considering that a can of store-bought cream soup costs about $1 on the low end. Jillee did the math on this claim and says, "If you can get a good price on the ingredients by buying them in bulk, you can make a batch of SOS Mix for around $6 in materials. That works out to about $0.70 per 'can' of SOS Mix. So you can definitely save yourself some money by making it yourself (especially if it saves you a few trips to the store too!)."
It's versatile
—there are so many ways to use this versatile dry mix. In fact, Utah State University Extension Agents put together a FREE recipe booklet that features over 30 recipes you can make using SOS Mix. (Find it at https://digitalcommons.usu.edu/extension_curall/119/)

For instance, you can use this mix to make macaroni and cheese, beef teriyaki stir fry, pot pies, all sorts of soups (potato, mushroom, chicken, tomato, broccoli cheese, taco, etc.), gravies, and sauces (cheese, pizza, alfredo, marinara), lasagna, stroganoff, casseroles (chicken and enchilada, chicken and rice, chicken Parmesan, ham, green bean), and tasty sides such as au gratin or scalloped potatoes.
Below is the recipe for SOS Mix and directions on how to use it. I am so jazzed about this magical mixture and want to give a huge shout-out to Jillee for sharing such valuable information! She's blessed our lives.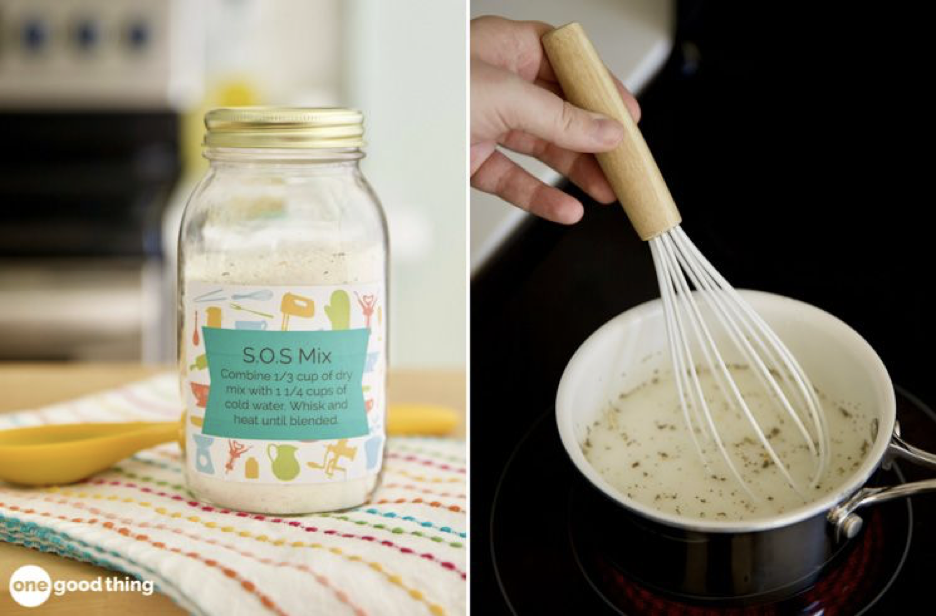 SOS Mix
Ingredients:
2
cups
non-fat
milk
powder
3/4
cup
cornstarch
1/4
cup
instant
chicken bouillon
2
tablespoons
dried onion flakes
2
teaspoons
Italian seasoning
optional
Directions:
1. Stir all ingredients together and store in an airtight container.
2. When ready to use, add 1/3 cup of SOS Mix and 1 1/4 cups (10 ounces) of water to a saucepan and whisk to combine.
3. Place the pan on your stovetop and heat until thickened.
4. Add the thickened cream soup mixture to your recipe.

Recipe formatted with the Cook'n Recipe Software from DVO Enterprises.
Add Recipe to Cook'n
Sources:
www.onegoodthingbyjillee.com
www.campbellsoup.co.uk
www.digitalcommons.usu.edu

Alice Osborne
Weekly Newsletter Contributor since 2006
Email the author! alice@dvo.com