My Top 5 Fall Items at Trader Joe's this Year
You know...I really didn't want to be the person that was in Trader Joe's stocking up on everything pumpkin before it is even officially fall. I promise I didn't want to be that person. However, when you go into Trader Joe's to get walnuts and you come out with a full cart full of other goodies (including 5 pumpkin/fall items!!! :\ ) I guess it's time to admit that my name is Mary and I am a pumpkin addict, just like every other millennial woman I know.
I can't wait to put on my fuzzy Ugg boots, make my kids rake up a pile of crunchy leaves as I watch, sipping on a cup of hot apple cider, with my cozy mulberry colored scarf and coordinating beanie, just eagerly waiting to jump in that pile and make them rake it up again :) It's a joke, people. I'm not quite that mean of a mom to make my kids do this. There aren't enough crunchy leaves around here yet to do anything of the sort, even if I wanted to. So I will enjoy my fall season with the help of my friends at Trader Joe's.
They have a bunch of fall items that come back year after year, and they seem to also have a slew of new products they try out each year. Here is my small haul of five of my favorite fall items at Trader Joe's this year that I highly recommend your try out yourself.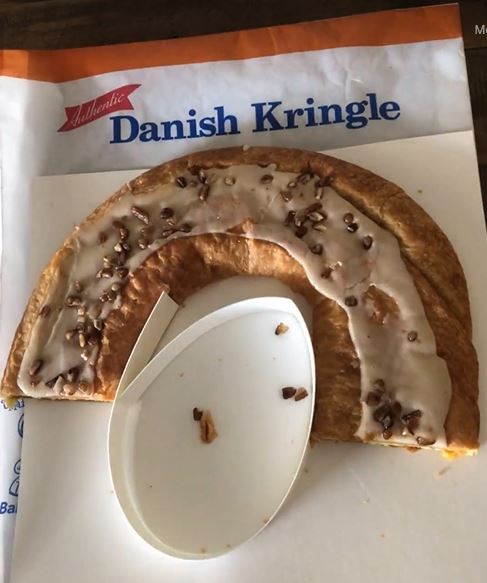 AUTHENTIC DANISH KRINGLE
I had to mention this one first because this was the one I was by far the most excited about! I texted my husband a picture from the store saying, "They have KRINGLES! I REPEAT--THEY HAVE KRINGLES!!!!!! (shamelessly followed by a zillion excited and celebratory emojis ha) I was just a tad excited they carried this in my local TJ's.
One of my favorite things about living in Iowa was being neighboring states with Wisconsin and being able to partake of their beloved cheeses and cheese products on the regular. I always had to go to the grocery stores that stocked these delicious Danishes. They are so perfect and taste so fresh. You've never had a Danish until you've had one of these babies. And they are huge! They are like the size of a pretty good size Christmas wreath. I'd rather not disclose how much of this I ate or how quickly it was gone! :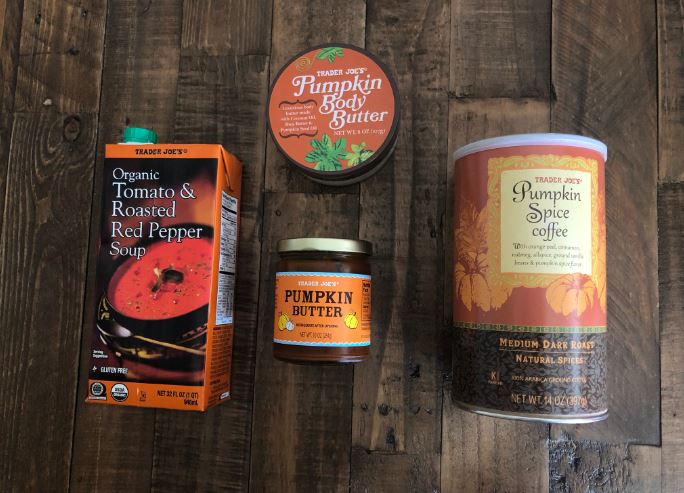 ORGANIC TOMATO AND RED ROASTED PEPPER SOUP
Okay, this one is not actually just a fall one but it is perfect for this time of year because we all seem to crave soups and stews when the weather turns cooler. Grilled cheese and tomato soup is totally a staple and comfort food for our little family so I love using this tomato soup instead of, say, Campbell's tomato soup because it is organic and has simple ingredients and tastes AMAZING! It has tons of flavor and will take your grilled cheese meal to the next level.
PUMPKIN BUTTER
I already went into great detail about this stuff in last weeks article and how wonderful it is, so go back and read that one if you want more details, but the bottom line is--go out and get some of this asap. It's amazing. Or make your own! It's super simple and you will love adding a little pumpkin spice in a simple way to everything you want this fall.
PUMPKIN BODY BUTTER
I am a total die hard for their original coconut body butter--it is actually the only type of lotion I will use any more. It is so luxurious and the big tub costs less than $5. So I couldn't wait to try this fall version with a little pumpkin spice. It did not disappoint! It smells subtly like cinnamon and spices and feels as luxurious as ever. This would make a great gift for somebody this season.
PUMPKIN SPICE COFFEE
I am not a coffee drinker myself, however, I know my child's teacher is obsessed with this stuff and stocks up every chance she can. So I got her a tub so she can make all the pumpkin spice lattes she wants at home for pennies on the dollar! If you love coffee, you should do yourself a favor and go grab some for yourself or a coffee-loving friend!
DON'T FORGET TO CHECK OUT OTHER FALL ITEMS AT TJ'S THIS YEAR.
Now, I simply dipped my toe into all the fall items they have in stock at the store. I'm sure everybody's list of five items would be different. Trader Joe's really does love to bring in fun and unique items every season and they all seem to be up to par with their high standards you expect. You should go in and see what intrigues you this year!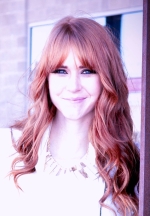 Mary Richardson
Weekly Newsletter Contributor since 2014
Email the author! mary@dvo.com