Slow-Cooker Whole Chicken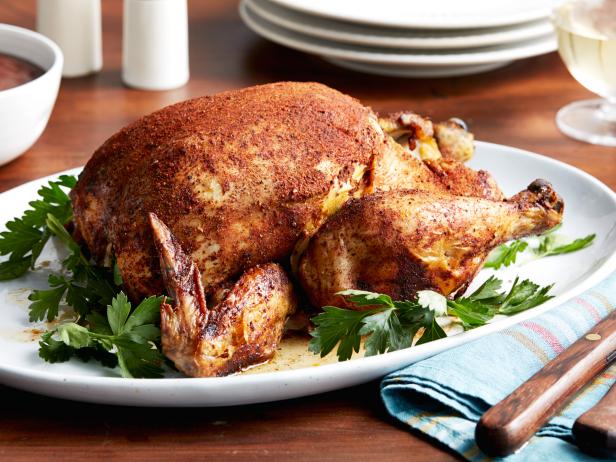 Serves:
4
This no-fuss whole chicken is moist and tender. We rub it in spices and prop it up on canning lids, suspending it above the juices for a roasted effect right in the slow cooker. Piercing the skin on the bottom lets excess juices run out, allowing for even and gentle cooking. A simple homemade barbecue sauce comes together in mere minutes, perfect for slathering all over.


Dovetailing Tip: Cook a large enough chicken to have leftovers to be used day 3 in Chicken Tortilla Soup.
Prep Time:
Cook Time:
Total Time:
Ingredients:
nonstick

cooking spray

2 1/2

teaspoons

sweet

paprika

1 1/2

teaspoon

garlic powder

1 1/2

teaspoon

freshly ground

pepper

1

teaspoon

kosher

salt

1/2

teaspoon

ground

coriander

1/2

teaspoon

ground

cumin

4

to 5-pound whole

chicken

, giblets removed, excess fat trimmed

1

cup

ketchup

1/4

cup

apple cider

vinegar

1/2

cup

packed light

brown sugar

2

tablespoons

yellow

mustard

1

teaspoon

kosher

salt

1

teaspoon

chili powder

1

teaspoon

onion powder

3/4

teaspoon

garlic powder

1/4

teaspoon

cayenne

1/4

teaspoon

freshly ground

pepper
Directions:
Coat the insert of a 6-quart slow cooker with cooking spray and place 3 to 4 canning jar lid bands (without the flat metal rounds) in the bottom. Combine the paprika, garlic powder, pepper, salt, coriander and cumin in a small bowl.

Dry the chicken well and turn it upside down. Cut a 1-inch-long slit in the skin between the thigh and the backbone on each side. Rub the spice mixture all over the chicken, making sure both sides are evenly coated, and place the chicken in the slow cooker on top of the lid bands. Cover and cook on low until the chicken is tender and cooked through, about 7 hours.

Meanwhile, make the barbecue sauce: Combine the ketchup, vinegar, brown sugar, mustard, salt, chili powder, onion powder, garlic powder, cayenne and pepper in a medium microwave-safe bowl and microwave for 4 minutes, stirring once halfway through, until the sugar and spices are dissolved and the sauce is thickened. Let cool completely.

When the chicken is ready, remove the lid from the slow cooker and brush the chicken with barbecue sauce to cover well and let it rest for 10 minutes. Carefully lift the chicken from the slow cooker by putting tongs into the cavity, and sliding a spatula underneath and transfer it to a platter. Serve additional barbecue sauce on the side.

Source: foodnetwork.com