A Baking Ingredient Worth Exploring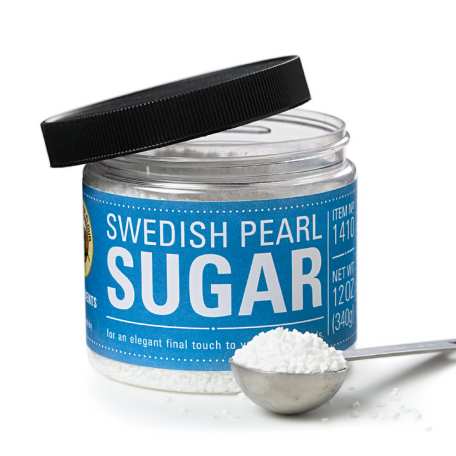 Have you ever used pearl sugar? It's commonly marketed as Swedish Pearl Sugar. This is a baking ingredient worth exploring.
According to the pros at America's Test Kitchen (www.americastestkitchen.com), Swedish pearl sugar is made by compressing sugar crystals to form larger, round particles that won't dissolve (melt away) in baked goods. That quality makes it perfect as a finishing touch for cookies and sweet breads.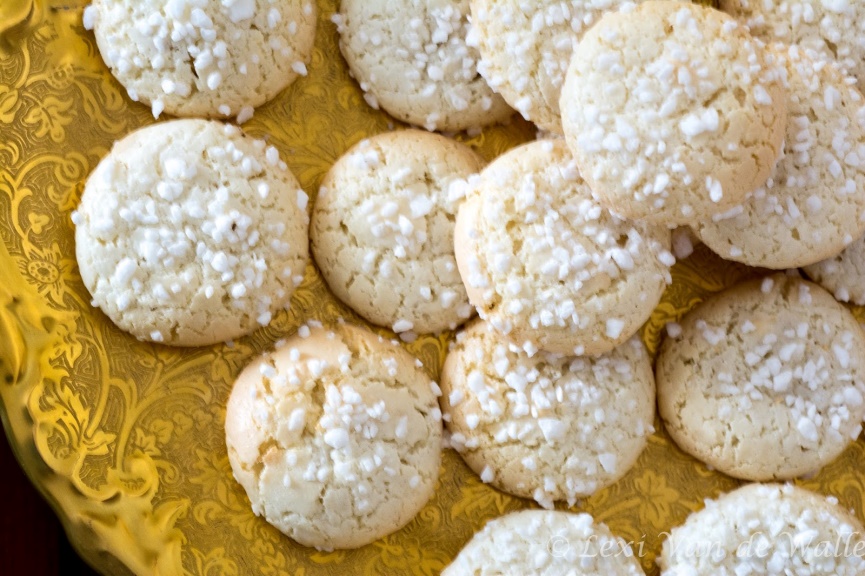 When the
Test Kitchen
cooks used the crystals to top sugar cookies and sweet breads, they found that the "pearls" maintained their crunch and shape during baking in both applications. And this is what's so nice about this sugar. It adds not just a pretty look, but a nice texture as well.
Test Kitchen folks suggest you use it as you would turbinado sugar: Sprinkle a few teaspoons onto muffins, biscuits, cookies, or breads (brushed first with beaten egg white) before baking.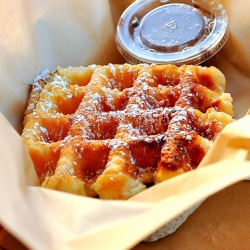 Besides using this fun sugar to finish off cookies and sweet breads, pearl sugar is often used to make liege waffles. A liege waffle is nothing more than a Belgian waffle, but it's sweeter than the traditional Belgian waffle. In fact, this is a waffle so sweet that it can be served dessert as well as breakfast. And I like dividing the sugar in my recipes half and half—half regular granulated and half pearl—and just mixing this into my cookie doughs. Because the pearl sugar doesn't dissolve in the baking process, you end up with little pockets of delightful crunch to your cookie (a very pleasant surprise for a cookie that's supposed to be just chewy).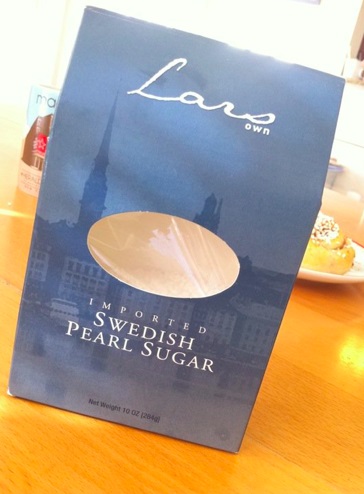 If you go hunting for pearl sugar, you'll find it's not easy to find, and if you do find it, you'll immediately notice how expensive it is. The treasure hunt doesn't deter me, but price often does. For instance, Lars Own Pearl Sugar is $6 for 8 ounces. I know…gasp! You can find it a
little
cheaper, though, on amazon.com.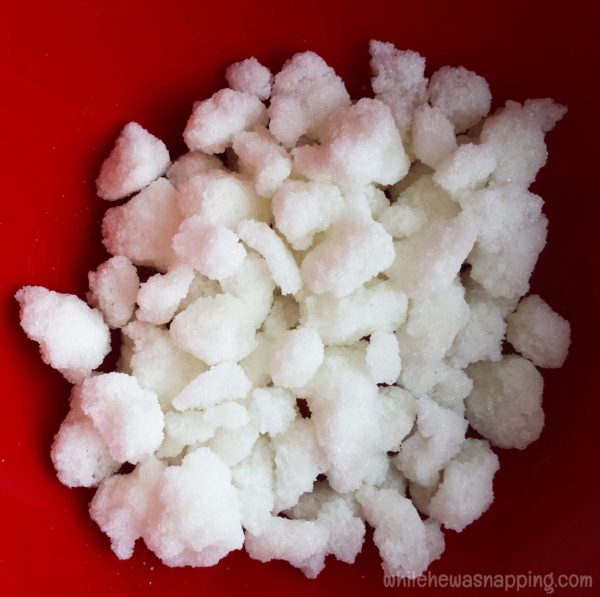 So imagine my joy when I found a clever cook who knows how to make her own pearl sugar. On her site,
While He Was Napping
(www.whilehewasnapping.com), Krista Ringleader shares all we need to know to do this.
HOMEMADE PEARL SUGAR
¾ cups granulated sugar
1 tablespoon water
Add water and sugar to a small sauce pan. Turn the stove on to low heat. Start out with it set as low as possible.
Stir the mixture with a wooden spoon until small clumps of sugar form. Try not to create lots of smaller clumps; you want medium-sized clumps as shown in the photo. If the mixture isn't clumping and is staying in loose sugar granules, add ½ teaspoon of water and keep stirring. Don't add any more water though, or you'll end up with syrup instead of sugar clumps.
Let the sugar sit on low heat for 20-30 minutes, stirring occasionally. You're basically drying the sugar clumps out so they don't fall apart when you move them.
Remove from heat when the clumps are hard enough to transport without falling apart. Let the sugar cool completely! The clumps will harden as they cool off. Don't use them before they are completely cooled or you'll end up with a runny sugar mess instead of a little hardened sugar ball.
NOTES: The bonus to this method is that you can double or even triple the recipe and make a large quantity at one time. It's a little time consuming, as you need to watch the sugar so it doesn't caramelize, however.
Add Recipe to Cook'n
Now with your own Swedish Pearl Sugar ready and waiting, let's use it. How about making the above-mentioned liege waffles? Rachel, from Feastie (www.feastie.com), otherwise known as the Stay-at-Home Chef, has come up with a delicious version of this favorite waffle.
Rachel says, "These waffles are addictingly delicious. Caramelized on the outside, soft and chewy on the inside. The key to making these Liege-style waffles is pearl sugar." Give her recipe a try: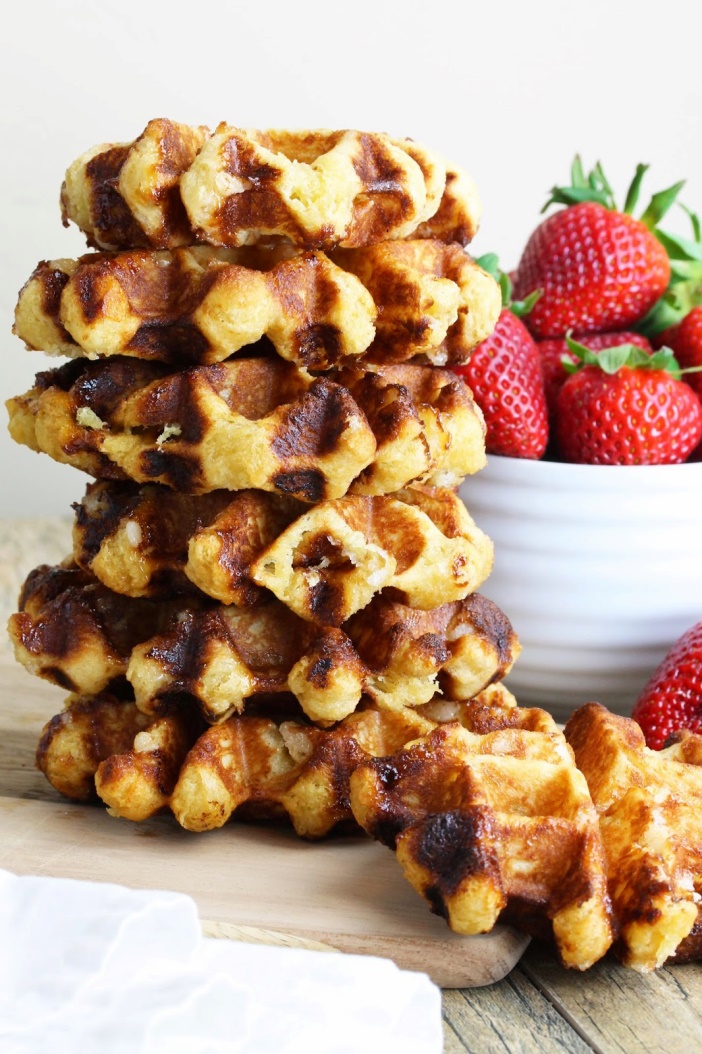 CARMELIZED LIEGE WAFFLES
(yield: 8 waffles)
2 cups all-purpose flour
1 1/2 tablespoons brown sugar
2 teaspoons instant dry yeast
1/2 teaspoon salt
1/3 cup lukewarm water
3 large eggs
1 teaspoon vanilla extract
1 cup butter, melted
1 cup pearl sugar
1. In the bowl of a stand mixer combine flour, brown sugar, yeast, and salt. Mix together on low using the paddle attachment.
2. Pour in lukewarm water and mix on low for 30 seconds.
3. Add in eggs one at a time, mixing on low for 20 seconds between each egg.
4. Pour in vanilla extract. Mix on low, adding in melted butter gradually until batter is smooth. Batter will be very thick and very sticky.
5. Cover and let rise for 1 hour, 30 minutes.
6. Stir in Belgian pearl sugar and let rise an additional 15 minutes.
7. Preheat a Belgian waffle iron. Brush with melted butter and cook about 1/4 cup of batter at a time. Cook until golden brown on each side.
NOTE: Waffles can be kept warm on a baking sheet in a 200 degree oven until all are cooked and ready to serve.
Add Recipe to Cook'n
I'll close with my own suggestion: This is a really fun sugar to use. It adds sparkle to presentation and surprising texture when mixed into your baked goods. I really think you're going to want lots on hand. So when you make your own, do seriously consider tripling (at least) the above recipe. I've found it's worth the work. Pearl sugar really is a baking ingredient that's worth exploring.
Sources:
www.kingarthurflour.com
www.lightheartedlocavore.com
www.tastespotting.com
www.skimbacolifestyle.com
www.whilehewasnapping.com
www.feastie.com

Alice Osborne
Weekly Newsletter Contributor since 2006
Email the author! alice@dvo.com