How to Get Perfect Grilled Corn Every Time (Plus 5 Flavored Butter Recipes)
I don't know if it gets much better than a perfect boiled ear of corn on the cob with a generous dousing of salt and butter on it. But if it did….it just might be grilled corn on the cob with a generous dousing of seasoned butter on it. That subtle smokiness and those gorgeous grill marks on the corn only add to the experience and take boiled corn on the cob, while still delicious and simple, to a whole new level. Grilled corn is so delicious by itself, but it is also the perfect way to spruce up salads, tacos and salsas too.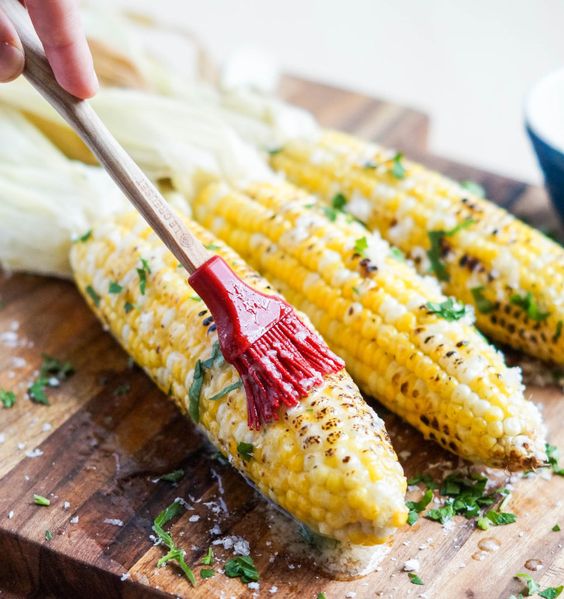 It might seem like a daunting task to some to grill the corn and there are plenty of different methods people swear by, but I followed some tips given by a food blogger named Foodiecrush, and I loved the way it turned out. It is really simple, especially when your grill is already fired up from grilling your meats.
Directions for Perfect Grilled Corn:
To grill corn, simply place it on a hot grill. You can keep the corn in its husks to steam it or place the cobs directly on the grill for more char. Close the grill, checking and turning with tongs, every five minutes or so, for around 15-20 minutes. 
You want the corn to be tender, and if in the husks should have a good char, but they shouldn't be totally black. After grilling, peel back the husks, remove the silk, and enjoy with one of the infused compound butters below!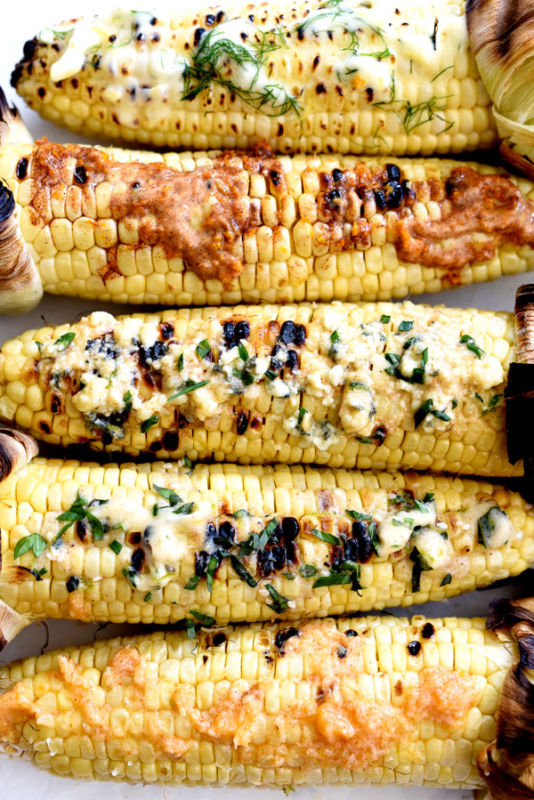 GRILLING TIPS
Don't be afraid of keeping the husks on while grilling. Some recipes call for peeling back the husks or removing them entirely, but resist the urge! The husks act as a natural protective barrier between the corn and the grill, keeping the kernels tender and juicy, instead of dried out and chewy. Plus, the corn soaks up that wonderful smokiness from the charred husks, giving it more flavor

Some people soak their corn husks in cold water, prior to grilling (the theory is that this will provide the corn with more moisture.) However, I find this step to be unnecessary, as I've never been able to tell a difference.

No grill? No sweat. You can still achieve a nice charred flavor by using a cast iron grill pan or skillet. For this method, you will need to husk your corn. Put a little oil or butter in a skillet and get it hot. Place your corn in the skillet and turn every few minutes, getting a nice sear on all sides.
BUTTERY TIPS
If we're honest, the best part of corn on the cob is the butter. The corn is really just an excuse to eat something slathered in butter and salt haha. Here are some fun tips for making seasoned butters to really kick the corn up a notch. There are also 5 little recipes for different seasoned butters down below. Happy grilling!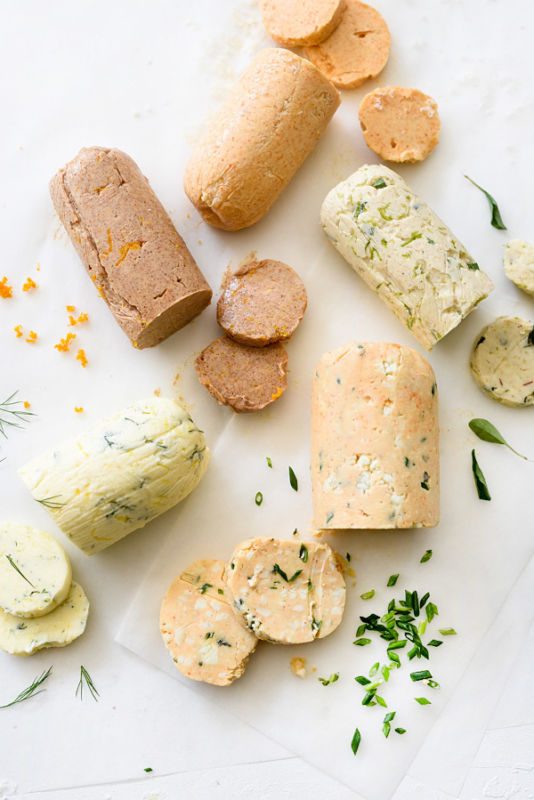 Room temperature butter is key to making flavored butters. Use unsalted butter so you can control your salty flavor. 

Softened butter makes it easy to fold your flavoring ingredients into the butter.  To make the butter logs, simply spoon the butter mixture onto the bottom third of a piece of plastic wrap, then shaped into rolls, twisting the ends of the plastic wrap as you roll.

Chill each log for at least 1 hour or freeze for 20-30 minutes for the logs to take shape.

Flavored butters taste amazing on anything from vegetables to pasta, chicken, beef and fish. And of course, hot bread or grilled cheese sandwiches really shine with buttery fixings. The sky's the limit when choosing what to butter next.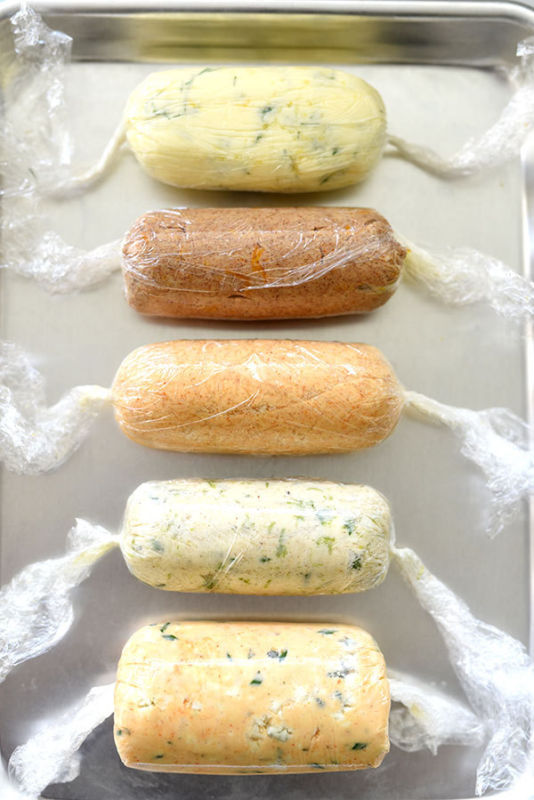 Thai Basil and Lime Butter
1/2 cup butter (1 stick), at room temperature

1/2 lime, zested

1 tablespoon Thai basil, minced

1/2 teaspoon 5-spice

pinch of red bell pepper flakes

pinch of kosher salt
Directions (Same for all the flavored butters):
Mix the ingredients in a small bowl until well combined. Lay out a large piece of plastic wrap on a clean counter. Spoon the butter mixture onto the bottom third of plastic wrap, then roll into a log. Refrigerate for one hour, or until firm.
Cinnamon and Chipotle Chili Butter
1/2 cup butter (1 stick), at room temperature

1 teaspoon orange zest

3/4 teaspoon cinnamon

1/4 teaspoon chipotle chili powder

1/4 teaspoon chili powder

pinch of kosher salt
Lemon Dill Butter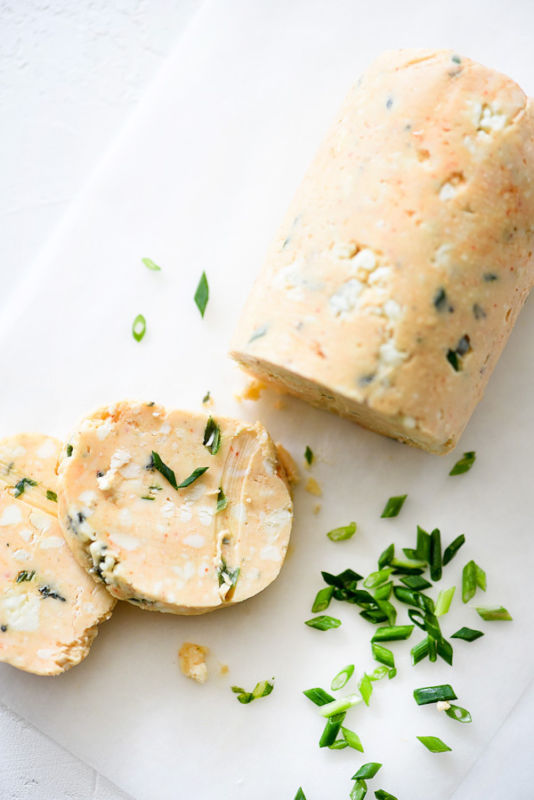 1/2 cup butter (1 stick), at room temperature

1 lemon, zested, plus juice of half of the lemon

1 tablespoon fresh dill, chopped

pinch of kosher salt
Spicy Buffalo Butter
1/2 cup butter (1 stick), at room temperature

2 ounces blue cheese, crumbled

1 tablespoon Frank's Red Hot Sauce or other vinegar based hot sauce

1 tablespoon chopped chives
Parmesan and Smoked Paprika Butter
1/2 cup butter (1 stick), at room temperature

1/4 cup freshly grated parmesan cheese

1/2 teaspoon smoked paprika

pinch of kosher salt
Add Recipe to Cook'n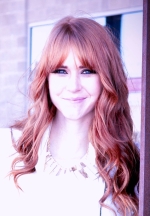 Mary Richardson
Weekly Newsletter Contributor since 2014
Email the author! mary@dvo.com