What Makes a Water Bottle the BEST Water Bottle?
Talk to most folks and they'll tell you one of their New Year's Resolutions (an over-done approach to constant and continual improvement) is to drink more water. HYDRATION is the 2017 fitness goal. I'm part of this water-seeking group.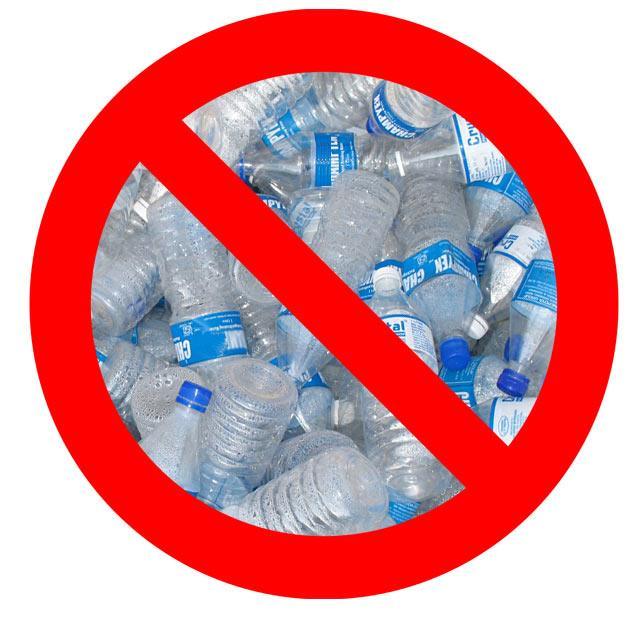 With this goal in mind I wondered if I could find a better way to carry my water around. So I went hunting for water bottle information. I found a great site designed to guide us through the mystifying world of water and hydration,
Hydration Anywhere
(https:/hydrationanywhere.com).
My main question was "What's the best water bottle, and what makes a water bottle the BEST water bottle?" Hydration Anywhere had the answer. In their research they split up the bottles into three separate categories based on the material used to construct them. They tested plastic, glass, and stainless steel water bottles all by themselves.
In all three groups they looked for the same features that make a BEST bottle:
No-leak lid

Easily access to the water

Easily totable

Absence of toxic materials

affordability
Plastic first. Inexpensive, lightweight, and durable, modern plastic bottles include lots of features, come in all shapes, sizes, and colors, can be extremely sturdy and are now made from 100% non-toxic BPA-free plastics.
Their top three picks for the best plastic water bottles in 2016 are: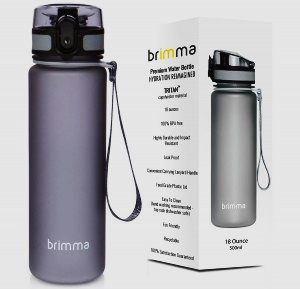 Brimma Sport bottle
Made from 100% BPA free plastics

Leak-proof flip-top lid (not that common among water bottles) for easy access to your water.

Fast-flowing spout

Handy carrying strap

Totes easily

About $15 on Amazon.com.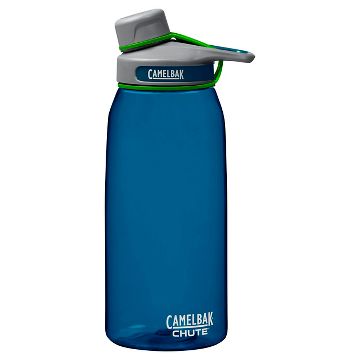 Camelbak Chute 1 Liter bottle
Made of lightweight, durable Tritan plastic

Excellent portability

Cap snaps into the handle for easy drinking

A simple half-turn of the cap gives access to water

The cap incorporates the screw-on threads internally (you'll never have to put your lips to the screw threads to get a drink, unlike other bottles)

Affordable: about $13 on Amazon.com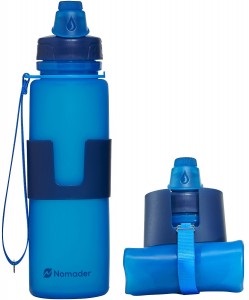 Nomader 22 Ounce Collapsible Silicone bottle
Highly durable

Space-saving when not in use (small enough to put in your pocket)

Can be folded, frozen, hold liquids hot or cold

Includes a snap-on cap for a leak-proof seal

About $16 on Amazon.com
Now glass bottles. Reasons why glass is a good idea? It's environmentally friendly, debatably the best option for health, affordable, available in a huge variety of styles and sizes, and even comes "shatterproof" or "unbreakable". Hydration Anywhere's three favorites: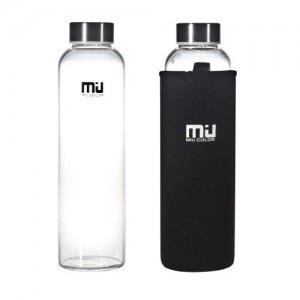 MIU Color 18 ounce borosilicate glass bottle
Nylon sleeve makes it easy to carry

Stainless steel rather than plastic lid

Includes set of bottle brushes for easy cleaning

$16 on Amazon.com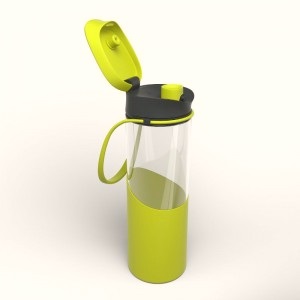 Calibre Conscious 18 ounce glass bottle
Leak-proof flip-top lid

Handy carrying strap

Made from shatter-proof borosilicate glass

Silicone sleeve for cushioning and added insulation

About $19 on Amazon.com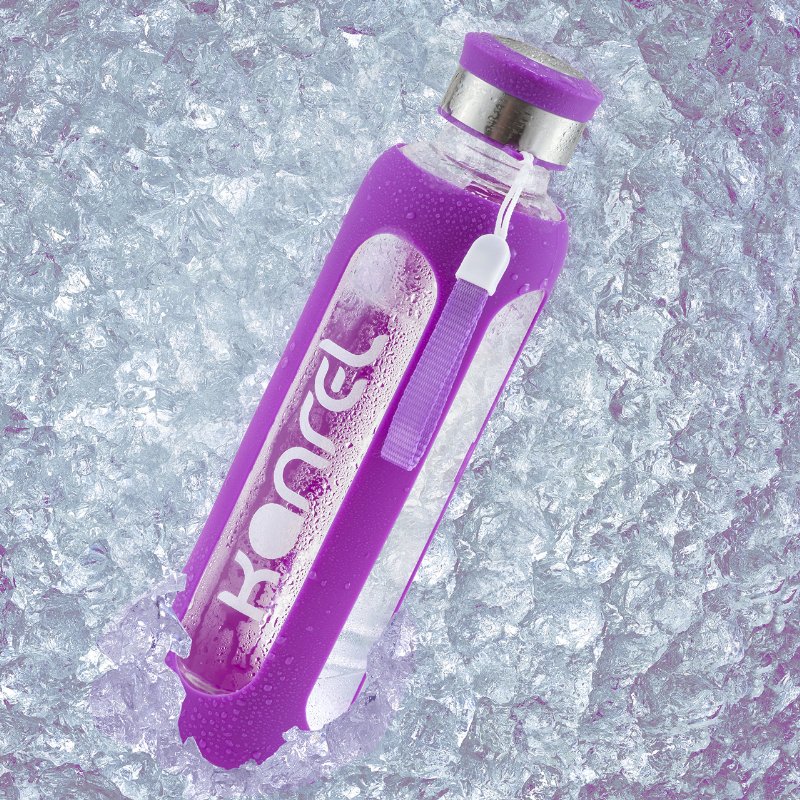 Kanrel 32-ounce borosilicate glass bottle
Made from shatterproof borosilicate glass

Silicone carrying sleeve

BPA-free plastic screw-on lid

About $30 on Amazon.com
And now, stainless steel. Virtually indestructible, stainless steel is easy to clean, doesn't add any taste to its contents, is lightweight, and is capable of world-class insulation capabilities (due to a double-walled vacuum insulation feature which stops heat transfer, allowing the contents to stay hot for up to 12 hours or cold for up to 24 hours). In addition to being insulated, this technology means your bottle will never be cold to the touch or too hot to handle, and it will never "sweat" from condensation! The favorites: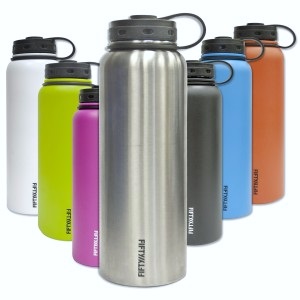 Fifty/Fifty 40 ounce double-walled vacuum insulated stainless steel bottle
For all the above-mentioned reasons!

Carrying loop

About $25 on Amazon.com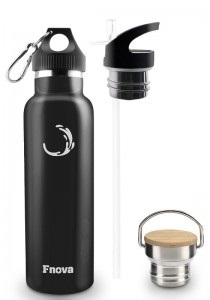 FNova 20 ounce double-walled vacuum insulated stainless steel bottle
For all the above-mentioned reasons!

Carrying clasp

3 lid choices included

About $20 on Amazon.com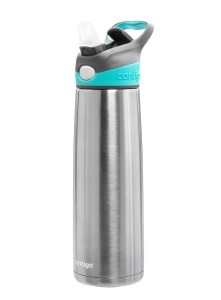 Contigo AUTOSPOUT 20 ounce double-walled vacuum insulated stainless steel bottle
For all the above-mentioned reasons!

Locking straw lid

About $16 on Amazon.com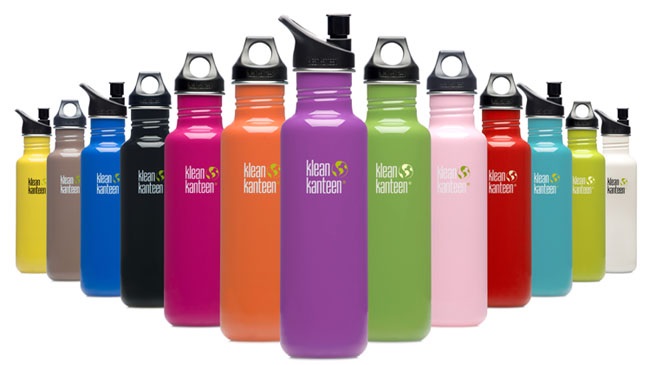 Klean Kanteen 32 ounce double-walled vacuum insulated stainless steel bottle
THIS was Hydration Anywhere's favorite bottle of all categories, sizes, shapes, etc. One of the most rugged and durable bottles on the market, Klean Kanteen provides just about any drinking container you want. Whether you're looking for a wide-mouth, a sport bottle, a travel coffee mug, or a huge reservoir for hiking, there is a Klean Kanteen to provide.
For all the above-mentioned reasons!

Can even boil water in it

About $27 on Amazon.com
So does this clear up any confusion around water bottle options? Only in America do we have so many choices. It'll be a Klean Kanteen for me (probably in yellow). And here's a toast to improved health in 2017 via improved hydration!
Sources:
www.hydrationanywhere.com
www.kanrel.com

Alice Osborne
Weekly Newsletter Contributor since 2006
Email the author! alice@dvo.com