Fudgy Molten Lava Cookie Cups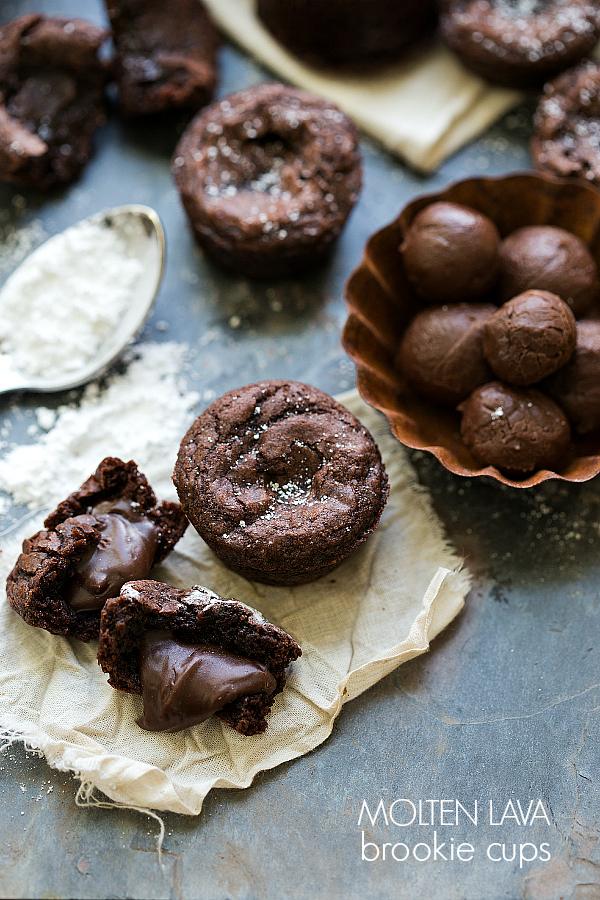 Serves:
36
These have to be my favorite dessert! Yum! A deliciously fudgy molten lava miniature cookie cup that tastes like a brownie! This seven-ingredient dessert is absolutely delicious.

Dovetailing Tip: On the previous day, prepare the first 4 ingredients as directed. Refrigerate, roll into balls, then freeze overnight. They will be ready to finish preparing today.
Yield:
3 dozen
Prep Time:
Cook Time:
Total Time:
Ingredients:
3

cups

milk chocolate chips

1

(14 1/2-ounce) can

sweetened condensed milk

1

pinch

salt

2

teaspoons

vanilla extract

1

(18 1/4-ounce) box

chocolate

fudge brownie mix

(do not make according to package directions, follow the instructions in this recipe)

1/2

cup

butter

, at room temperature not melted

1

large

egg

optional:

powdered sugar
Directions:
In a medium pan over low heat, combine the chocolate chips, sweetened condensed milk, and the pinch of salt.

Stir constantly until the chocolate is melted and smooth. Remove from the heat and stir in the vanilla.

Pour the mixture evenly in a parchment lined 8 x 8 pan. Place in the fridge and allow to harden for at least 2 hours. Using a 1/2 teaspoon measuring spoon, scoop out small bits and roll them into balls.

Place the balls on a plate, cover, and freeze until completely frozen through.

Preheat the oven to 350 degrees F. Generously grease a miniature muffin tin and set aside.

Beat together the brownie mix, butter (not melted, just at room temperature), and the large egg until completely combined.

Surround one of the chocolate balls with the brownie dough. The less surrounding the chocolate ball, the more "molten" the chocolate will be.

Place the cookie brownie balls into the prepared muffin tin. They should only fill the muffin tin 3/4ths of the way.

Bake for 12-14 minutes remembering the key to the molten is slightly underbaking these.

Remove and allow to cool. Twist out (or coax with a spoon) of the muffin tin.

Enjoy optionally topped with a sprinkle of powdered sugar.

For a molten treat later on, microwave these for 5-10 seconds and enjoy!

Source: chelseasmessyapron.com
Add Recipe to Cook'n
---