THE Secret to Baking Successfully with Grated Zucchini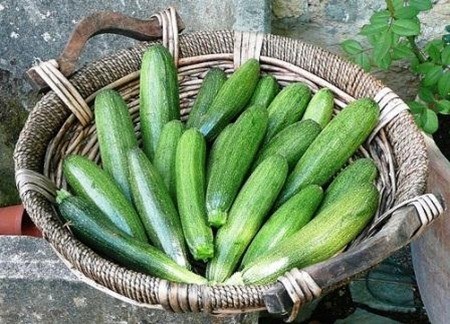 It is that time of year once again—the zucchini's-coming-out-my-ears time. And thus here's yet another article on what to do with the stuff, or more specifically, how to use it so your end product is perfection personified.
This information came to me from our friends at the Prepared Pantry (www.preparedpantry.com). The owner and expert chef, Dennis Weaver, shared a secret that we need to know if we are to bake successfully with grated zucchini: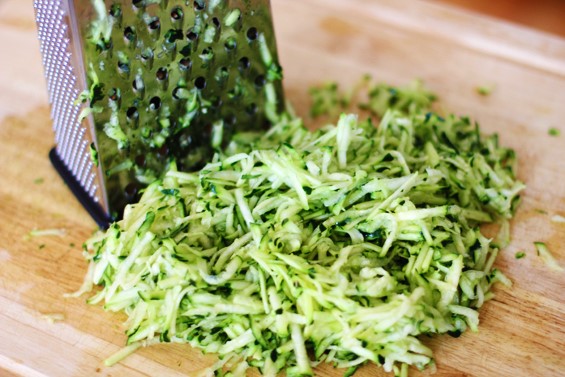 "Zucchini adds moisture, texture, and nutrition to our baking. It's perfect--except for the water. Zucchini is 95% water. You grate it and water is released. You put it in a colander and water is released. You freeze it and more water is released. That accumulated water makes a big difference in your recipes."
So how, then, do you make an adjustment in how much liquid your recipe should have? Beats me. In fact, the issue had never crossed my mind. Had it yours? Well, we're in luck, because Dennis and his crew tackled that question in their test kitchen. From their research and experiments, they discovered 4 important steps to take when working with shredded zucchini:
1. Always treat your shredded zucchini gently.
2. If, after shredding, you have water standing in the bottom of the bowl, drain it out before adding it to the batter.
3. Add the zucchini at the very end of your process.
4. Don't mix any longer than is necessary to disperse the zucchini through the batter.
Follow these lessons and you'll always have consistent batter, whether it's quick bread, muffins, cake, or cookies.
Note: While cookie batter may be the most sensitive to hydration (the amount of water in the batter), it does make a difference with other recipes as well. So the bottom line: regardless of what the recipe says, always add the zucchini at the end and mix only until combined.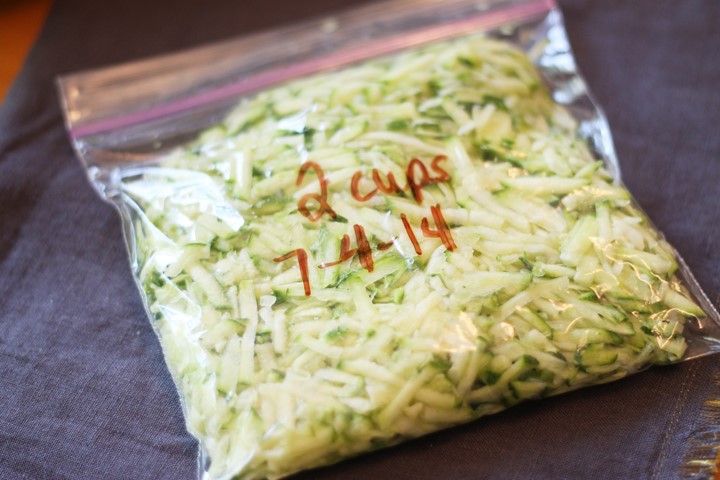 But what about frozen zucchini? Since there's always a super abundance of zucchini decorating my counters I like to grate it, freeze it, and use it through the winter. You probably do this as well? So I wondered if I work with the frozen the same way I work with the fresh.
And Dennis answers this question also. If using frozen zucchini, allow it to thaw and then drain it well. And even go a step further and pat it dry with several layers of paper towels. Then, if your cookie batter seems a smidge too wet (which will result in cookies spreading too much), add a very small amount of flour or turn your oven temperature up.
I still have quite a bit of frozen zucchini hanging around, so I thought I'd try Dennis' suggestion. I let it thaw, and lots of water all right. I drained it and let the shreds sit a little longer. More water, so I drained it again. Just for drill I let it sit one more time, and sure enough, still more water. After draining this third time I then patted out the rest of the moisture with paper towels and then added it to my batters. I'd thawed enough to make a batch of muffins and a loaf of quick bread. Both recipes turned out well.
So what have we learned? Remove as much moisture as possible, add the zucchini at the very last of the process (no matter what the recipe says to do), and fold it in gently and only until combine. NO overbeating allowed.
Dennis included in his tutorial some recipes. Here's one that isn't all that common and that sounds divine. (I added raisins to this for extra texture and flavor; they were awesome!) Meanwhile, happy zucchini baking--'tis the season!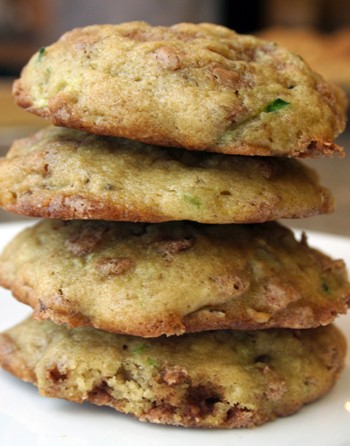 PINEAPPLE ZUCCHINI COOKIES
1/2 cup butter
2/3 cup brown sugar
1/4 cup granulated sugar
1/2 teaspoon salt
1 teaspoon vanilla extract
2 large eggs
1/2 teaspoon baking soda
2 3/4 cups all purpose flour
Inclusions:
1 cup white chocolate chips
1 cup crushed pineapple, well drained
1 cup chopped walnuts or macadamia nuts
1 cup grated zucchini (for this recipe you won't need to drain the zucchini)
Preheat the oven to 350 degrees. Line a baking sheet with parchment paper or grease the pan well.
For the basic cookie:
Cream together the butter, sugars, and salt. Add the vanilla and eggs and beat again. Add the flour and baking soda to the creamed ingredients and beat until well dispersed, scraping the sides of the mixing bowl once. The dough will be thick like clay.
For the inclusions: Add the white chocolate chips, pineapple, and nuts and beat until just mixed.
Add the zucchini and bake until just combined. Any water in the zucchini will transform the dough to a medium batter. Stop once it is combined or you will continue to force water from the zucchini and your batter will be too runny.
Using a large ice cream scoop, scoop mounds of dough onto the prepared sheet. Bake for 10 to 12 minutes or until done. The tops of the cookies should look wet and the edges should be
starting to brown. Immediately remove the cookies from the sheet to racks to cool. Repeat with the rest of the batter.
Baker's notes:
1. These are large cookies which is some of their appeal. If you make smaller cookies, reduce baking times.
2. If you use frozen zucchini or if the zucchini has lots of extra water, drain it. If your cookies spread too much, add a little flour or to turn the temperature up.
Add Recipe to Cook'n
Sources:
www.glutenfreehomemaker.com
www.themustardseedmarket.com
www.ldsmag.com
www.thrivinghomeblog.com

Alice Osborne
Weekly Newsletter Contributor since 2006
Email the author! alice@dvo.com
---