KNOX Gelatin—Good Cooks Love it and Know How to Use It!
If you have ever simmered meat bones for a soup then chilled it, you may have noticed a slight jellied effect to the broth. This result is due to "collagen", a protein substance which yields gelatin and is found in the bones, skin and connective tissue of animals. In manufacturing, unflavored gelatin is extracted from the collagen by hot water, then concentrated and filtered for purity and clarity. It is cooled, extruded and dried into glassy brittle strips. In 1889, Charles B. Knox of Johnston, New York discovered a method of granulating gelatin by breaking down the strips using high speed mills.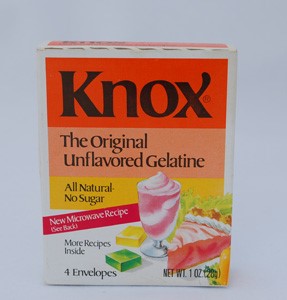 Most unflavored gelatin is packaged in pre-measured individual envelopes for convenient usage. Each envelope of Knox
®
Unflavored Gelatin will gel 2 cups of liquid. If the recipe you want to use calls for unflavored gelatin by the tablespoon, just use 1 envelope for each tablespoon called for.
Unflavored gelatin has no flavor of its own and contains no sugar, unlike many flavored gelatins which contain mostly sugar as well as artificial flavors and colors. This makes unflavored gelatin extremely versatile: it can be used to create desserts, salads, main dishes, jams and jellies, even ice cream and frozen yogurt!
Knox contains only 6 calories per serving (or 25 calories per envelope) and can easily be used to prepare "lower-in-calorie" recipes. Aunt Annie taught me to cook, and KNOX was one of her
ingredient tricks. It can be used in all sorts of things. For instance:
Clear or simple gel: This is the place to start. A clear or simple gel is a basic juice or broth mixture. Solids may be added after the mixture has chilled to the consistency of unbeaten egg whites. A Tomato Aspic is commonly made from a clear gel.
Whip: A whip is a clear gel that has been chilled until partially set and then beaten until fluffy. Solids are not added to whips.
Snow: A snow is a clear gel that has been chilled until partially set; unbeaten egg whites are added and the mixture is beaten stiff. Solids are also not added to snows. This dish is sometimes called a "sponge."
Mousse: A dessert favorite, the mousse is a clear gel that has been chilled until the mixture mounds slightly when dropped from a spoon. Whipped cream is then folded in, along with any solids you would want to add.
Custard Gel: A custard gel contains egg yolks, milk, and gelatin cooked to form a custard base.
Chiffon: As with mousse, chiffon is a custard gel that's been chilled until the mixture mounds lightly when dropped from a spoon. Then stiffly beaten egg whites are folded in; solids may also be folded in at this time.
Bavarian: Another popular dessert, a Bavarian is a chiffon with the addition of whipped cream.
Soufflé : This can be a sweet or savory dish (one of our favorites being the Spinach variety). But as a dessert, it can be a mousse, chiffon, or Bavarian mixture chilled in a soufflé dish with a collar.
Charlotte: A charlotte is a mousse, chiffon, or Bavarian mixture chilled in a bowl, loaf pan, or spring-form pan lined with ladyfingers.
Blend 'n Gel: This is a clear or custard gel prepared in a blender or food processor. Generally, ice or another frozen food is added to speed the gelling process.
There are 3 basic steps to working with KNOX Gelatin: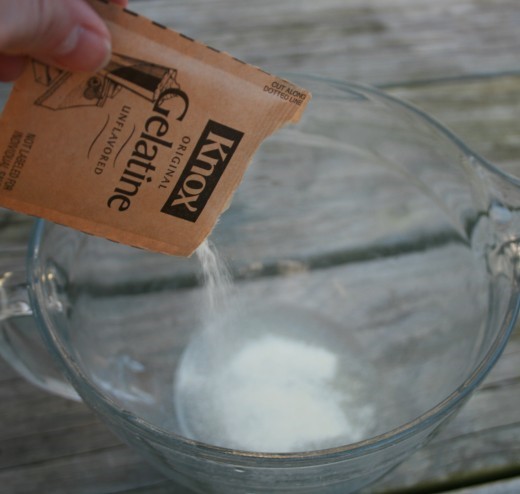 Sprinkle KNOX over cold liquid to separate the granules. Let
this stand for 1 minute.

Gradually add boiling liquid.

Stir constantly until gelatin is completely dissolved, about
1-2 minutes, depending on the amount and the temperature of the liquid.
I've been cooking with KNOX Gelatin for years and love this product. A favorite KNOX Gelatin recipe at our house is a cheesecake that incorporates pink grapefruit slices. It's an unusual dessert that has people begging for seconds.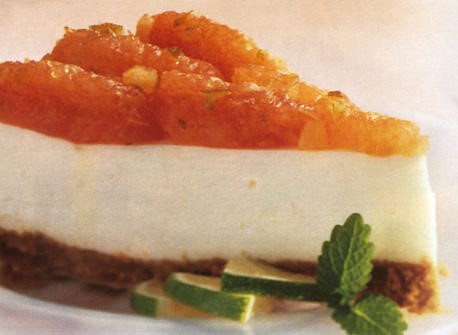 PINK GRAPEFRUIT CHEESECAKE
(serves 8)
Colorful, creamy, and "DELICIOUS" only begins to describe this luscious refrigerator cheesecake.
Crowned with ruby red grapefruit wedges and spiked with candied ginger and grated lime rind, it's a
light, refreshing end to any meal.
1 cup graham cracker crumbs
¼ cup melted butter
2 packets KNOX Unflavored Gelatin
½ cup cold water
¾ cup sugar
1 (8 ounce) package cream cheese
1 cup sour cream
1 teaspoon vanilla extract
2 small ruby red grapefruits, peeled and sliced ( or 1 15-ounce can red grapefruit slices, well drained)
1 tablespoon finely chopped crystallized ginger
1 teaspoon lime zest
Preheat oven to 350 degrees F. Combine crumbs with melted butter. Press into an 8-inch round
spring-form pan or 8-inch pie plate. Bake in preheated oven for 10 minutes. Set aside.

In a small saucepan, sprinkle gelatin over water and let stand for 1 minute. Stir in sugar and cook,
stirring over low heat until dissolved. Remove from heat. Beat cream cheese until very smooth. Beat
in sour cream and half of the warm gelatin mixture. Spoon onto prepared crust in pan. Smooth top.
Refrigerate for about 30 minutes or until firm enough to hold topping. Stir grapefruit slices, ginger,
and lime zest into remaining gelatin mixture. Heat over low heat if necessary. Let cool to room
temperature. Spread grapefruit mixture gently over cream cheese mixture. Refrigerate for about
3 hours or until set. Remove sides of pan and slice into wedges.
Add Recipe to Cook'n
Sources:
www.alsuper.do
www.knoxgelatin.com

Alice Osborne
Weekly Newsletter Contributor since 2006
Email the author! alice@dvo.com