There's A First Time For Everything
I have a confession? I work at and write for a company that's all about recipes and food and I...don't cook. I've probably made this confession before, but I'll say it again, I don't cook. I'm pretty good at baking cookies and cupcakes, and I make a delicious grilled cheese. But I feel kind of bad because only on occasion have I made the recipes, or tried the things I write about. So I've decided to change that and get out of my comfort zone of pre-made or frozen meals and actually cook/bake something. I've decided that at least twice a month I'm going to make something and write about it. It's about time I learned to cook!
To start out I thought I'd go with something easy, banana bread. I've never made any sort of bread before, and I have heard that banana bread is the easiest. Well we'll see. I'm actually writing this as I'm making it! Here we go. I'm not sure what most banana bread recipes call for or if you need a mixer or not, but the recipe I used (see below) only called for eight ingredients, a bowl, and a wooden spoon. This is definitely a beginner's recipe!
The recipe says that the prep time is five minutes. I have to disagree; I've been prepping now for like 15 minutes. Granted I didn't have all of the ingredients on hand and ready to go, and I don't even have a bread pan. Luckily I have good friends who let me borrow theirs! But it doesn't help in the prep process to have them sit there talking and laughing as I'm struggling. In fact the only useful thing they've told me is to use a wooden spoon to mash the bananas.
Speaking of bananas I've always thought it was kind of weird to use very ripe, almost black bananas. The perfectly ripe ones seem like the way to go. But, what do I know. After trying to mash a ripe banana I can understand why people say use the overly ripe ones. They are much, MUCH easier to mash. It's taken me twice as long to mash the one ripe banana, than it has to mash two overly ripe ones. I'm curious to find out what the real reason for using black bananas is. Maybe I'll write about it one day.
Finally I'm done with the bananas, now onto the other ingredients. Seriously it really only took two minutes to mix everything up. No mixer required! Now all that's left to do is put this banana bread in the oven and wait for it bake!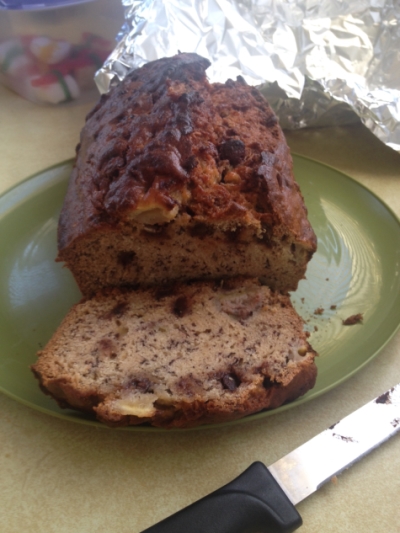 For my first time baking bread I don't think it was that bad. It was really easy and as the bread is baking I can tell you it smells delicious and it doesn't look half bad. You can judge though, I've included a picture. (Food photography is also something I need to work on.) There really is a first time for everything, and now that I've made bread, I'm ready to move on to something else, any suggestions?
As promised here's the recipe I used. I know that my banana bread doesn't quite look like the one in the recipe, but for my first time I'm not too disappointed. I didn't actually have any nuts to add to the bread so I used chocolate chips instead. I hope it tastes good!
Banana Bread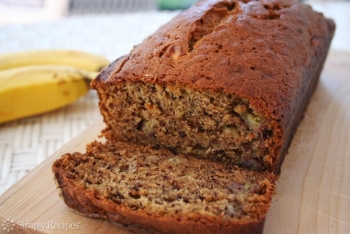 Author: Elise Bauer
Prep time:
Cook time:
Yield:
Makes one loaf
Serving size:

10


Calories per serving:

190




Ingredients:
3

ripe

bananas

, smashed
1/3 cup

melted

butter
1 cup

sugar

(can easily reduce to 3/4 cup)
1

egg

, beaten
1 teaspoon

vanilla
1 teaspoon
baking soda
pinch of

salt
1 1/2 cups

of all-purpose

flour
Directions:
No need for a mixer for this recipe. Preheat the oven to 350°F (175°C). With a wooden spoon, mix butter into the mashed bananas in a large mixing bowl. Mix in the sugar, egg, and vanilla. Sprinkle the baking soda and salt over the mixture and mix in. Add the flour last, mix. Pour mixture into a buttered 4x8 inch loaf pan. Bake for 1 hour. Cool on a rack. Remove from pan and slice to serve.

Recipe formatted with the Cook'n Recipe Software from DVO Enterprises.
Sources:
http://www.simplyrecipes.com/recipes/banana_bread/
---


Whitney Saupan
Weekly Newsletter Contributer since 2013