A New Twist On A Favorite Theme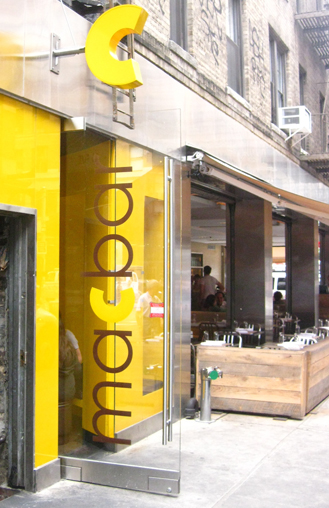 Who doesn't LOVE macaroni & cheese? In fact, research says it's America's #1 favorite comfort food. It's so popular that there's even a restaurant in Manhattan, the MacBar, (on Prince Street), that serves 12 different varieties of this time-honored dish (all with artisan cheeses and organic ingredients). And macaroni and cheese is ALL they serve—it's all they need to serve; people wait for hours to get into this place.
Anyway, it's with this abiding love for macaroni & cheese that I thought it would be fun to share a new twist on this favorite theme. How about mac n' cheese soup? I found this recipe in one of my Cuisine at Home magazines and think it would make a perfect supper on the next cold and snowy day. It is essentially an incredible white sauce with Cheddar cheese added to create a cheesey soup base. You'll get about 7 cups from this recipe and it takes about 40 minutes to make.
Before looking at the recipe below, though, here are a few tips you'll want to follow to insure success:
To keep the soup base smooth, add the milk in a slow, steady stream while whisking constantly.
Add the grated Cheddar in batches, whisking after each addition until cheese I completely melted into the base.
After the cheese has melted, add the macaroni, stirring to break up any clumps.
IMPORTANT: Do not let the soup boil.
NOW, to close, let's talk about the cooking techniques of sweating vegetables, in case I'm not the only one that didn't know what this instruction meant. I found the answer on one of my favorite foodie websites, "The Reluctant Gourmet" (www.reluctantgourmet.com). The site's work-at-home dad and author, G. Stephen Jones, explains:
"When a person begins to exert themselves and their body temperature begins to go up, he sweats. Sweating is the body's defense to overheating. Likewise, when we put some diced vegetables into a pan with a little oil and begin to cook them, moisture rises to the cut surfaces, making the vegetables look like they are sweating.
"A sweat is similar to a sauté in that the goal is to cook small, uniform pieces of food in an open pan in a small amount of fat. The difference between the two techniques lies in the temperature. A sauté should be done over medium-high to high heat, and the goal is to cook quickly while browning the food. While a sauté can produce a finished meal, a sweat is almost always a preliminary step in a longer cooking method.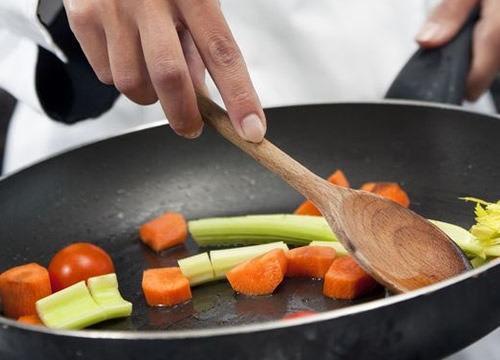 "Why? Because in a sweat, you don't want the food to brown, and we all know that that golden brown color of the Maillard reactions (a series of browning reactions that occur when certain sugars react with the amino acids found in proteins and are accelerated by heat and also the pH of the food being cooked) means great flavor.
"So, what is the point of sweating then, if it's only a preliminary step? Is it really necessary at all? In my opinion, the answer is YES. Taking the time to sweat aromatics—onions, carrots, celery, garlic, shallots, etc—before adding other ingredients, is an effective and efficient way to start building flavors. Most aromatics are pretty crunchy when they are raw, which translates into strong cell walls.
"So sweating helps draw out moisture from the aromatics and weakens and softens the cell walls. Once the aromatics are translucent, which is easiest to see in the onions, you can add more ingredients and continue with the recipe knowing that you've given the aromatics a head start in cooking and drawing out flavors."
Well thank you Stephen, and who knew? So let's enjoy this new twist on a favorite theme this winter, along with an improved cooking technique—sweating our vegetables!
Additional steps to sweat vegetables can be viewed in this past newsletter article: "How do you sweat vegetables?"
Mac n' Cheese Soup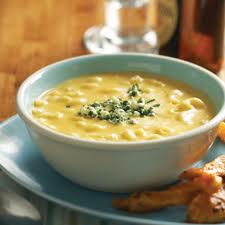 A new twist on a family favorite!
Serving size:

4


Calories per serving:

553




Ingredients:
1 1/2 cups

dry elbow

macaroni
1/2 cup

minced

onion
1/4 cup

minced

celery
2 tablespoons

unsalted

butter
1/3 cup

all-purpose

flour
1/2 cup

dry white

wine
2 cups

low sodium

chicken broth
1 teaspoon

dry

mustard
1/8 teaspoon
nutmeg
1/8 teaspoon
cayenne pepper
2 cups

whole

milk
4 cups

shredded sharp Cheddar

cheese
1 tablespoon

fresh

lemon juice
salt

to taste
1/4 cup

crumbled

blue cheese
2 tablespoons

fresh minced

chives
Directions:
Cook macaroni in a pot of salted water according to package directions; drain and set aside. NOTE: I like to undercook the pasta a little, as it tends to continue to cook once added to the cheesey soup base.
Sweat onion and celery in butter in a large saucepan over medium heat until soft, about 5 minutes. Stir in flour to coat and cook 1 minute more. Deglaze with wine and simmer until nearly evaporated. Stir in broth, mustard, nutmeg, and cayenne. Simmer until slightly thickened, about 5 minutes, then whisk in milk and warm through. Do not let boil or base will become grainy.
Add Cheddar, 1 cup at a time, allowing it to melt completely before adding the next cup. Stir in macaroni, lemon juice, and salt; remove from heat.
Combine blue cheese and chives in a small bowl. Garnish each serving with this blue cheese mixture.

Recipe formatted with the Cook'n Recipe Software from DVO Enterprises.
Sources:
www.blog.mopop.org
www.cuisinerecipes.com
www.thereluctantgourmet.com
---


Alice Osborne
Weekly Newsletter Contributer since 2006