What the Heck are Pluots & Apriums?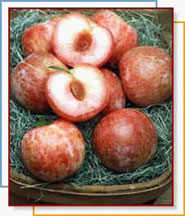 Did you know that June is National Pluot and Aprium Month? Me neither. Sounds fascinating, though, so I thought it would be fun to look into these two fruits (I at least knew a pluot was a fruit, and I guessed the aprium was as well).
Both fruits are plum and apricot hybrids. Pluots and apriums are known for their sweetness and flavor; the sugar content of these fruits is much higher than that of a plum or apricot alone.
Pluots are complex hybrid fruits that are part plum and part apricot in heritage. These fruits were originally invented in the late 20th century by Floyd Zaiger and are now grown in parts of Washington and California.
Pluots have a majority of plum parentage and therefore, have smooth skin like plums. Some varieties of pluots are sometimes called interspecific plums, or dinosaur eggs.
The pluot is often confused with the aprium which is another plum and apricot hybrid with mostly apricot heritage. Like apricots, apriums have slightly fuzzy skin.
Pluot and aprium season stretches from May to September. Pluots can be found mostly in milder climates. They should be plump and firm. Avoid any that are green, blemished, or have broken skin. They should be ripened at room temperature and then refrigerated. Pluots can be ripened in a brown paper bag at room temperature.
Like all fruit, they should be washed well and dried before consumption. And like any pitted fruit, just cut the fruit in half to remove the pit. They are wonderful eaten fresh or cooked.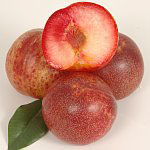 There is only one variety of aprium currently on the market. The Honey Rich inter-specific is bright orange and has bright orange flesh.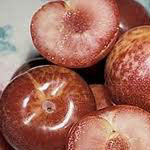 However, there are approximately 20 varieties of pluots on the market - all have been developed and bred by Zaiger Genetics. Each variety contains a different percentage of plum and apricot parentage. These varieties vary in size, skin color, and flesh color. The skin can be solid, striped, or speckled and skin colors range from yellow-green to black. Pluot flesh ranges from white to red in color. Here is a great recipe using a popular pluot, the Confetti:
---
Confetti-Plum (Pluot) Pasta Salad
Serves 6
(Source: Fruits & Veggies - More Matters, Better Health Cookbook)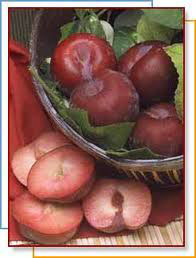 8 ounces corkscrew pasta
1/2 medium red bell pepper, cut into strips
3/4 cup peeled and diced jicama
1/2 cup chopped red onion
8 ripe pluots, sliced
2 Tbsp diced pimento
1 tsp finely grated fresh ginger
2 Tbsp rice or white wine vinegar
1 Tbsp rice bran or walnut oil
1/8 tsp salt
1/8 tsp freshly ground black pepper
Cook the pasta according to the package directions. Drain. Rinse briefly under cold water and drain. In a large bowl, toss together the pasta, red and yellow bell peppers, jicama, onion, and pluots.
In a small bowl, whisk together all the basil, pimento, ginger, vinegar, oil, salt, and pepper until blended. Drizzle the dressing over the salad and toss evenly until coated.