M-m-m Rhubarb Cheesecake

I have mentioned before that my grandmother grew rhubarb in her garden. During the summers my siblings, cousins and I would rip off a stalk and wince at the tart taste when we bit into it. Of course our favorite time was when grandma would have us rip off enough stalks for her to make her delicious rhubarb pie.

Rhubarb looks like stalks of celery, except it is of course, red. Originally considered a vegetable, it was decided in 1947 that since it came to the USA in the 1820's labeled as a fruit, it would be known as a fruit. Because of its tart taste, it is cooked with sugar to make pies, tarts, sauces and of course, cheesecake!
If you want to grow rhubarb and live in a warm climate, you can have this fruit year round. In more temperate climates however, the above ground part of the plant will begin to wither when freezing temperatures come but will grow from the root when warm weather returns.
The red color comes from the anthocryanins present in rhubarb. The variations of color, from the crimson red, to light pink or light green, is determined by the variety you plant or purchase, and is not related to whether or not you may cook with it.
This delicious fruit has been used by the Chinese for thousands of years for medicinal purposes and even now is used as a diuretic. Once considered of great value, rhubarb was featured in Ruy Gonzales de Clavio's report of his embassy in the year 1403-1405. He wrote, "The best of all merchandise coming to Samarkand was from China: especially silks, satins, musk, rubies, diamonds, pearls and rhubarb..." I truly doubt my sweet grandmother knew the centuries old value of what she was growing.
Uses:
• Rhubarb can be stewed with sugar, and used for desserts
• Rhubarb can be dehydrated and infused with fruit juice. In most cases it is infused with strawberry juice to mimic the popular strawberry rhubarb pie.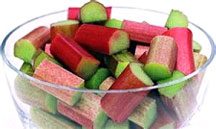 Cooking Ideas: Cut up the stalks into 1 inch pieces and stew them in water. Because rhubarb has a high water content, little water is needed; just enough to cover the stalks. For sweetness, add 1/2 to 3/4 cup of sugar for each pound of rhubarb with cinnamon and / or nutmeg to suit your taste. You may also choose to slowly simmer the rhubarb without adding any water so that it will "stew" in its own juices.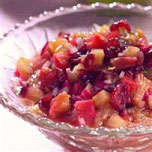 To make a "sauce" simmer your cut rhubarb on the stove for around 45 minutes until it is smooth and the stalks may be easily pierced. The taste will be a mix of tart and sweet. Dried fruits or fresh fruits such as apples, cranberries, raisins, peaches, etc., may be added at this stage.
---
Rhubarb Cheesecake

1 cup all-purpose flour
1/4 cup white sugar
1/2 cup butter
3 cups chopped rhubarb
1/2 cup white sugar
1 tablespoon all-purpose flour
2 (8 ounce) packages cream cheese
1/2 cup white sugar
2 eggs
1 cup sour cream
2 tablespoons white sugar
1 teaspoon vanilla extract
Preheat oven to 375 degrees F (190 degrees C). In a medium bowl, combine 1 cup flour, 1/4 cup sugar and 1/2 cup butter. Mix until crumbly and pat into the bottom of a 9 inch springform pan.
In a medium bowl, toss together the chopped rhubarb, 1/2 cup sugar and 1 tablespoon flour. Pour onto crust. Bake in preheated oven for 15 minutes. Remove from oven and set aside. Reduce oven temperature to 350 degrees F (175 degrees C).
In a large bowl, beat the cream cheese and 1/2 cup sugar until creamy. Beat in the eggs one at a time. Pour over hot rhubarb in the pan.
Bake in the preheated oven for 30 minutes, or until filling is set. Cover with sour cream topping while still hot.
To make the sour cream topping: In a small bowl, combine 1 cup sour cream, 2 tablespoons sugar and 1 teaspoon vanilla. Mix well and spread on top of cake.
Add some sliced strawberries to the top once cheesecake is ready to serve.