All Hail the Humble Ice Cube Tray!
There are a few things kicking around our kitchens that we tend to simply overlook. The humble ice cube tray is a perfect example. Fridges come with automatic ice makers now, so we forget what a useful tool this "old fashioned" kitchen gadget can be.
Actually, it ought to be used to freeze much more than water. Consider these ideas from various blogs and websites found throughout the Internet. The technique for all of them is the same: Once frozen, pop the cubes into plastic freezer bags or freezer containers, then label, and return to the freezer.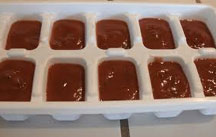 Extra ingredients, like broth or tomato paste, can be frozen in ice cube trays to be used later as a ready-to-go base for sauces.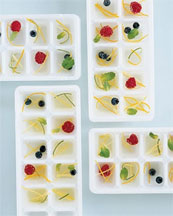 How about creating party cubes for your upcoming gathering? Whatever drinks you're serving, the addition of these pretty and flavorful beverage cubes will really jazz things up. The garnishes can be frozen in plain water, ginger ale, or a diluted fruit juice. Your imagination is your only limit on this.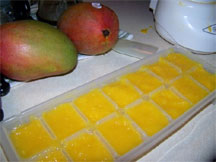 Savvy moms today know it's healthier and less expensive to puree their own baby food (from whole, fresh food). The ice cube tray is the perfect way to create the right amounts for baby's meal.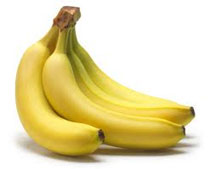 Speaking of pureeing, I like to puree extra bananas (with lemon juice added to prevent browning) and freeze them. Then when I'm hungry for a sugar-free treat, I pop 2 or 3 in my blender (I use a Vita Mix) with about a cup of plain yogurt and blend. Voila! "Legal" banana-flavored ice cream!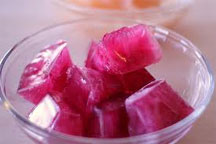 What a great idea to make batches of fruit juice and freeze them as cubes. Then when it's time for a punch bowl or you just want a bottle of sparkling water, add your flavored cubes. They'll contribute a pretty touch as well as a few vitamins.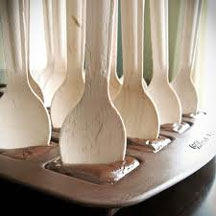 Now here's one very cool idea (pun intended)! Make a large pot of extra thick, extra chocolaty cocoa and freeze it in ice cube trays, with wooden spoons added, as the picture shows. Do you know what you have here? HOT CHOCOLATE "stir spoons!" Dip and stir one of these into a cup of cocoa and you're cooling it while adding extra flavor.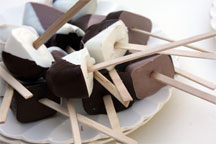 Same idea as above, except actual stir sticks are used and bottled marshmallow was added along with the chocolate. Oh my.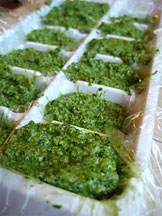 Homemade pesto sauce - there's nothing to compare with it. Just omit the cheese (it doesn't freeze well). Then line an ice cube tray with plastic wrap and fill each pocket with the pesto. Freeze and then remove from the ice tray and store in a freezer bag. When you want to use, defrost and add in grated Parmesan or Romano.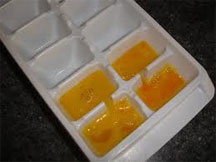 And did you know that eggs can be frozen for later use? Each space is good for one egg. Beat each egg well then add it to a space. When needed for cooking or baking, remove however many eggs you need from the freezer bag or container, let thaw in the refrigerator and then add to whatever you're making. This is a good way to cash in on the egg sales that show up around Easter time.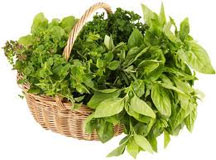 Extra Fresh Herbs: If you have some fresh herbs from the produce section that are about to go bad, chop them up and put them in the cube sections with a bit of water. The frozen cubes are great to add to soups. This is also a way to preserve extra items from your herb garden at the end of the season.