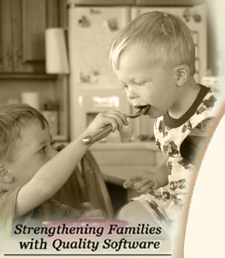 Cook'n Club Home
Subscribe Now!

Cook'n Forum
HomeCook'n Archive
Give-Aways

I have spent the last 2 hours reading your newsletter and wonderful recipes. I have already printed a whole bunch I want to try. I love them because they are using ingredients one has on hand. I love that and just wanted you to know how much we appreciate all your hard work in putting together this newsletter. Thank you very much.

Anna

Volume I - April 6, 2007
SMART Ideas!
by Alice Osborne


"Another Method For Containing Splatters"
Alice made me think of this when she suggested putting the mixing bowl into the sink or a paper bag. What I've done is use an old plastic lid about 2"-3" (5-8 cm) larger than my mixing bowl. (If you ever get a gallon tub of ice cream, that lid is usually perfect for most mixing bowls. You can use smaller lids for smaller bowls.)

I use kitchen shears and cut a slit through to the center of the lid, then cut an oval in the center to accommodate my beaters and put the beaters into the mixer THROUGH the oval hole. If the lid is clear, it's easy to mark a dot at the center of the lid with a permanent marker. Mark a line from the center dot to the outside edge and hold the lid up to your mixer where the beaters attach.

With your permanent marker, draw an oval around the center dot that will allow at least 1/4" (1 cm) clearance around the beater attachment holes. Make your cuts, starting with the slit. The slit allows you to twist the lid and get it off the beaters without removing the beaters from your mixer. Top rack dishwasher safe, LOL.
-Linda
---
Thank you for submitting this idea, Linda. This isn't just smart, it's BRILLIANT!
---
"Always Gravy-Ready"
Keep a dry mix of 1 part cornstarch and 2 parts flour in a container to use for making gravy. Just scoop out amount needed and mix with cold water. Also, you can make gravy in the microwave: boil off meat-drippings from fry or roaster pan and put what's left in a 2 cup or 4 cup measure; place in microwave, stir several times. Smart, huh?
"No More Forgotten Grocery Coupons!"
Write out your grocery list on an old envelope and put the redeemable coupons you want to use, inside. Is this smart, or what!
"One Slick Way to Cut Bar Cookies"
Use your pizza cutter to cut bar cookies—it does a neat and clean job. Smart, huh?
(If YOU have a smart idea, won't you share it? Life is so much easier and we accomplish so much more when we pool our resources. And after all, we're all in this together. So email
patty@dvo.com
or
alice@dvo.com
with YOUR Smart Ideas!)
---
Contribute to the Cook'n Club!
DVO would love to publish your article, prose, photography and art as well as your cooking, kitchen and nutrition tips, tricks and secrets. Visit the Newsletter Submission / Win Win for All section in our Forum for more information and details.
---
---