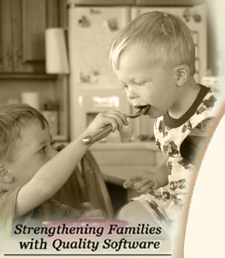 Cook'n Club Home
Subscribe Now!

Cook'n Forum
HomeCook'n Archive
Give-Aways

Another post from the Cook'n Club Forum:

What a treat to have this board here. I can't wait to watch it grow, and have absolutely no doubts that it will be a wonderful place where we can come back over and over again.
The Newsletter - the Forum - Thanks so very much!

MudMouse


Volume I - April 6, 2007
The 'Skinny' On Sweet Potatoes + A Recipe NOT So Skinny, But to DIE For!
by Alice Osborne




(We've had many requests for more information and recipes on sweet potatoes, so for the next few weeks you'll find it here!)

Although the terms are generally used interchangeably, there are some differences between sweet potatoes and yams:



FACTOR                             SWEET POTATO            YAM
Shape

Short, blocky,
tapered ends

Long, cylindrical,
some with "toes"

Dry matter

22-28%

20-35%

Mouth feel

Moist*

Dry

Taste

Sweet*

Starchy

Beta carotene (Vitamin A)

High (orange varieties) *

Very low
It's economical and blends well with herbs, spices and flavorings—from processed baby foods to main dishes, casseroles, salads, breads and desserts, the sweet potato adds valuable, appetizing nutrients and color to any meal.

One baked sweet potato (3 1/2 ounce serving) provides over 8,800 IU of vitamin A or about twice the recommended daily allowance, yet it contains only 141 calories—weight-watchers love this! It also provides 42% of the Recommended Daily Allowance (RDA) for vitamin C, 6% of the RDA for calcium, 10% of the RDA for iron, and 8% of the RDA for thiamine for adults. It's low in sodium and is a good source of fiber and other important vitamins and minerals. This complex carbohydrate provides beta carotene, a factor in reducing certain cancer risks.

For the most food value, choose deep orange-colored sweet potatoes, and select sound, firm roots. Handle carefully to prevent bruising. It's best to store in a dry, unrefrigerated bin at 55-60 degrees F (this is called curing). DO NOT REFRIGERATE; temperatures below 55 degrees F. chill this vegetable, giving it a hard core and an undesirable taste when cooked.

Wash cured sweet potatoes, scrub skin and trim off any bruised or woody portions, and bake or boil until slightly soft. If boiled, drain immediately. Thoroughly cool then wrap individually (skins left on) in freezer film or foil, and place in plastic freezer bags. Seal, label and freeze (most dishes freeze well). If cutting calories, serve the sweet potato plain—minimize margarine or butter and use skim milk or unsweetened orange juice as liquid when preparing them mashed.

Helpful Hints:

Bake large pan of sweet potatoes at once; freeze or store in the refrigerator for 7-10 days.
Freshly dug or uncured sweet potatoes are better boiled and used in dishes that include fruits or syrups. The curing process makes it sweeter and improves the cooking quality.
Canned or frozen sweet potatoes can substitute for the fresh form in any recipe calling for cooked sweet potatoes as the starting point. Six to eight canned sweet potatoes equal about four medium fresh sweet potatoes. (See measurement relationship below.)

Fresh

Canned

    Cooked & Mashed

2 medium
sweet potatoes

      3 to 4

    1 1/4 cups

3 medium

      1 pound can

     2 cups

4 medium
(23 ounces)

      3 quart cans

     2 l/2 cups

To reduce calories in your favorite recipe, experiment by reducing the sugar or fat by using the next lower measure on the measuring cup. For example, when a recipe calls for 1 cup sugar or fat, reduce the amount to 3/4 cup. For 3/4 cup, reduce it to 2/3 cup, etc.
Sweet potatoes make an attractive house plant. To grow a sweet potato vine, place it in a jar of water with part of the potato remaining above the water—narrow end down. Put the jar in a warm, dark place; keep it filled with water. You'll see new roots and a stem in about 10 days. As soon as this happens, move it to a sunny window.

SWEET POTATO PECAN PIE (One 9"pie)



1 (9") unbaked pastry shell
2 medium sweet potatoes, cooked and peeled
1/4 cup butter
1 (14 oz) can Eagle Brand Sweetened Condensed Milk, (NOT evaporated milk)
1 teaspoon grated orange rind
1 teaspoon vanilla
1 teaspoon ground cinnamon
teaspoon ground nutmeg
1/4 teaspoon salt
2 eggs
Pecan Topping

Preheat oven to 350 F. In large mixer bowl, beat hot sweet potatoes and butter 'til smooth. Add remaining ingredients except pastry shell and Pecan Topping; mix well. Pour into pastry shell. Bake 30 minutes. Remove from oven; spoon Pecan Topping evenly over top. Bake 20-25 minutes longer or 'til golden brown. Serve warm or chilled. Refrigerate leftovers.

Pecan Topping: In small mixer bowl, combine 1 egg, 3 tablespoons dark corn syrup, 3 tablespoons firmly packed brown sugar, 1 tablespoon butter, melted, and teaspoon maple flavoring; mix well. Stir in 1 cup chopped pecans.







---
Contribute to the Cook'n Club!
DVO would love to publish your article, prose, photography and art as well as your cooking, kitchen and nutrition tips, tricks and secrets. Visit the Newsletter Submission / Win Win for All section in our Forum for more information and details.
---