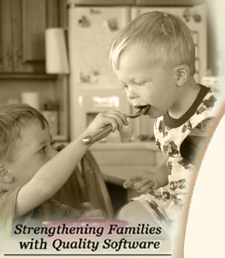 Cook'n Club Home
Subscribe Now!

Cook'n Forum
HomeCook'n Archive
Give-Aways

I have spent the last 2 hours reading your newsletter and wonderful recipes. I have already printed a whole bunch I want to try. I love them because they are using ingredients one has on hand. I love that and just wanted you to know how much we appreciate all your hard work in putting together this newsletter. Thank you very much.

Anna

Volume I - April 6, 2007
Grandma and Grandpa's Breakfast
A Focus On The Family
by Patty Liston

---

Recently while traveling out of state, I stayed at the home of a wonderful 76 year old couple whom, until that time, I had never met. They were gracious hosts, seeing to it that I got to the Metro, was ready for car-pools, and laid out every map necessary for me to navigate in unfamiliar surroundings.
One morning I woke up to the most delicious aroma oozing under my bedroom door. Throwing on a robe, I practically slid into the kitchen, (they had hardwood floors everywhere), to ask what was baking. My hostess Carolyn explained that it was her grand-sons favorite breakfast—Chili Egg Puff. You see, once a month following a staff meeting, their fortunate grand-son and his even more fortunate co-workers, would enjoy this hearty breakfast cooked lovingly by Grandma and Grandpa and delivered hot and ready to eat by 7AM. They had been doing this for 5 years. Not only did I love the tenderness of such an act of service, I loved the recipe. I can't wait to fix it for my own grand-sons!
CHILI EGG PUFF
Serves 10 to 12 people
10 eggs
1/2 cup flour, unsifted
1 tsp. baking powder
1/2 tsp. salt
1 pint (16 oz) creamed, small curd cottage cheese
1 lb. Monterey-jack cheese shredded
1/2 cup butter melted
2 cans (4 oz. each) diced California green chilies

Beat eggs until light and lemon colored.
Add flour, baking powder, salt, cottage cheese, jack cheese, and melted butter, blending smoothly.
Stir in the chilies.
Pour into a well buttered 9x13 inch baking dish.
Bake at 350 for 40 minutes or until top is browned and center is firm.
Cut into squares and serve hot.
---
Contribute to the Cook'n Club!
DVO would love to publish your article, prose, photography and art as well as your cooking, kitchen and nutrition tips, tricks and secrets. Visit the Newsletter Submission / Win Win for All section in our Forum for more information and details.
---
---