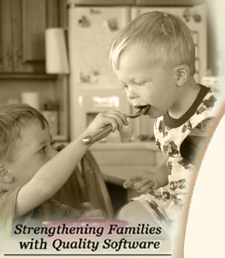 Cook'n Club Home
Subscribe Now!

Cook'n Forum
HomeCook'n Archive
Give-Aways

I have spent the last 2 hours reading your newsletter and wonderful recipes. I have already printed a whole bunch I want to try. I love them because they are using ingredients one has on hand. I love that and just wanted you to know how much we appreciate all your hard work in putting together this newsletter. Thank you very much.

Anna

Volume I - April 6, 2007
For the 21st Century June Cleaver
by Patty Liston





We all know that those who eat a good breakfast in the morning are statistically slimmer, healthier, and not as prone to munching do-nuts at 10 AM. However, most of us do not live a "Leave It To Beaver" life style; mom, dad, children smiling peacefully around the kitchen table, eating a hearty breakfast of eggs, toast, bacon, juice and milk. Remember, June had 2 very well behaved boys (who ALWAYS used their napkins, no less), and never worked outside the home; even though she did wear pearls.

For those of us who live with our feet planted firmly in the real world, and who have substituted pearls for work out clothes, here are 4 high energy ways to start you busy day.


Brown Bag It: a stick of string cheese, slice of whole-wheat bread, and a cup of seedless grapes. (Calories 212; protein, 10; carbs, 28; fat 7; sugars, 17; fiber 3)
Blender Breakfast: Put the following in a blender and serve this delicious smoothie to your family.
1 small banana
1/2 cup frozen blueberries (or strawberries)
1 cup nonfat plain yogurt
1/2 Tbs. honey
1/2 Tbs. flaxseed oil
(Calories, 357; protein, 15; carbs, 71; fat 7; sugars 47; fiber 5)

Ready, Set, Go! Have these in a zip-lock to grab at the last minute. One pear or apple, a handful of almonds, and 7 low-fat Triscuits. (Calories, 392; protein, 10; carbs, 54; fat 18; sugars, 18; fiber 12
Take and Eat Later: Alternate layers of low-fat vanilla yogurt (1 cup) with 1 cup sliced strawberries. Put ¼ cup Grape Nuts cereal in a baggie and sprinkle on top when you are ready to eat. (Calories, 253; protein, 10; carbs 53; fat, 1.5; sugars, 28; fiber 7)
---
Contribute to the Cook'n Club!
DVO would love to publish your article, prose, photography and art as well as your cooking, kitchen and nutrition tips, tricks and secrets. Visit the Newsletter Submission / Win Win for All section in our Forum for more information and details.
---
---