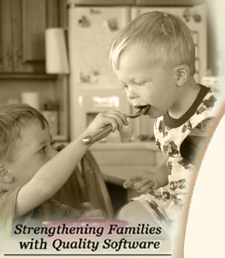 Cook'n Club Home
Subscribe Now!

Cook'n Forum
HomeCook'n Archive
Give-Aways

I have spent the last 2 hours reading your newsletter and wonderful recipes. I have already printed a whole bunch I want to try. I love them because they are using ingredients one has on hand. I love that and just wanted you to know how much we appreciate all your hard work in putting together this newsletter. Thank you very much.

Anna

Volume I - January 19, 2007
Sweet Health in Sweet Potatoes
by Patty Liston


We haul out our marshmallow and sweet potato recipes on every holiday, then like the ugly step-vegetable, we relegate these nutritious little tubers to the back of our pantry. Pity really. Full of vitamin A, C, E, folic acid, fiber, and lower on the glycemic index than white potatoes, this oldest of all vegetables should be front and center throughout the year.
The sweet potato is synonymous with the word "yam". In the 1930's Southern farmers wanted to distinguish their sweeter, moister orange potato from the drier yellow versions grown in the north. Hence, "sweet potato" was born. Available year round, these holiday favorites hit their peak season between September and January, but as we stated, can be part of your family dinner at any time. We suggest you try some of the following recipes for variety. (And don't be surprised if a young child at your table turns bug-eyed and exclaims, "
Is it Christmas!
")
Roast sweet potato fries with garlic, cayenne, salt and pepper in a very hot oven
Toss cooked, cubed sweet potatoes with a cumin vinaigrette in a cold salad
Use in place of white potatoes when you make potato pancakes
The following Scalloped Sweet Potato recipe has only 3gm of fat, versus the 9gm or more in the traditional homemade white potato scallops.
1 Tbs. unsalted butter
1 medium onion, thinly sliced
2-1/2 cups roasted or low-sodium vegetable broth
1 cup low-fat milk
3 cloves garlic, minced (about 1 Tbs)
1-1/2 tsp. fresh thyme
1/8 tsp. nutmeg
1 bay leaf
3 medium sweet potatoes (about 2-1/2 lbs)
Peeled and thinly sliced
1/4 cup grated Parmesan cheese

Preheat oven to 375
Coat 8-8oz ramekins or 9x13 baking dish with cooking spray
Melt butter in large saucepan over medium heat. Add onion slices and sauté until soft, about 7 to 10 minutes. Add broth, milk, garlic, thyme, nutmeg and bay leaf; bring to a simmer. Cook until liquid is reduced to just under 3 cups, about 7 minutes. Remove bay leaf, and season to taste with salt and pepper.
Add sweet potatoes to liquid. Return to a simmer and cook, stirring occasionally, 5 minutes
Pour mixture into ramekins or baking dish.
Bake 30 minutes for ramekins, 40 minutes for baking dish, basting potatoes occasionally with liquid in dish.
Sprinkle cheese over potatoes.
Bake ramekins an additional 10 minutes, baking dish 20 minutes.
Let rest 5 minutes before serving.
Remember that sweet potatoes won't last more than a week after purchase and should not be refrigerated.
---
Contribute to the Cook'n Club!
DVO would love to publish your article, prose, photography and art as well as your cooking, kitchen and nutrition tips, tricks and secrets. Visit the Newsletter Submission / Win Win for All section in our Forum for more information and details.
---
---